Since 2014, the North Texas Food Bank has championed an annual campaign asking the public to donate plastic jars of peanut butter to help feed hungry children and their families.
The Collin County Peanut Butter Drive, currently running through the end of September, has been extremely effective – bringing in more than 350,000 pounds of peanut butter over the years. The campaign is endorsed by all Collin County mayors and encourages neighborhoods, organizations and companies to organize their own drives. This year, we have taken the drive virtual, setting a goal of 220,000 pounds of peanut butter (including other nut butters to account for peanut allergies).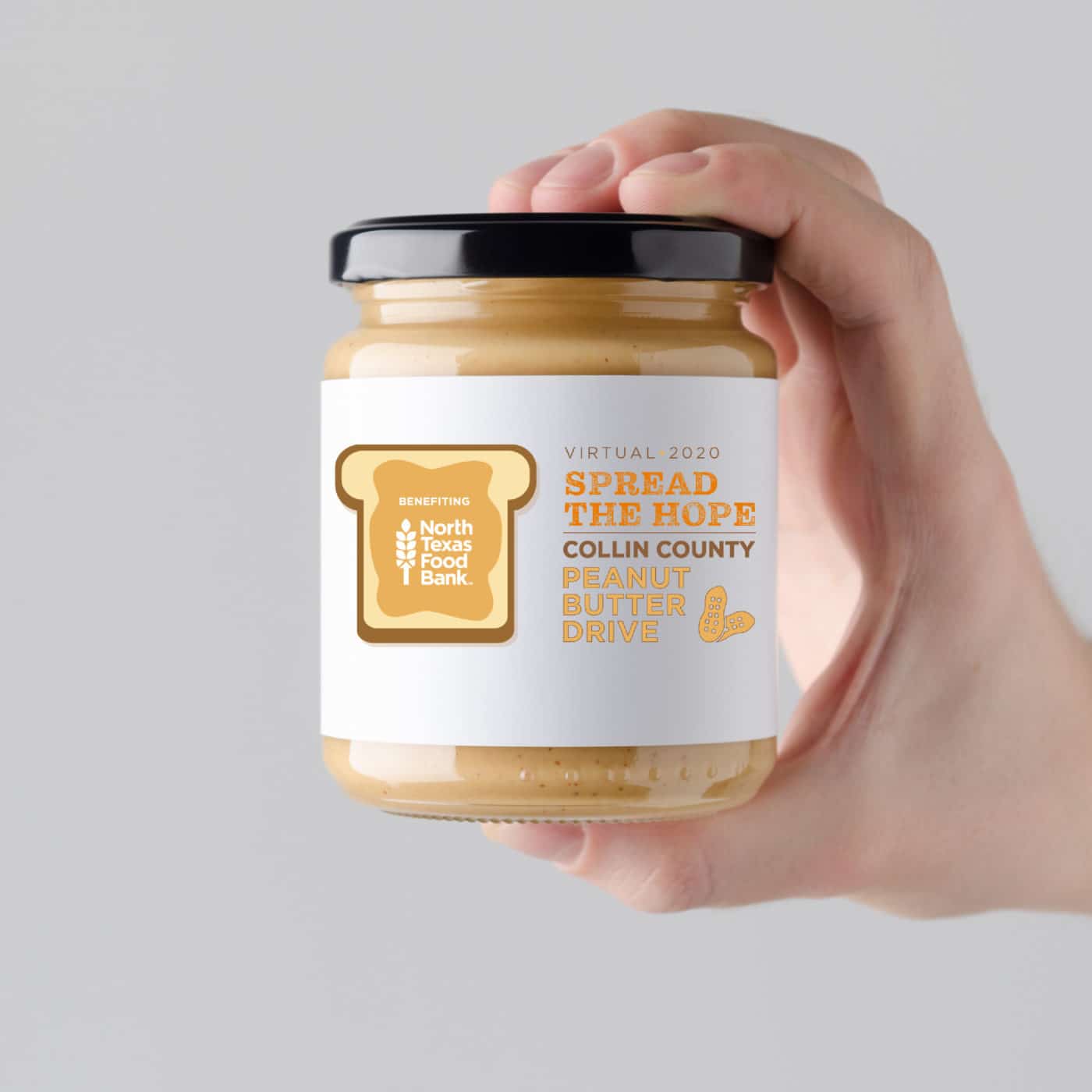 But what is so special about peanut butter that we built a whole campaign around it? Beyond being inexpensive, shelf-stable and delicious, peanut butter is an important component of nutritional charitable food assistance for many reasons. Check out some of the added benefits of this food staple.
Peanut Butter is Packed with Health Benefits
Peanut butter has great health benefits and is nutrient-dense, meaning it is full of nutrients to help you stay full longer and provide you with necessary vitamins and minerals to help you stay healthy. Peanut butter is high in protein and is categorized as part of the MyPlate protein food group. In fact, peanuts contain more protein than any other nut.
Fun Fact: Peanuts are actually legumes! This means peanuts are related to beans, lentils, and soy which explains how the protein found in peanuts is nutritionally similar to meat and eggs.
Peanut butter is also high in monosaturated fat. Unlike saturated fat, monosaturated fats are good for your heart health. 
High sources of fiber are also found in peanut butter. Fiber acts like a broom and sweeps out all of the 'bad' in your intestines and helps lower bad cholesterol. Antioxidants, which help protect you from chronic diseases like heart disease, can be found in peanut butter as well.
Also, when looking to buy peanut butter, make sure to look at the nutrition facts label. You only need one ingredient to make peanut butter – peanuts! Some brands add oil, salt, and sugar. Look for peanut butter with as few ingredients as possible. If buying natural peanut butter (peanut butter that only has peanuts in it), oil separation towards the top is normal. Just stir until the oil is combined to make your peanut butter ready to spread!
Peanut Butter is Great for Kids
Much of what we receive from the Peanut Butter Drive is distributed to children and families. In 2019, more than 190,000 pounds of peanut butter were collected, allowing peanut butter to be put in weekend backpacks distributed to 11,000 children weekly through the NTFB Food 4 Kids program.
We all know that kids can be picky eaters, especially when it comes to healthy foods. That is why peanut butter is a valuable addition to a child's diet. Not only does it taste great, but it provides healthy calories and nutrients, especially if the child is food insecure and needs additional calories. Peanut butter is great for human growth and development as it contains beneficial vitamins, minerals, and nutrients (including healthy fats), needed for those growing kiddos
Peanut Butter is Versatile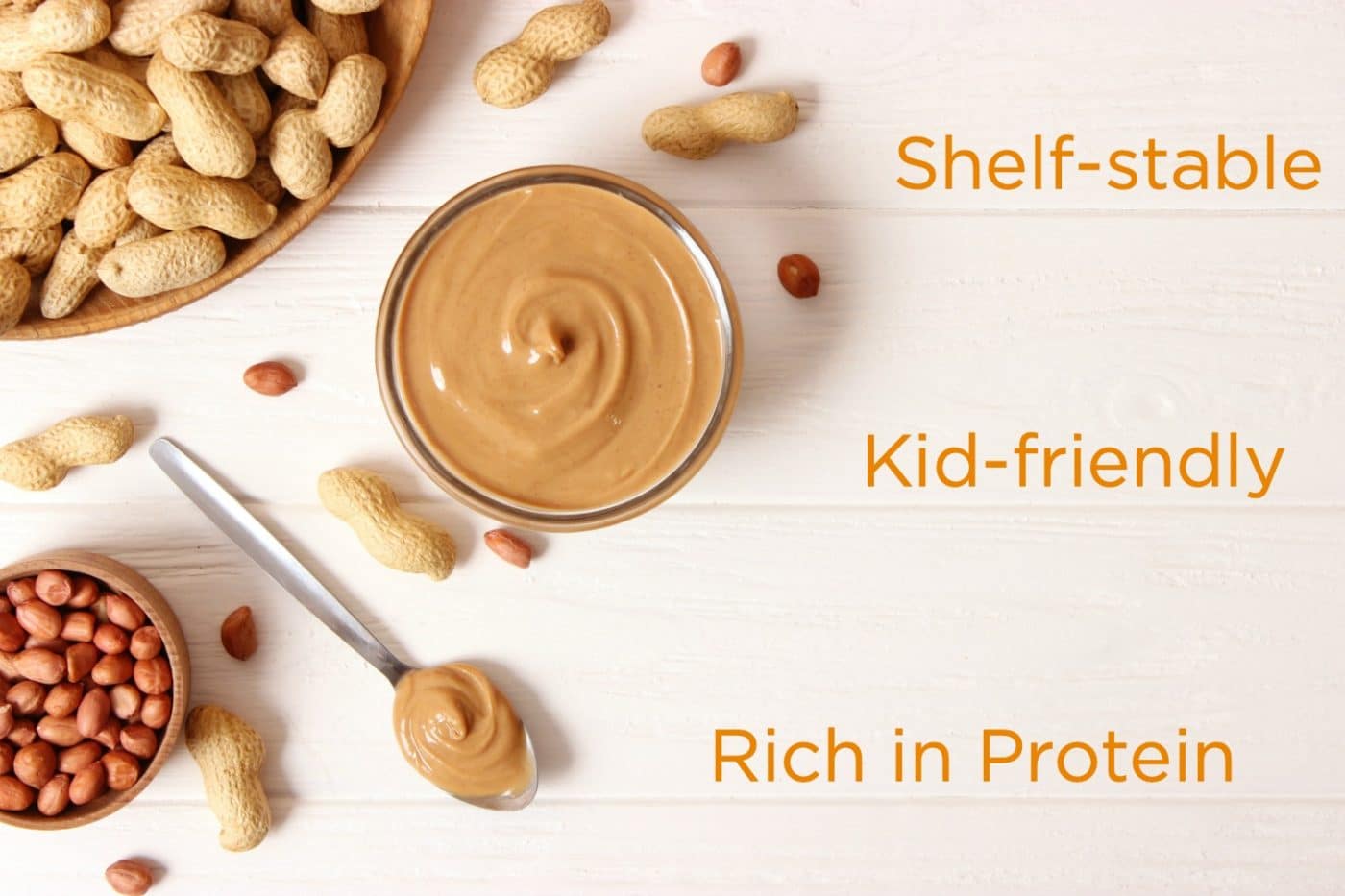 Peanut butter is a versatile food that scan be added to several dishes (savory and sweet) to add a creamy, peanut taste. Try some of these quick dishes next time you want to elevate your peanut butter game:
Thai peanut sauce
Apples and peanut butter for a quick snack
Peanut butter banana tortilla wraps
Add peanut butter to smoothies for added protein
Peanut butter oatmeal
Oatmeal peanut butter protein balls
Add peanut butter to yogurt for an easy fruit dip
Now that you know all of the benefits of this tasty food, there is still time to get involved in the Collin County Peanut Butter Drive and help ensure that such a nutritious and well-rounded item can reach the tables of those experiencing hunger. You can donate directly to the campaign here through September 30.
---
Megan Charlot is a Nutrition Services Specialist for the North Texas Food Bank. You can find more of our recipes here.