Partner Agency Spotlight: Sharing Life
For the staff at Sharing Life, meeting community members where they are and doing anything they can to help their neighbors is the deeper meaning behind the agency's tagline, "Demonstrating Compassion."
It's a commitment and philosophy that has driven the Mesquite-based organization's mission to end hunger and poverty since its founding in 1999. And it's one that has led the Sharing Life team to adapt, enhance and innovate its services in response to changing needs and new technologies over its 23 years.
"It's why we offer such a broad array of services in one place from food and clothing to durable medical equipment, rent and utility assistance, financial coaching, and workforce development. Every family is different and has unique needs," said Jacob Taylor, director of operations.
Since its inception, the organization has provided more than 40 million meals to families facing hunger in 35 zip codes across eastern Dallas County, plus Rockwall and Kaufman counties.
NTFB Hub Partner
Sharing Life is one of two NTFB Hubs, along with Crossroads Community Services. The Hubs are certified to redistribute NTFB food to smaller organizations, known as Community Distribution Partners, so that they can in turn distribute it to their neighbors. This unique model allows smaller organizations to provide high-quality food assistance at the lowest possible cost while helping to fulfill the need for food assistance in high-need communities.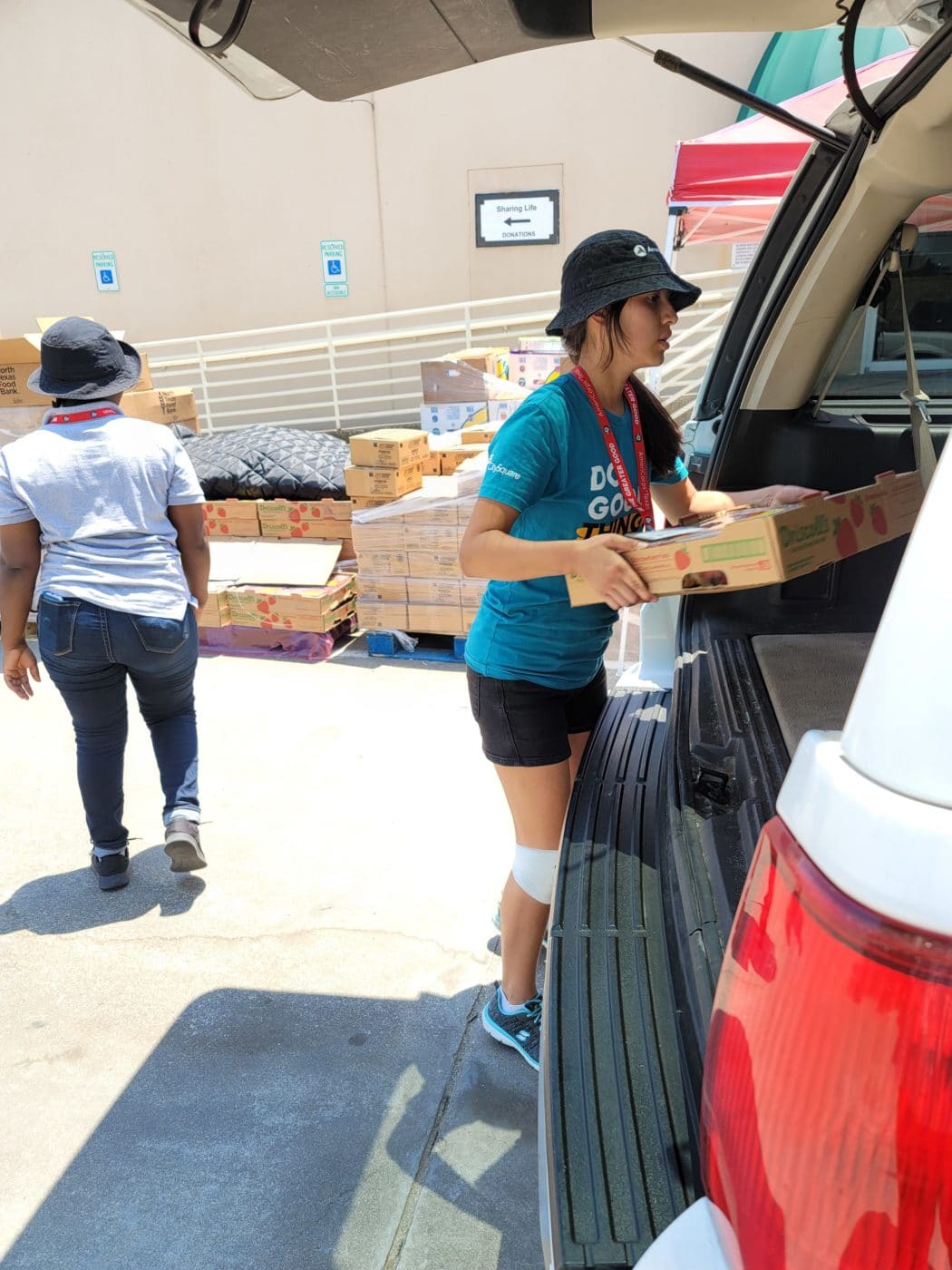 For Sharing Life, being a Hub has meant distributing 10 times as much food in its community every year as compared to what Sharing Life did on its own. The Hub model removes barriers to access, such as transportation, by providing neighbors who can't get to Sharing Life closer and more convenient options to obtain their food. It's also allowed the agency to provide the right types of food to its community.
"We serve a diverse community and partnering with so many different food pantries that are familiar with their own neighborhoods allows us to bring foods that reflect those specific neighborhoods' tastes and cultures," Taylor said. "It's not just about the pounds but providing them with dignity and respect."
Evolution of Services
Sharing Life's distribution model has adjusted in other ways to provide more options to its neighbors. Like many food pantries, the organization adopted a drive-thru model at the onset of the pandemic. But while some of have returned to their client choice distribution styles or remained drive thru, Sharing Life realized they needed to adapt how they offer food to its community to ensure people are receiving food when they need it.
They now offer drive-through distributions, its traditional client-choice pantry, online ordering through its ePantry and delivery services, according to Taylor. Sharing Life will also soon be installing refrigerated and frozen lockers in its parking lot for neighbors who can't make their ePantry appointment. They will be given a passcode and can access their food pantry order when it is convenient for them.
"I'm extremely proud of the evolution of our food programs. It's the best of both worlds where you have the freedom of client-choice and the speed of a pre-boxed pickup," Taylor said. "In terms of food access, the lockers are a game changer that allows us to become a 24-hour food pantry."
Taylor says that partnering with DoorDash has been the agency's most significant improvement in food access since opening the NTFB Hub in 2016. DoorDash utilizes their mapping algorithms and fleet of Dashers to provide fast, reliable service across its service area. Since July 2021, Sharing Life has sent food to over 3,000 people through DoorDash. "That's a lot of people who have saved time and gas money, but still received the food they desperately needed," Taylor said.
Many of Sharing Life's wraparound services have also evolved and are now available online when they had previously required a trip to Sharing Life. For example, if a neighbor needs rental or utility assistance, that can be done from home. It all goes back to the organization's ongoing commitment to "Demonstrating Compassion" and making getting assistance as seamless as possible, according to Taylor.
"If we can help check more of those boxes in one stop and give parents back more time with their kids or the flexibility to pick up that extra shift at work, then that's what we need to do."
Caryn Berardi is a Communications Specialist for the North Texas Food Bank.