Partner Garden Spotlight: Community Harvest Garden
Fighting hunger has many hidden heroes and contributors who help ensure our community is fed with nutritious food and produce. This includes NTFB's Partner Garden program, where community gardens around our 13-county service area grow fresh produce to donate weekly to one of our Partner Agencies. The agency then supplements the produce and dry goods it receives from the Food Bank with the garden donations.
We have 10 Partner Gardens currently in our program who are generously donating fresh, nutrient-dense garden produce. With the Partner Garden program, our hungry neighbors can have access to more perishable produce that cannot otherwise be donated, such as tomatoes, peppers, berries, lettuces, and greens.
One long-standing Partner Garden of almost 10 years is Community Harvest Garden in Plano, who has donated about 16,000 pounds of fresh produce since becoming a partner! Deb Bliss, the garden manager, answered a few questions about her experience being a Partner Garden.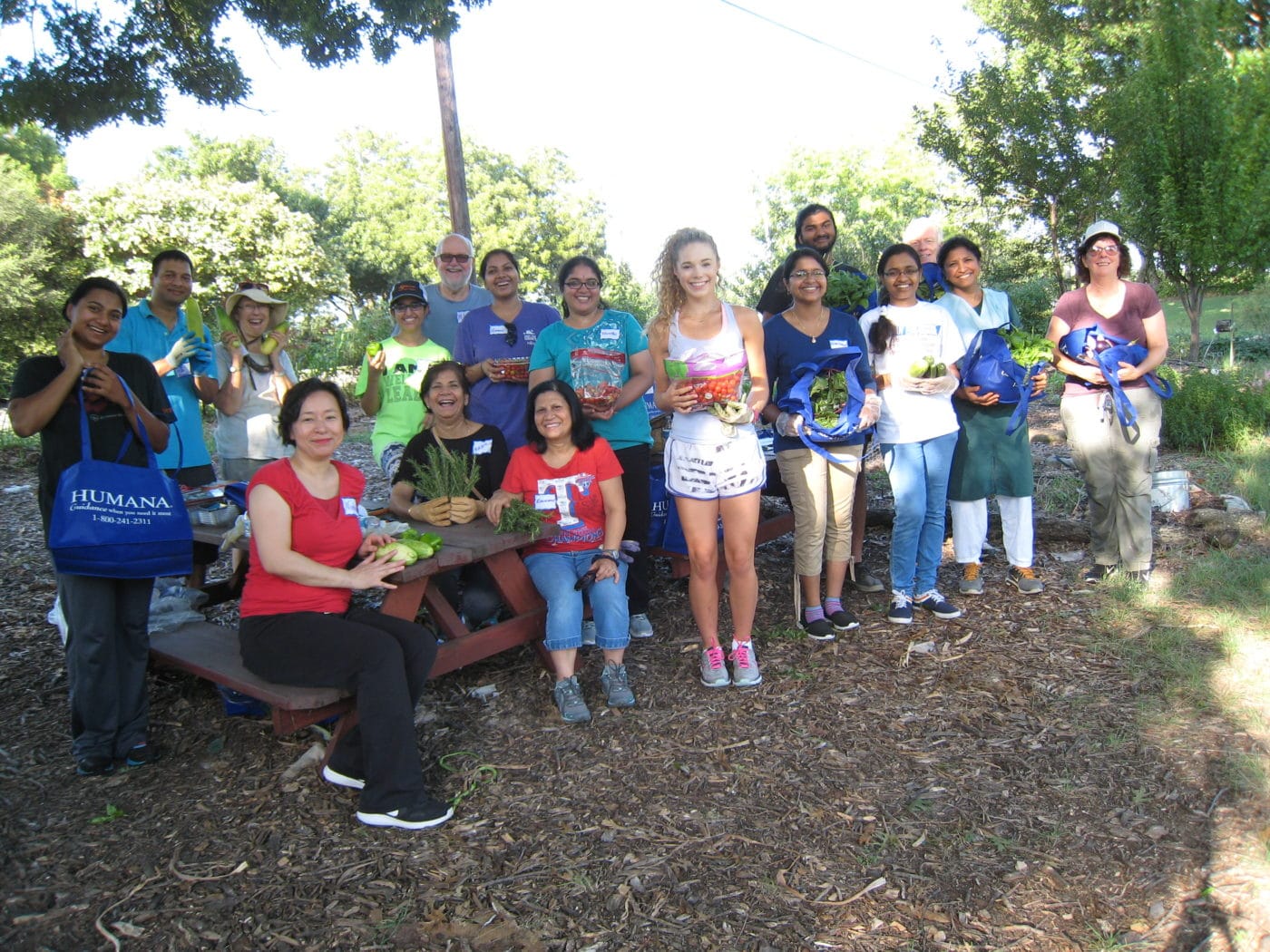 Q: Describe the history of your community garden.
A: Community Harvest Garden started in 2005 as the result of a decision of the Community Unitarian Universalist Church to serve our extended community by providing a sunny space for growing food, mentoring new gardeners, and then donating half of the produce grown to those in need. 
A group of five stakeholders adopted two plots at Plano Community Garden while it was being built, allowing us to learn how to start and operate a garden. After planning and fundraising, we broke ground in 2006 beginning with 11 plots and an herb garden. Over the years we have grown to 25 individual plots, two herb gardens, a food forest orchard, asparagus and blackberry hedges, a keyhole garden, two hugelkultur mounds, a fig orchard, a grape arbor, a pomegranate patch, and several experimental raised bed containers using found objects.
Q: What has been the best part of being a Partner Garden?
A: We have appreciated having volunteers from the community directed to our garden. One adopted a plot and has been a great asset to the garden for several years.
Q: How did the pandemic impact your garden?
A: When sheltering in place went into effect, the City of Plano designated our garden an essential service because of our contributions. We implemented a policy of wearing masks and social distancing when working at the garden. We continued our work growing organic produce throughout the year, giving gardeners the option to miss helping with harvest if they were not comfortable joining the small harvest group because of COVID. Most gardeners came to work harvest within those guidelines. Our monthly potluck socials were transformed into Zoom meetings.
---
We appreciate all the efforts and many pounds of fresh produce the Community Harvest Garden has donated to help fight hunger in North Texas.
Community Harvest Garden needs volunteers to help harvest on Saturday mornings on non-holiday weekends from 7:30 a.m.-9:30 a.m. It is located at 2875 E. Parker Rd. in Plano. To find other Partner Gardens in need of volunteers, please click here and click on "Available Partner Gardens."
Emily Anderson is the Garden Coordinator for the North Texas Food Bank.