NTFB Partner Garden Spotlight: Our Saviour Community Garden
The North Texas Food Bank is fortunate to have a cohort of community gardens whose goal is to help feed our hungry neighbors with nutritious produce. NTFB's Partner Garden program is currently made up of 12 community gardens in our 13-county service area who grow fresh produce to donate weekly to a Partner Agency. The agency then supplements the produce and dry goods it receives from the Food Bank with the garden donations.
A garden that has been with NTFB since the beginning of this program is Our Saviour Community Garden (OSCG) in Southeast Dallas, who has donated over 46 tons since 2003! Becky Smith is a long-time member of Our Saviour Church, on whose property the garden is located, and the garden manager.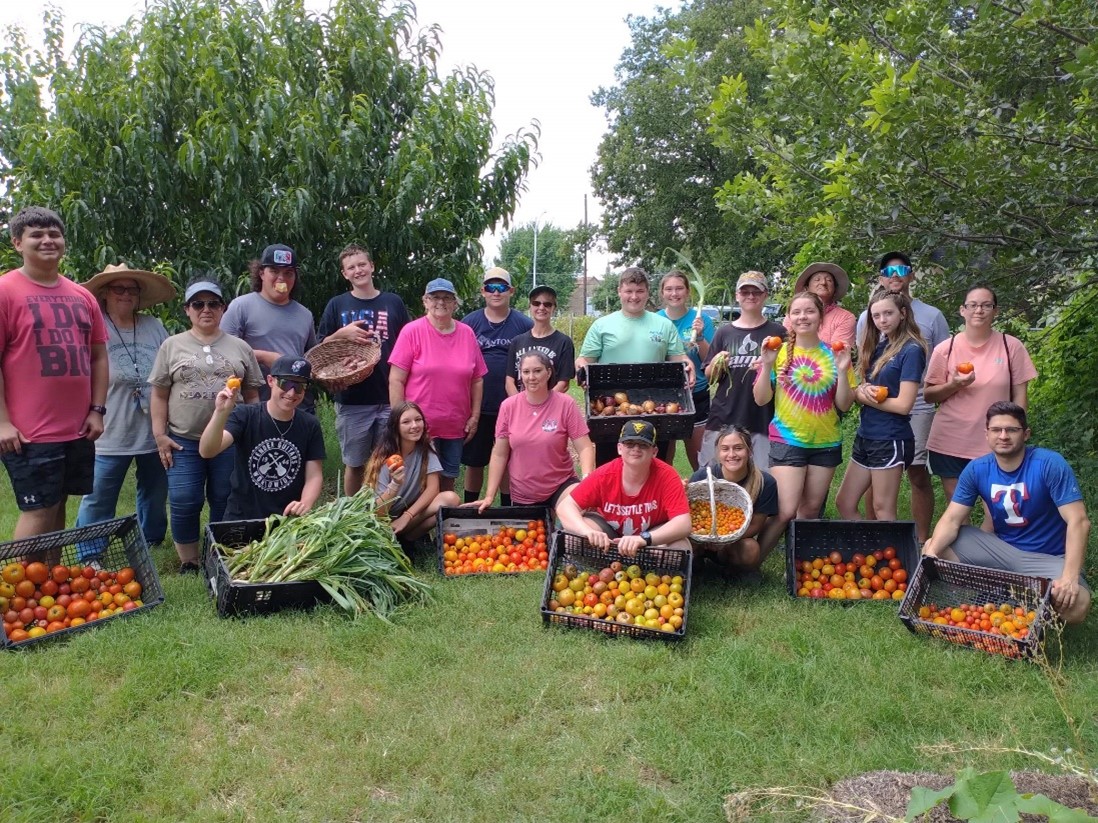 Q. Please describe the history of your community garden.
A. Our Saviour Church is a small Episcopal Mission in underserved Southeast Dallas. We looked for ways we could help our neighbors. Having four acres of grounds perfect for gardens and orchards and with the guidance and help of Gardeners in Community Development (GICD), we began with our "Plots Against Hunger", with 20 10'x24′ plots for families and pantry donations. Since then, we have grown, organically, adding more plots, orchards, a vineyard and the "Just Greens" urban farm for pantry donations. We are the GICD Center for Growing People – a teaching garden for GICD and a location for the GICD 30'x40′ greenhouse where the tomatoes, peppers, eggplants, and herbs for garden projects are grown. As a Heifer International Project for five years, we added bees, chickens, and worms! OSCG is a Jubilee Ministry of The Episcopal Church.
Q. How long has your garden been a Partner of the North Texas Food Bank? Why did you want to become a Partner Garden?
A. We were one of the first NTFB Partner Gardens. We grew and donated to NTFB Agency Food Pantries from our beginning in 2003.
Q. What needs does your garden have?
A. OSCG has been plagued with thefts of equipment, tools and supplies over the last few years. Recently, volunteers began a GoFundMe campaign to first obtain a 20′ shipping container for secure storage. Any funds after that will be used for tools, equipment and supplies. In-kind donations are welcome too!
If you'd like to volunteer at OSCG, call Becky at 214-564-5801 to be on the Saturday workday contact list. Harvesting for the Pleasant Grove Food Pantry takes place from 10 a.m.-12 p.m. on Mondays and work in the "Just Greens" garden is on Tuesdays from 10 a.m.-12 p.m. The garden is located at 1616 N. Jim Miller Rd., Dallas 75217.
If you would like to donate to OSCG's GoFundMe page, click here. Visit here to learn more about NTFB's Garden Programs.
Emily Anderson is the Garden Specialist for the North Texas Food Bank.