Make a Difference on North Texas Giving Day: September 22
This September, the community once again has the opportunity to come together and make a difference in the lives of our neighbors!
Since 2009, North Texas Giving Day has built awareness and support for local nonprofits and causes in one easy-to-use platform for its 18-hour online giving event. North Texas Giving Day aims to amplify our collective-community impact while highlighting each organization's unique focus area. Last year, a total of $66 million was raised for over 3,300 local nonprofits!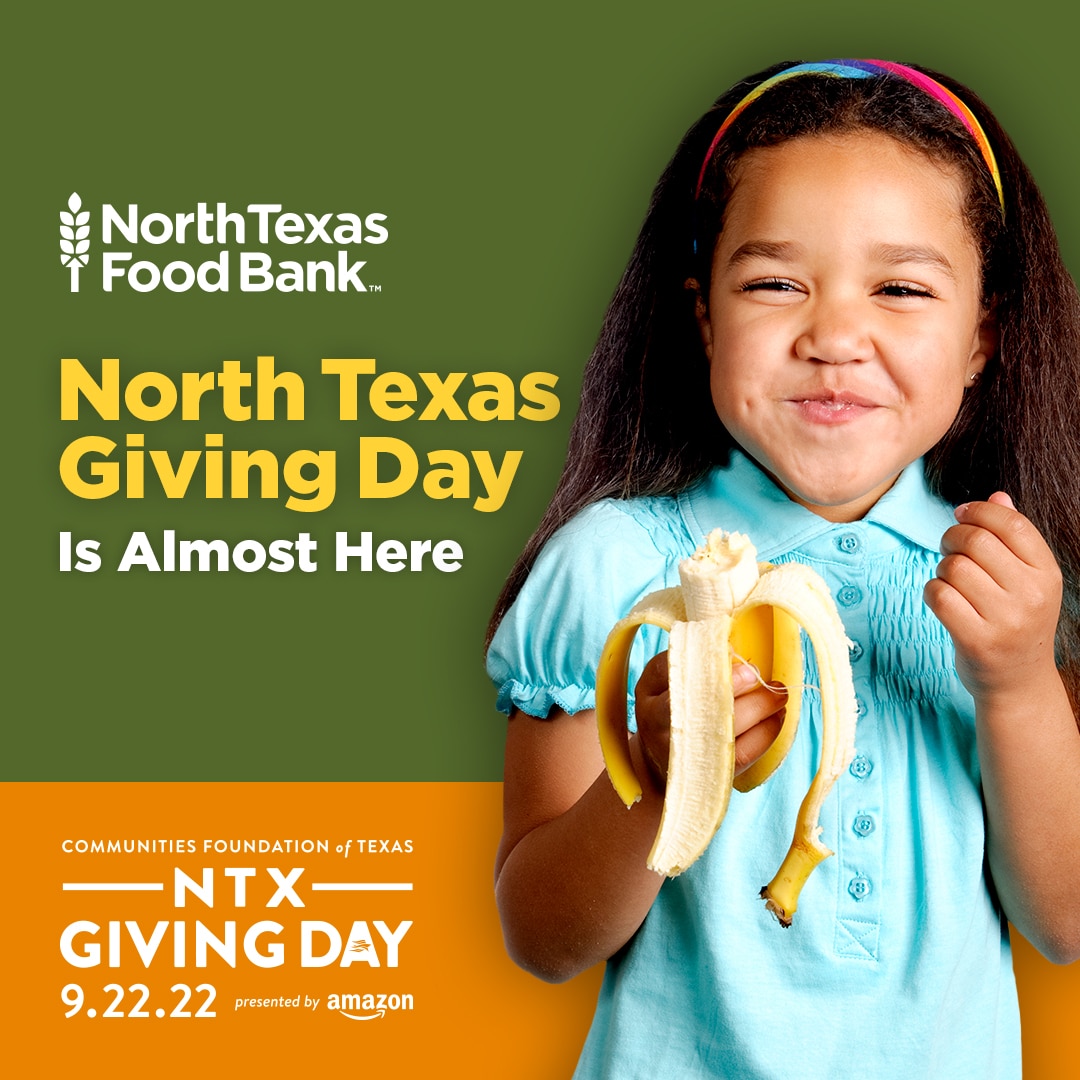 With inflated food, gas, and housing costs, our neighbors in every zip code, many of whom were struggling before the pandemic, are facing increasingly difficult choices every day – deciding whether to purchase groceries or pay for other necessities such as gas, medicine or utilities. That's a decision no one should have to make.
That is why we hope you will save the date for Sept. 22, 2022, for North Texas Giving Day, powered by Communities Foundation of Texas. This year, you can help us reach our goal of providing 3.9 million meals. In a time where food assistance is critically needed, this one day can make a HUGE impact.
As one of our neighbors, Crystal, said during a visit to one of the NTFB's feeding partners: "Coming here allows us to focus our money on the other things we need, such as rent, medical bills, car payments and insurance. It's one less thing to worry about. I'm not just grateful, I'm speechless."
Here's how you can support NTFB for North Texas Giving Day:
Create your own NTFB FUNdraising page today, and help gather support from friends, family and your network.
Schedule your donation early: Scheduling begins here on Thursday, September 1.
Donate to the NTFB on Thursday, September 22, North Texas Giving Day (18-hour day of online giving from 6am to midnight!). Every $1 provides access to 3 nutritious meals and matches will take place throughout the day so your donation can go even further!
Spread the word about North Texas Giving Day: Visit the NTFB Facebook page for more information and share on your social media channels.
To learn more, set up our fundraising page and to donate, visit www.ntfb.org/givingday.
Together, we are creating lasting change in North Texas – one meal at a time.