A Day in the Life in NTFB's Social Services Assistance Department
It takes many roles and functions for the North Texas Food Bank to serve the more than 800,000 food insecure neighbors in North Texas. From food sourcing to logistics to volunteer operations to accounting (and everything in between), we all work together to advance the Food Bank's mission to bridge the hunger gap in North Texas by providing nutritious meals.
I am excited to provide insight into one critical area of the North Texas Food Bank, the Social Services Assistance (SSA) Team. Keep reading for a little background on our role and what a typical (that is not always very "typical"!) day is like for our SSA Case Assistance Navigators.
SSA Background
SSA became a part of the Community Partner Interviewer Project, which was added to the USDA Social Services Outreach grant in 2010. Food banks were working to expand access to SNAP and other federal benefits such as Medicaid, TANF, Healthy Texas Women, Medicare Savings Program, and Long-Term Care Services by providing education, screening, and application assistance to anyone who came for help in feeding their families.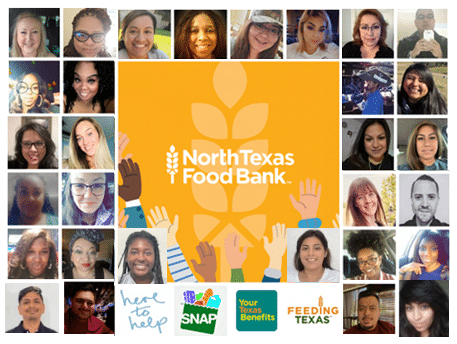 The SSA Team currently operates as a Community Partner, with our primary focus being the Supplemental Nutrition Assistance Program (SNAP), which provides nutrition benefits to supplement the food budget of needy families so they can purchase healthy food and move towards self-sufficiency.
The SSA Team serves as a liaison between people applying for benefits in our service area and Health and Human Services (HHSC) to assist them with the application process to ensure it is completed accurately and provide guidance on documentation needed for HHSC to process their application. We aim to advocate for and educate our clients on next steps while assisting them with a friendly face, so they know we care about them being successful in the process.
Assistance is provided onsite at social services agencies we partner with or at our SSA office located in Dallas. SSA also operates a call center where clients can call in to receive information on immediate needs, such as food and shelter resources, as well as well as virtual application assistance for SNAP and other HHSC programs. Additionally, every applicant is offered the opportunity to opt-in to the Referral Partner Program, which provides access to additional non-food resources to assist with their needs outside of food insecurity.
A Day in the life of SSA Case Assistance Navigator
Every day can be a different experience for our team members!
A day in the field for us can mean going to a food pantry, WIC store, homeless shelter, Mobile pantry Distribution site or any other location where we will find members of the community needing help with food. We maintain good relationships with these agencies and appreciate them allowing our team space to work while we assist their neighbors with applying for or renewing their benefits. There are times where upon arrival, there is already a line formed waiting for our assistance. We work hard to help as many people as we can during our site visit.
There is a fine balance in the field to ensure that needs are met timely and with empathy. At the end of each day, our team leaves fulfilled knowing we have done our best, and we say our goodbyes to our agencies and head home.
Occasionally we also participate in community events such as school fairs, health fairs, resource fairs, food drives, etc. These events are key in helping us increase awareness to the community about our services. During the event we provide application assistance, hand out information for our call center, answer questions and engage the community.
Other days when we are working remotely, we assist a different part of the community. These days are spent entirely on the phone or on Zoom with members of the communities within our 13-county service area. Assignments vary daily – from answering incoming calls directly from our call center hotline, answering incoming calls from our GSNAP campaign with Feeding America, conducting outbound calls from our GSNAP campaign email referrals and NTFB website referrals, and replying to email inquiries and voicemails from our NTFB SNAP page.
Our call center, as much as our sites, plays a crucial role in providing people with access to SNAP benefits. There are a lot of members of the community that are disabled, lack transportation, lack internet access, and do not have anyone to help them with this process. Any clients that we speak to are provided with virtual application assistance either via phone or by Zoom, provided with referrals to food pantries in their area, or are helped with answers to general questions that they have about benefits.
---
I am grateful to be part of such a wonderful team at NTFB and to have the opportunity to provide such critical help to the community. We as a team are always stiving to provide the best assistance possible and come up with new strategies to reach more of our hungry neighbors.
For more information, please visit here. For SNAP and benefits assistance, call 1-855-719-7627.
Leyda Valdez is the Capacity Building Specialist for the North Texas Food Bank.