ICYMI: NTFB is Moving to Plano!
September is going to be a busy time for the North Texas Food Bank! With special events revolving around the opening of our new Distribution Center, the Perot Family Campus, we are excited for you to be a part of our journey to Collin County. We recognize that change is exciting, but could lead to questions. As such, we wanted to assure you that while our distribution facility is moving north, our team will continue to serve partners across our entire 13-county service area, as we have for many years.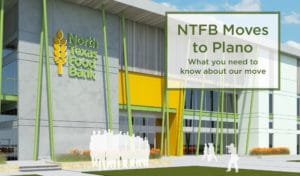 Our move to Plano will allow us to:
Have a new space that will be built exclusively for NTFB's needs and will triple our refrigerated space – when you compare it to our current warehouses, it is three times the size.
Reduce inefficiencies from our two current facilities as we streamline operations into one location more central to our 13-county service area.
Operate from a central location to our entire service area which will allow for better engagement with businesses, volunteers and donors that will help us ensure we can continue to put food on the table for our neighbors in need.
Overall, enable us to reach our goal of providing 92 million meals to hungry North Texans by 2025.
Most importantly we are taking this important step because we know the issue of hunger is not going away, and we need the support of the broader North Texas community to meet the hunger needs in our region.
This exciting change will allow us the opportunity to host a historic event: our grand opening!
Interested in attending? Check out the details below!
---
Save the Date!
Perot Family Campus Grand Opening – Sept. 16, 2018, 11 a.m. to 3 p.m.
NTFB is opening the doors of our brand new facility, the Perot Family Campus! Join us for games, tours of the new building, a ribbon cutting ceremony, and more! All ages are welcome – please RSVP here!
---
Interested in making an impact by honoring your loved ones?
Purchase a personalized, engraved paver in honor of a family member or loved one for the Jan Pruitt Community Garden! For more information and to purchase your paver, follow this link.