NTFB 2020 Holiday Partnerships and Promotions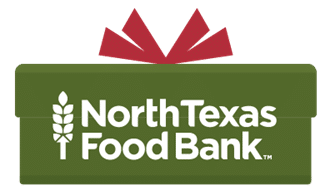 We are grateful for the many community partners who give to the North Texas Food Bank throughout the year. And the holiday season always brings a variety of opportunities for the public to enjoy some of their favorite products, retail establishments, restaurants and more while supporting hunger relief in North Texas.
In a year unlike any other, we know our neighbors need us more than ever. We are excited to announce the following promotions to give you a head start on your holiday shopping or celebrations, while helping to strengthen your community. You can always find an updated list of community campaigns here.
Thank you for your support and to all of our partners!
---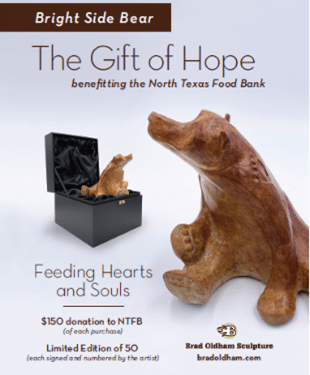 Brad Oldham Sculpture: Brad Oldham, Christy Coltrin, and the team at Brad Oldham Sculpture created 50 editions of a heartfelt bear sculpture for holiday gifting that would benefit the North Texas Food Bank. Grab yours today!
Dates: Until Sold Out
Link: www.bradoldham.com/bright-side-bear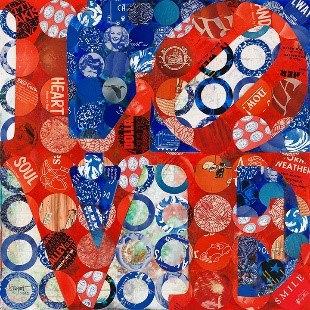 Brenda Bogart: "Heart & Soul – Made in the USA" LOVE prints are a limited edition of 1,000 with all net proceeds going to the North Texas Food Bank. Each print purchased will provide 333 meals to families in need.
Dates: Until Sold Out
Link: https://brenda-bogart.myshopify.com/

The Beeman Hotel: For those looking for a smokey taste on Thanksgiving classics, Dallas' newest BBQ restaurant Seely's Mill at The Beeman Hotel is offering a special menu for the perfect holiday at home. 10% of every order placed will benefit NTFB
Dates: Preorder now until November 22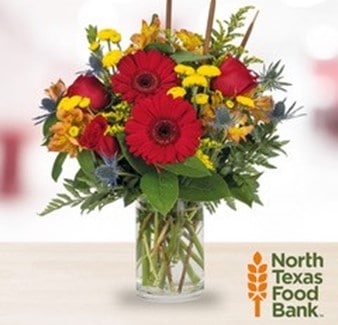 In Bloom Flowers: In Bloom Flowers will donate $10 for every Red Rover arrangement purchased in October & November 2020 to the North Texas Food Bank.
Dates: October 1 – November 30
Link: https://www.inbloomflowers.com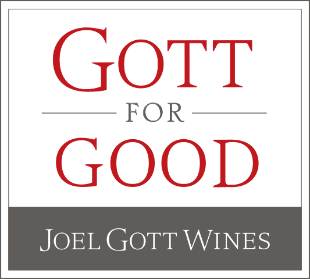 Gott for Good Campaign: In partnership with Feeding America, funds from every bottle purchased of Joel Gott Wines will benefit NTFB. Gott for Good pledges to help bring food to neighbors in need this holiday season.​
Dates: November 1 – December 31

Club Pilates Addison: In November and December, Club Pilates Addison willhost a 60-day challenge to raise money for the NTFB. They are going to host donation based classes as well as have various ways for clients to do things that they will donate for.
Dates: November 1 – December 31
Link: https://www.clubpilates.com/location/addison

Crate & Barrel: In partnership with Feeding America, Crate and Barrel employees will be encouraging customers to make a donation to their local food bank in store. Crate and Barrel will also donate $10 for each purchase of the Pasta Ornament set to Feeding America (images below).
Dates: November 1 – December 31
Link: https://www.crateandbarrel.com/

La Madeleine: Guests will have the opportunity to add a donation to the food bank or organization of their choice during the ordering process in $1 donation increments.
Dates: November 1 – December 31

Link: https://lamadeleine.com/
Michelob Ultra & Anheuser-Busch: For every 12-Pack or Lager ofMichelob Ultra sold, Anheuser-Busch will donate $0.10 to the North Texas Food Bank
Dates: November 1 – December 31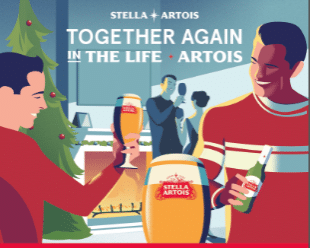 Stella Artois: Stella Artois will donate $0.50 for every Stella Artois 12-Pack Sold to NTFB throughout November and December. This includes the sale of Stella Artois, Stella Artois Midnight Lager or Stella Artois Solstice Lager.
Dates: November 1 – December 31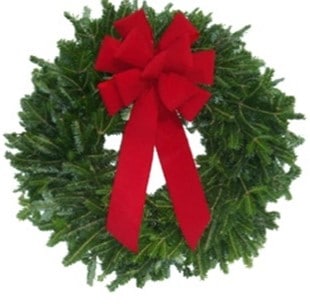 Four Winds Carriages & Brungot Farms: For every beautiful, Fresh Fraser Fir wreath purchased from Brungot Farms thru Four Winds Carriages, $5 will be donated to the North Texas Food Bank!  Wreaths will be delivered to each of our Christmas Carriage Ride locations for pick up from Highland Park, Heath, and Mount Pleasant. Wreaths will be available for pick up starting Friday December 4th, Thru Sunday December 13th.
Dates: Now until December 4
Link: https://fourwindscarriage.com/wreaths-for-h-o-p-e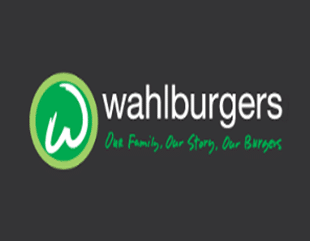 Wahlburgers: Starting November 6th-December 18th, the Wahlburger's in Frisco is "rounding up for charity." Each guest will have the option to round up and add additional dollars to their order that will benefit the NTFB.
Dates: November 6 – December 18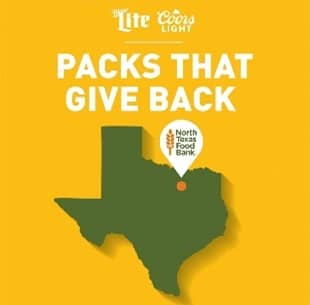 Kroger Colson Coors Program: Grab participating products at Kroger from November 8, 2020 – January 2, 2021 to support the North Texas Food Bank. This includes Miller Lite and Coors Light 15-pack aluminum pints, Vizzy Hard Seltzer 12-Packs, Blue Moon Belgian White and Blue Moon Lighsky 12-pack and 15-pack cans, Coors Seltzer 12-packs and revolver 6-pack cans.
Date: November 8 – January 2

LoneStar Sports "Hitsgiving" and "Kicksgiving" Tournament: Teams compete in a softball and kickball tournament on and off the field with canned food drives and monetary donations.
Dates: November 14 (Kickball) & November 21 (Softball)

MOD Pizza: From November 22 – 25, MOD Pizza will be donating 20% of proceeds from their 16 Dallas stores when NTFB is mentioned.
Dates: November 22 – November 25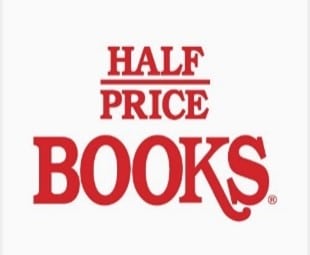 Photos with Santa: Half Price Books is full of excitement because Santa Claus is coming to town for pictures! In keeping with Christmas-time traditions, Jolly Ol' Saint Nick will be making some socially distanced appearances at the Flagship HPB in Dallas.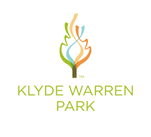 Dates: TBD
Klyde Warren Park Christmas Tree Lighting – Join the North Texas Food Bank at Klyde Warren Park for their annual tree lighting.
Date: December 5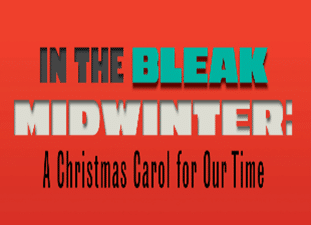 A Christmas Carol: The Dallas Theater Center is presenting the classic Christmas story re-imagined in a world premiere film. Created specifically to be filmed under the unique circumstances of the pandemic this movie updates Charles Dickens' story to our contemporary world, deepens our understanding of the beloved characters with compassion, humor and grace, and provides a holiday event to enjoy within the comfort of your own home.
Dates: Virtual starting December 5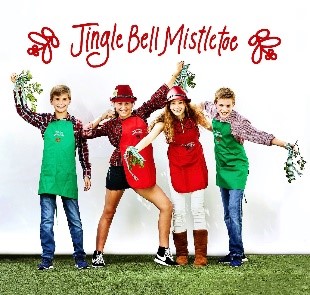 Jingle Bell Mistletoe: Join the Mistletoe Kids for their 9th year of selling mistletoe in Highland Park Village to benefit our hungry neighbors. New this year: MISTLETOE PRE-SALES!
Dates: December 18 – 21 from 1:00 PM – 4:00 PM