Nourishing our Neighbors with Nutritious Foods
Research tells us that food insecurity and health issues often go hand-in-hand. Our neighbors who live in food-insecure households frequently share that healthy foods are too expensive, and simply not an available option. Imagine surviving on a diet that never included fruits or vegetables, or lean proteins and milk. The quality of the food you eat can impact your physical and mental health, so eating a balanced diet is important to maintain a healthy lifestyle.
At the North Texas Food Bank (NTFB), we know all too well that foods that are high in nutritional value are likely out of reach for our food-insecure neighbors. For that reason and others, we are committed to providing access to nutritious food to all our hungry neighbors. But access to nutritious food is just part of the problem. The NTFB also offers free culinary and nutrition education. We are dedicated to closing the hunger gap in North Texas through empowering our neighbors to experience better health and quality of life through access to nutritious foods, and through providing the knowledge and skills to select and prepare healthy meals.
With summer now in full effect, enjoy this recipe crafted by Feeding America that utilizes healthy ingredients for a refreshing summer treat.
Summer Sunshine Smoothie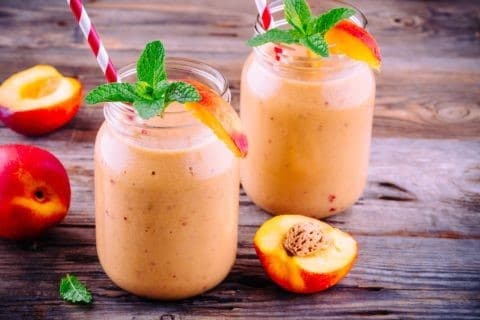 Ingredients
Servings: 2
• 1 cup low-fat milk
• ½ cup low-fat vanilla yogurt
• 1 nectarine, sliced
• 1 banana, broken in half
• ½ cup carrots – frozen, canned, or shredded fresh
• 1 cup ice cubes
Instructions
1. Place all ingredients in a blender.
2. Blend until smooth, adding more milk or ice as needed.
3. Enjoy!
*Tip: Use what you have! If you don't have carrots, try fresh spinach or cooked sweet potatoes. You can also replace vanilla yogurt with plain or strawberry yogurt.
Nutrition per serving: 198 calories, 9g protein, 2g fat, 38g carbohydrates, 3.5g fiber, 114mg sodium
To find more healthy recipes from Feeding America, click here.