North Texas Giving Day is Back: Sept. 17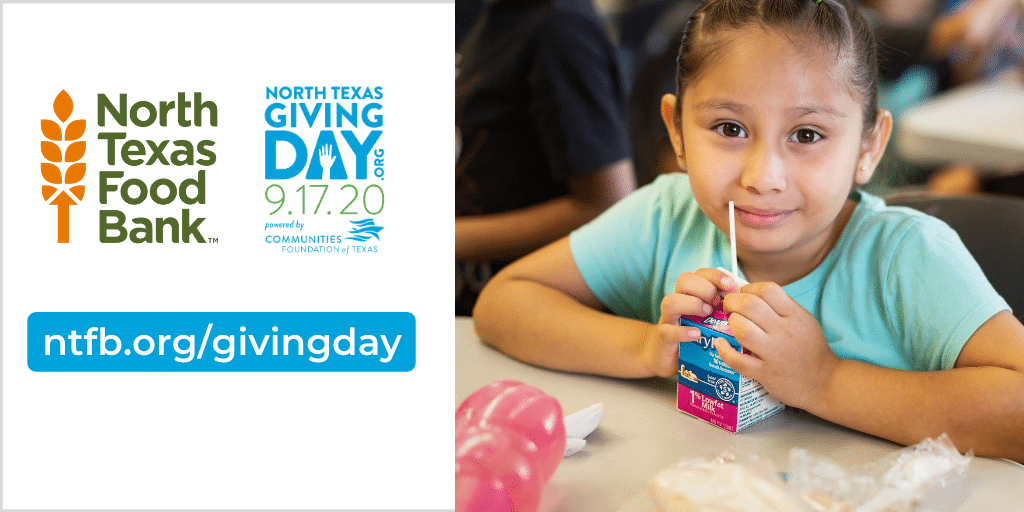 I never needed a food pantry before, but I lost my job and I am worried about feeding my children.
We were already struggling and with reduced hours at work, our situation is even worse.
I don't know what I would do if your services were not here.
These are just a few sentiments the North Texas Food Bank has heard from neighbors in need since the onset of the COVID-19 pandemic, which has unleashed financial hardships on thousands of individuals and families across North Texas.
North Texans continue to lack access to nutritious food as they make difficult choices and stretch resources to meet basic needs. We are honored to be on the frontlines to ease food insecurity for our neighbors, and the public's continued support is critical.
That is why we hope you will save the date for Sept. 17, 2020, for North Texas Giving Day, powered by Communities Foundation of Texas. On this day, the community can come together and support NTFB through the 18-hour online giving event. In its 12th year, North Texas Giving Day aims to amplify our collective-community impact while highlighting an organization's unique focus area on its easy-to-use online platform.
This year, you can help us reach our goal of providing 2.4 million meals. In a time where food assistance is needed more than ever, this one day can make a HUGE impact.
Here's how you can support NTFB for North Texas Giving Day:
Become a Super Fan: Create your own NTFB FUNdraising page today, and help gather support from friends, family and your network
Schedule your donation early: Scheduling begins Tuesday, September 1 through Wednesday, September 16
Donate to NTFB on Thursday, September 17, North Texas Giving Day (18-hour day of online giving from 6am to midnight!)
Spread the word about North Texas Giving Day: Visit the NTFB Facebook page for more information and share on your social media channels
To learn more, become a Super Fan and to donate, visit www.ntfb.org/givingday.
---
Caryn Berardi is a Communications Specialist for the North Texas Food Bank.