North Texas Food Bank Golden Fork Awards Honor Outstanding Supporters
The 16th annual ceremony recognized Anurag Jain, Valerie Hawthorne, Kroger, Feeding Texas, Deborah Ferguson and others.
The North Texas Food Bank (NTFB) recognized top supporters and volunteers at its annual Golden Fork Awards ceremony. The awards were presented to corporations, organizations and individuals that have made a significant impact on hunger-relief efforts in North Texas through their generosity and dedication.
"This season each year, it is appropriate that we pause to formally recognize our most passionate hunger fighters and honor their unwavering support and commitment to serving the community," said President and CEO Trisha Cunningham. "The North Texas Food Bank is fortunate to have such rich community support in our mission of closing the hunger gap in North Texas. We could not do what we do without the inspiring generosity and dedication of these individuals and organizations."
The following recipients were honored for their contributions at the ceremony on October 19: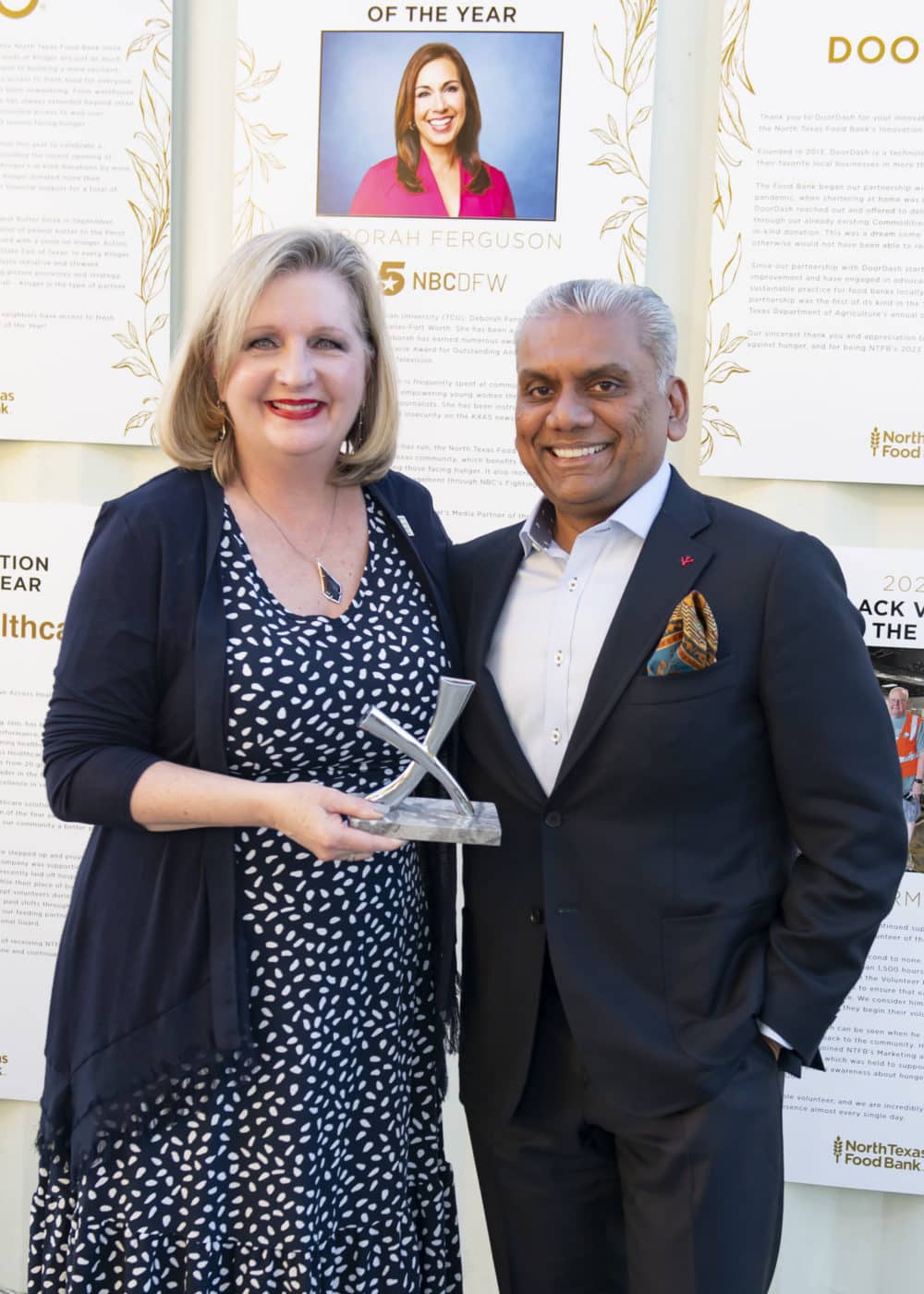 Trisha Cunningham, President and CEO of the North Texas Food Bank, and Anurag Jain, CEO of Access Healthcare
Lifetime Achievement Award: Anurag Jain, chairman and CEO of Access Healthcare
An entrepreneur, philanthropist and venture capitalist, Anurag Jain is dedicated to charting a better course for humanity by pioneering solutions for some of the world's most complex problems. He is a thought partner and problem-solver and has served on the NTFB board for nine years, including as Board Chair for three years. When NTFB identified technology as an area of improvement that could help better support its mission, Anurag helped connect the Food Bank to a prominent company for a third-party assessment, which became the basis for NTFB's IT strategy.
During the pandemic, NTFB needed volunteers because companies were sending employees home when businesses went to remote work. Anurag brainstormed an alternative use for a technology solution he has invested in called ShiftSmart and helped set up a fund with the Communities Foundation to compensate unemployed hospitality industry workers as they replaced the volunteer workforce at the Food Bank, and later, its partner agencies. With this initiative, called Get Shift Done, 28,000 workers were employed and served over 60 million meals, and the concept was expanded to other parts of the country. Get Shift Done was named the No. 1 Most Innovative Not-for-Profit Organization by Fast Company in 2021.
Anurag and his wife, Gunjan, have personally supported the North Texas Food Bank for more than 13 years, participating in the Fight Hunger Build Hope capital campaign and most recently serving as co-chairs of NTFB's Nourish North Texas Comprehensive Campaign that raised $500 million in financial support and in-kind gifts, including support of our first endowment campaign. Anurag continues to serve NTFB as Chair Emeritus and a Lifetime Board Member.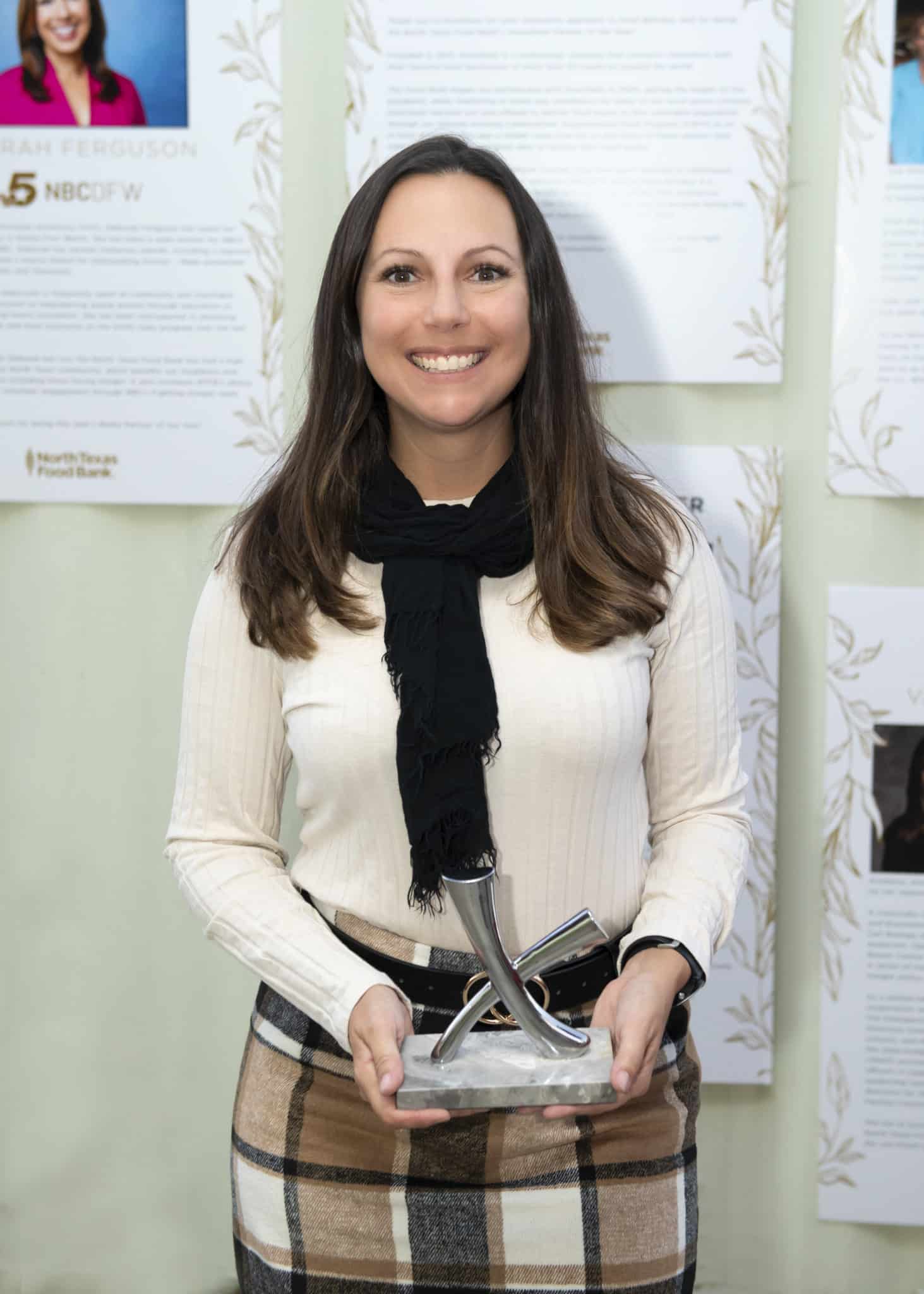 Valerie Hawthorne, Ph.D.
2023 Jan Pruitt Legacy Award: Valerie Hawthorne, Ph.D.
The Jan Pruitt Legacy Award is given to a Food Bank employee or an employee of one of our partner agencies and it honors NTFB's late CEO Jan Pruitt, who led the North Texas Food Bank for 20 years. The award was created in her memory six years ago and is especially meaningful to us as it is given to individuals who embody the traits exemplified by Jan. The award was presented to Dr. Valerie Hawthorne, who served as Director of Government Relations of the North Texas Food Bank for seven years. In her role, Valerie served as a subject matter expert in anti-hunger policy, statistical data and root cause drivers of hunger. Under her leadership, both the Houston and North Texas food banks were awarded entry into Feeding America's Advocacy Hall of Fame, and they've been recognized nationally for their approach to food policy work. Valerie was also accepted into Feeding America's Advocacy Academy and awarded a fellowship and recognition by the Tableau Foundation for her implementation of data-based visualizations. As a skilled lobbyist since 2014, Valerie has worked on multiple federal initiatives in cooperation with other policy leaders. At the state level, she helped increase produce funding in the state budget, fought against threats to accessibility with the Supplemental Nutrition Assistance Program and provided testimony and data visualization for many legislative offices in support of bills seeking to fight hunger in Texas. Locally, she served on the leadership team of the Dallas Coalition for Hunger Solutions and on the board of directors for the Dallas Development Fund. She was also appointed to the Dallas Public Facility Corporation by the Dallas City Council. Valerie always approached her work with a can-do spirit. That was on full display at the start of the pandemic when Valerie stepped in as the interim leader of NTFB's Community Partner Relations Team, providing leadership to each team member as well as to the National Guard as they executed an emergency mobile distribution plan to address the growing number of people facing hunger.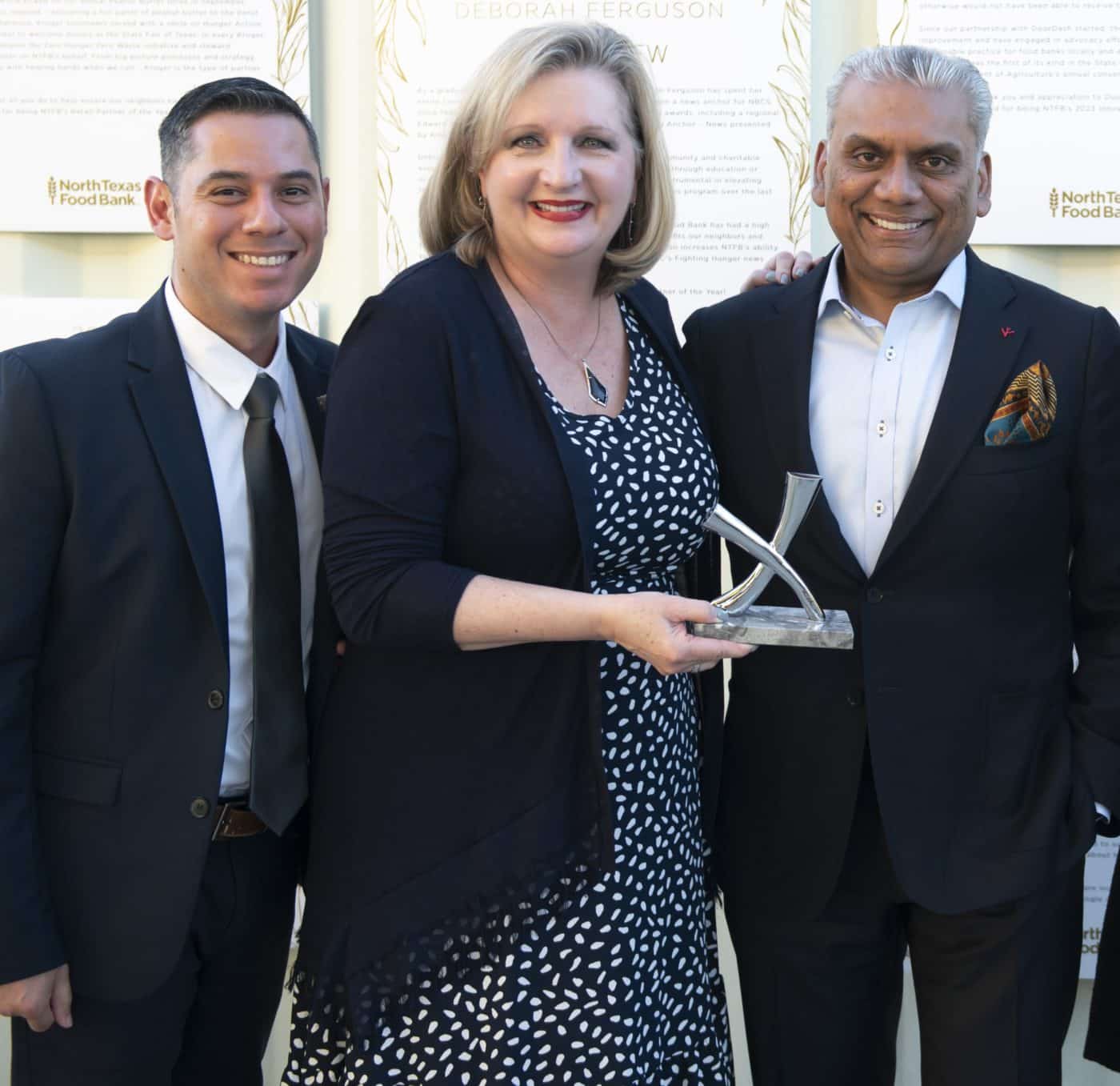 Vidal Quintanilla and Anurag Jain (with Trisha Cunningham), Access Healthcare
Corporation of the Year: Access Healthcare
During the height of the pandemic, Access Healthcare stepped up and provided more than 1.5 million nutritious meals to our neighbors facing food insecurity. Additionally, Access Healthcare generously welcomed our External Affairs team to their office when they had to vacate our Dallas Farmers Market location during construction. By hosting NTFB during the busy holiday season, they ensured we didn't miss a beat. After NTFB moved out, Access Healthcare also donated the office furniture to agencies in our Feeding Network. As a corporation that works to transform healthcare through technology and knowledge, Access Healthcare and its more than 27,000 employees have long been leaders in their industry. With the work they do at the NTFB, they are also leaders in making our community a better place to live and work.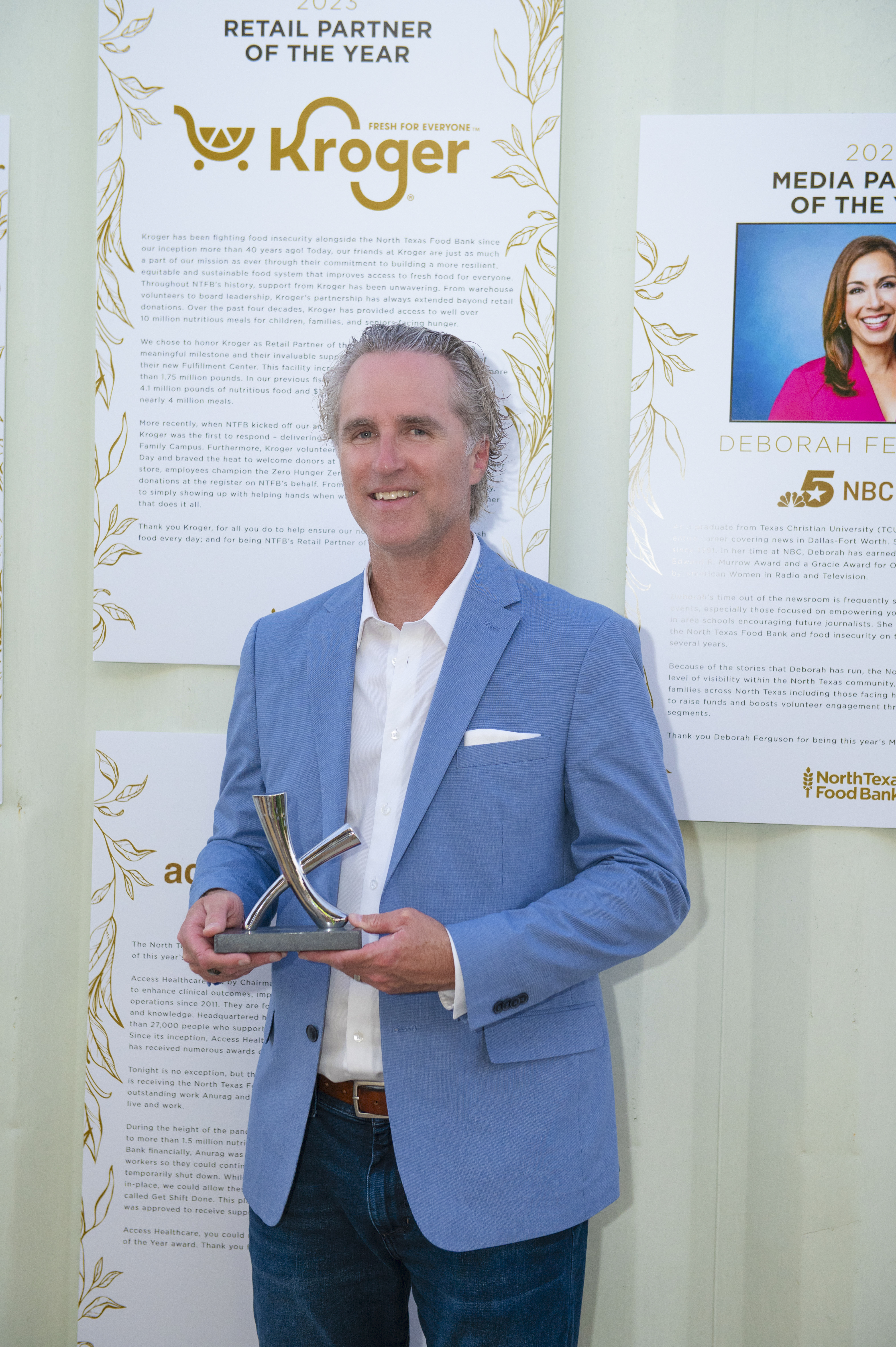 John Votava, Kroger
Retail Partner of the Year: Kroger
Kroger has been fighting food insecurity since its inception, providing access to well over 10 million nutritious meals for children, families and seniors facing hunger during the last four decades. NTFB chose to honor Kroger this year after the opening of its new Fulfillment Center, which increased Kroger's in-kind donations by more than 1.75 million pounds of food, bringing its donations for fiscal year 2023 alone to over 4.1 million pounds of nutritious food. Kroger also contributed $171,000 in financial support, which equates to nearly 4 million meals. Whether donating to NTFB's annual Peanut Butter Drive, collecting cans at the State Fair of Texas, volunteering in the warehouse or serving on the board, Kroger and its staff have always shown an unwavering commitment to the Food Bank and its mission.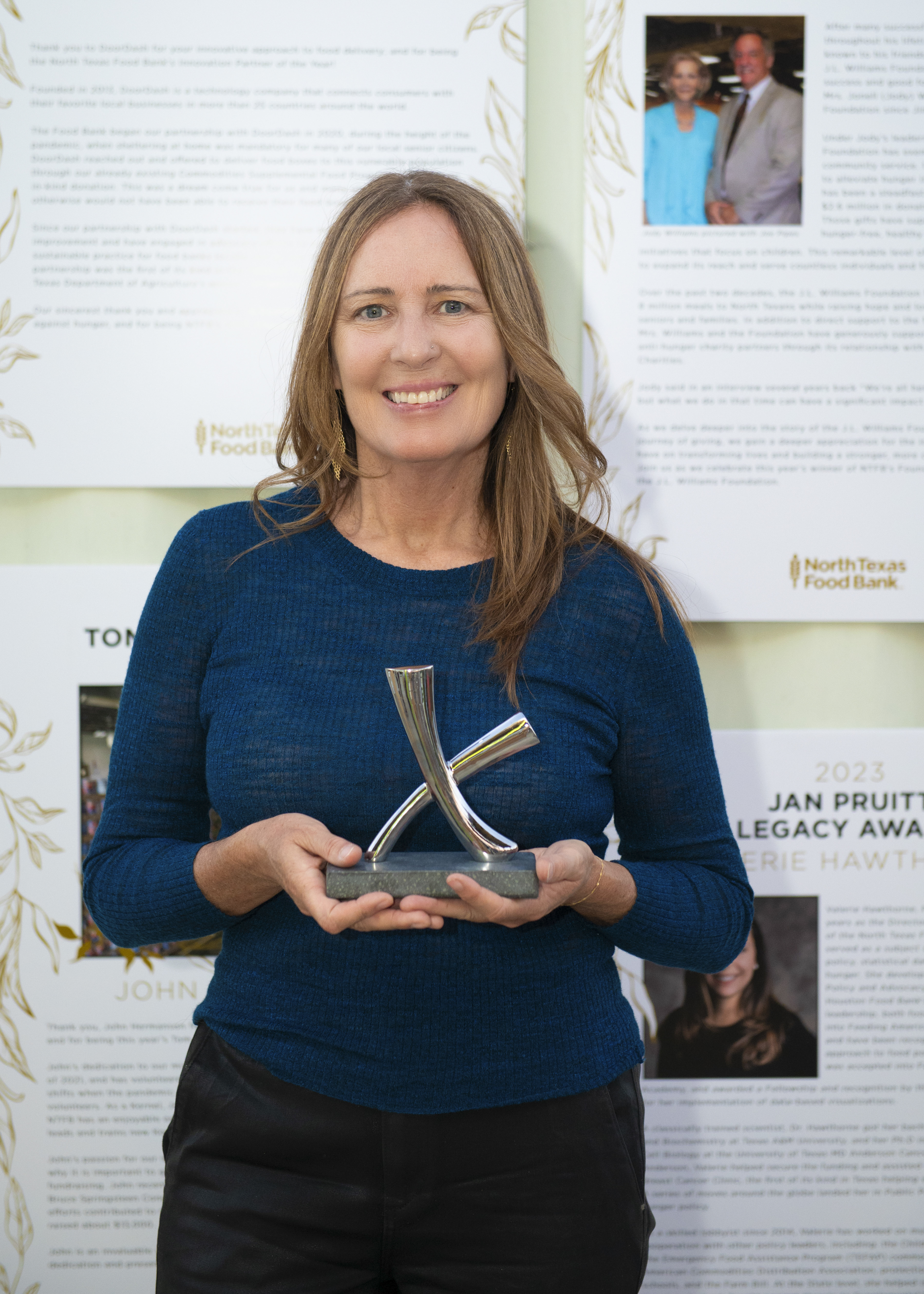 Celia Cole, Feeding Texas
Hunger Ambassador of the Year: Feeding Texas
With a network of 21 Texas food banks, including the North Texas Food Bank, Feeding Texas leverages state-wide resources to provide nutritious food to neighbors, and it offers technical assistance, best practices and targeted resources to help NTFB build capacity in this time of expanded need. For the last 20 years, Feeding Texas has also led an organized effort to engage lawmakers. During this year's Texas Legislative session, several new laws were passed that will prevent hunger for Texans experiencing food insecurity.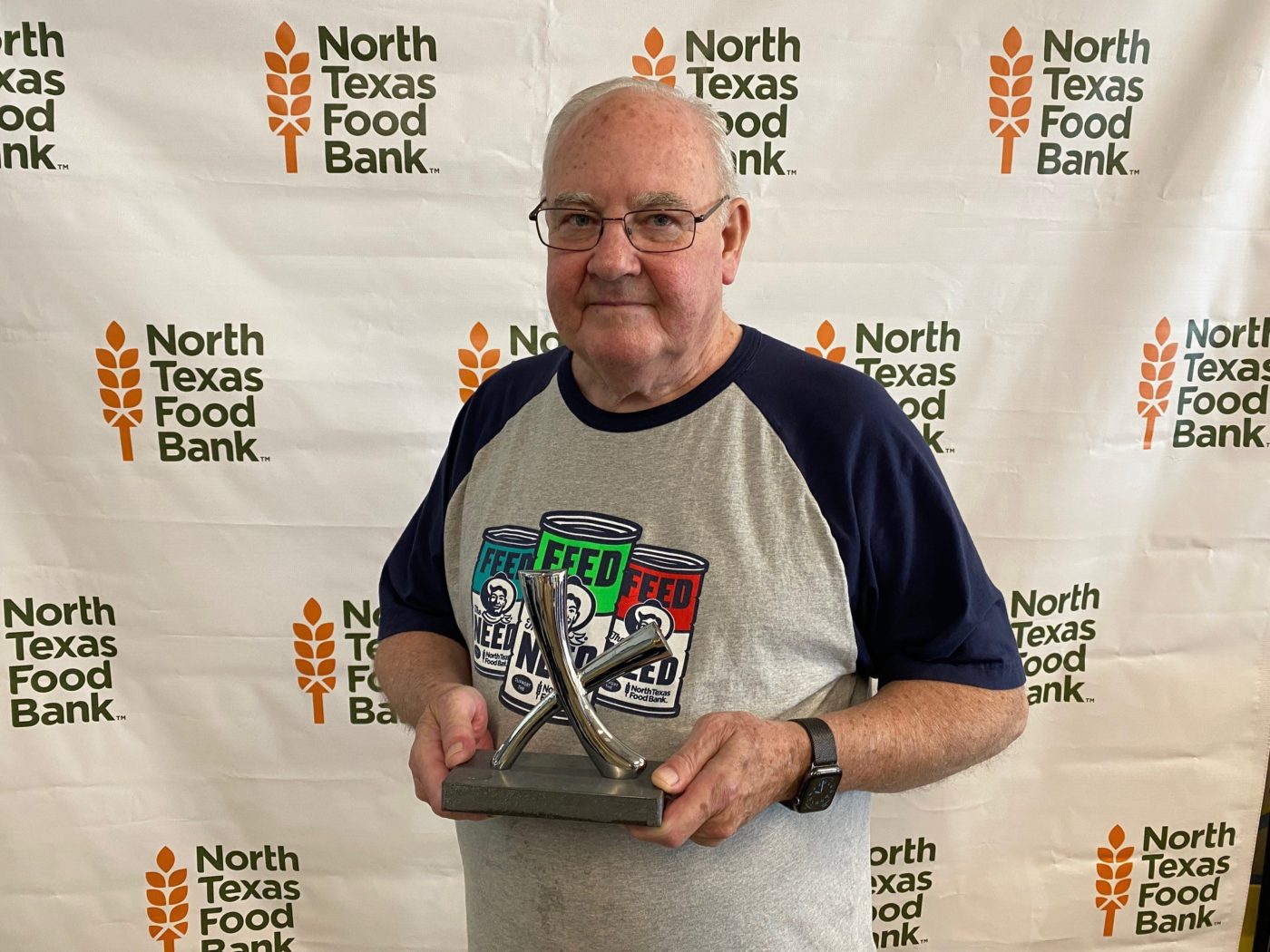 John Hermanson
Tom Black Volunteer of the Year: John Hermanson
John Hermanson is a selfless, dedicated and hard-working volunteer whose passion for the Food Bank's mission is evident in all he does. Since April of 2020, he has volunteered over 1,300 hours, even picking up extra shifts when the pandemic shut down the majority of our daily volunteers. John has also been serving as a Kernel, which is what NTFB calls its volunteer leaders, since December 2021. He now leads and trains new Kernels as they begin their journey and shares his commitment and enthusiasm for the Food Bank when speaking with Junior Kernels, or youth volunteer leaders. John even got involved in fundraising recently, joining our Marketing and Communications Team for the Bruce Springsteen concert that benefited the North Texas Food Bank, helping increase awareness of the issue of food insecurity locally and, along with the team, raising nearly $13,000.
Named for former board chair and NTFB LIFE Council member Tom Black, this award recognizes someone who exemplifies the same selfless commitment Black always displays.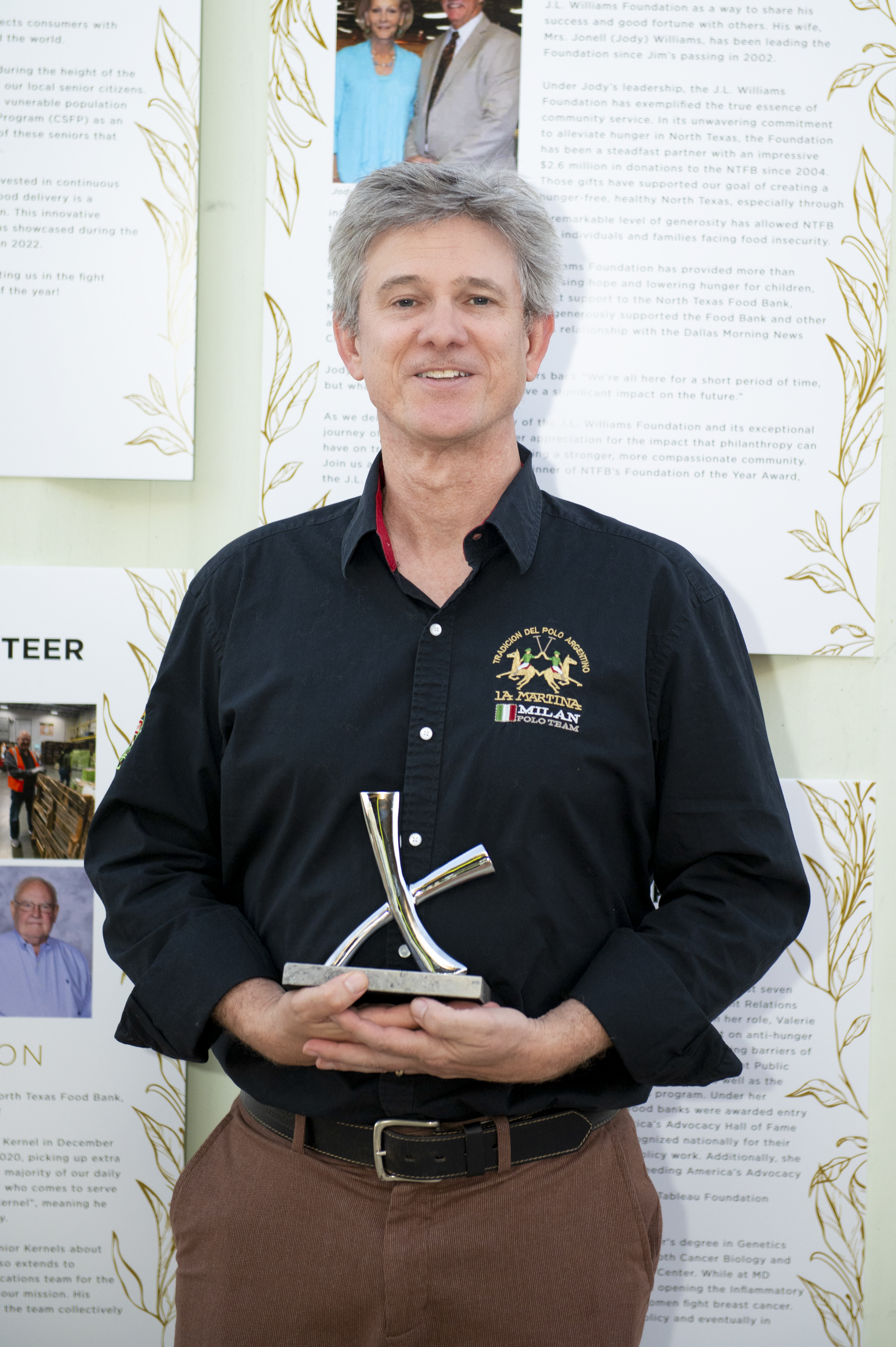 David Cramer, Trinity Ceramics Supply
In-Kind Donor of the Year: Empty Bowls Potters and Woodturners
When David Cramer became president and owner of Trinity Ceramics Supply, he made a commitment to its founders that he would continue the company's annual support of Empty Bowls, which benefits the NTFB. Cramer has done just that, cultivating a team of artisans for the past nine years to create bowls for the event. This year, he recruited more than 55 individuals and 14 teams that hand-crafted over 1,000 bowls, helping to raise more than $250,000 for the NTFB. It's because of David and all the artisans that this event is such a success.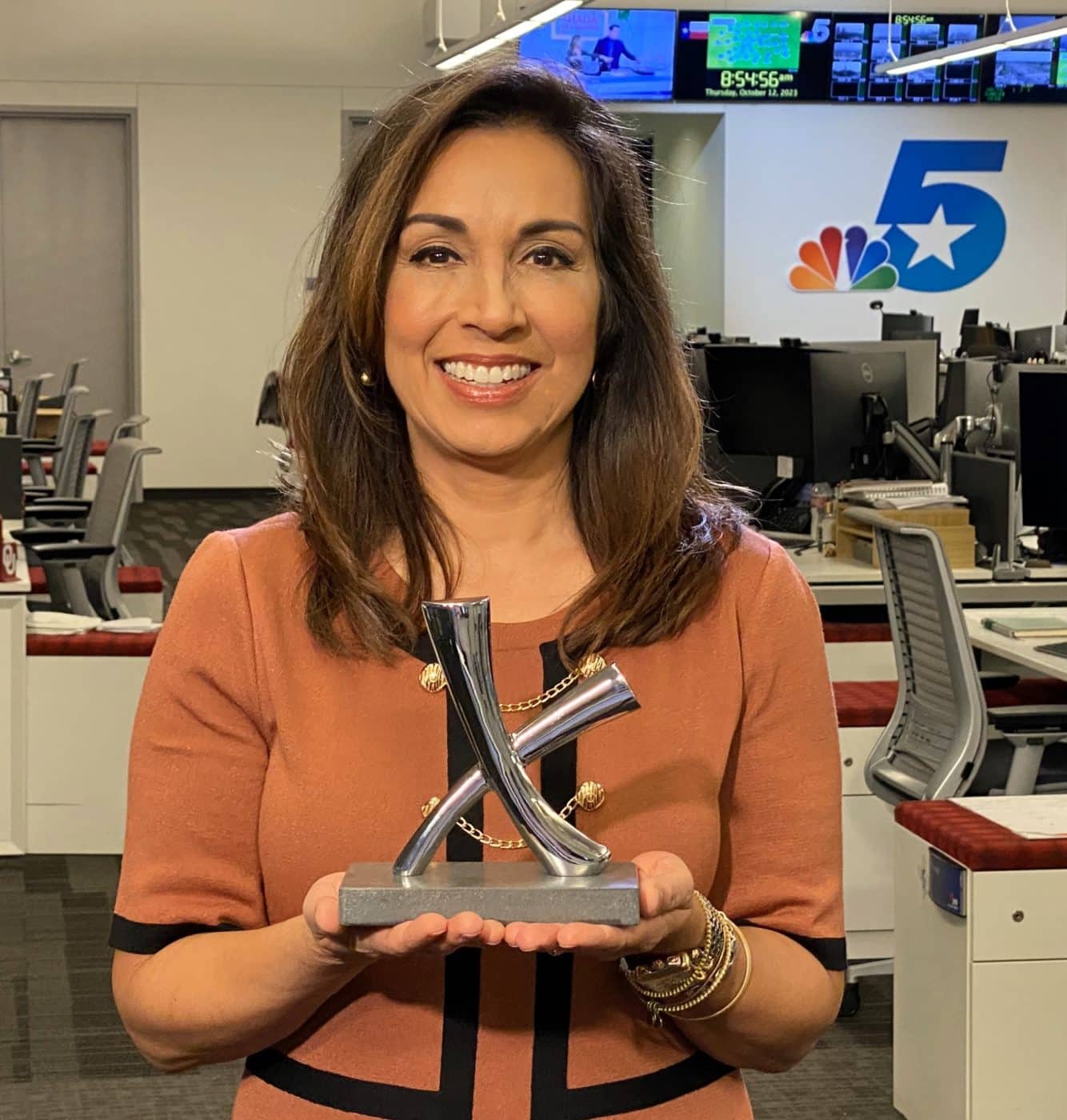 Deborah Ferguson, NBC5
Media Partner of the Year Award: Deborah Ferguson, News Anchor for NBC5
Deborah Ferguson has spent her entire career covering Dallas-Fort Worth and has earned numerous awards, including a regional Edward R. Murrow Award. Over the last several years, Deborah has been instrumental in elevating the NTFB and food insecurity on the KXAS news program. Her stories have increased the NTFB's visibility within the community, which directly benefits North Texas families who are facing hunger. Her coverage has also helped the Food Bank to raise funds, and NBC's Fighting Hunger news segments have boosted volunteer engagement. The awareness built by Deborah and our media partners leads to more neighbors seeking out our help; more people stepping up to volunteer; and more supporters donating food and funds to support their fellow North Texans.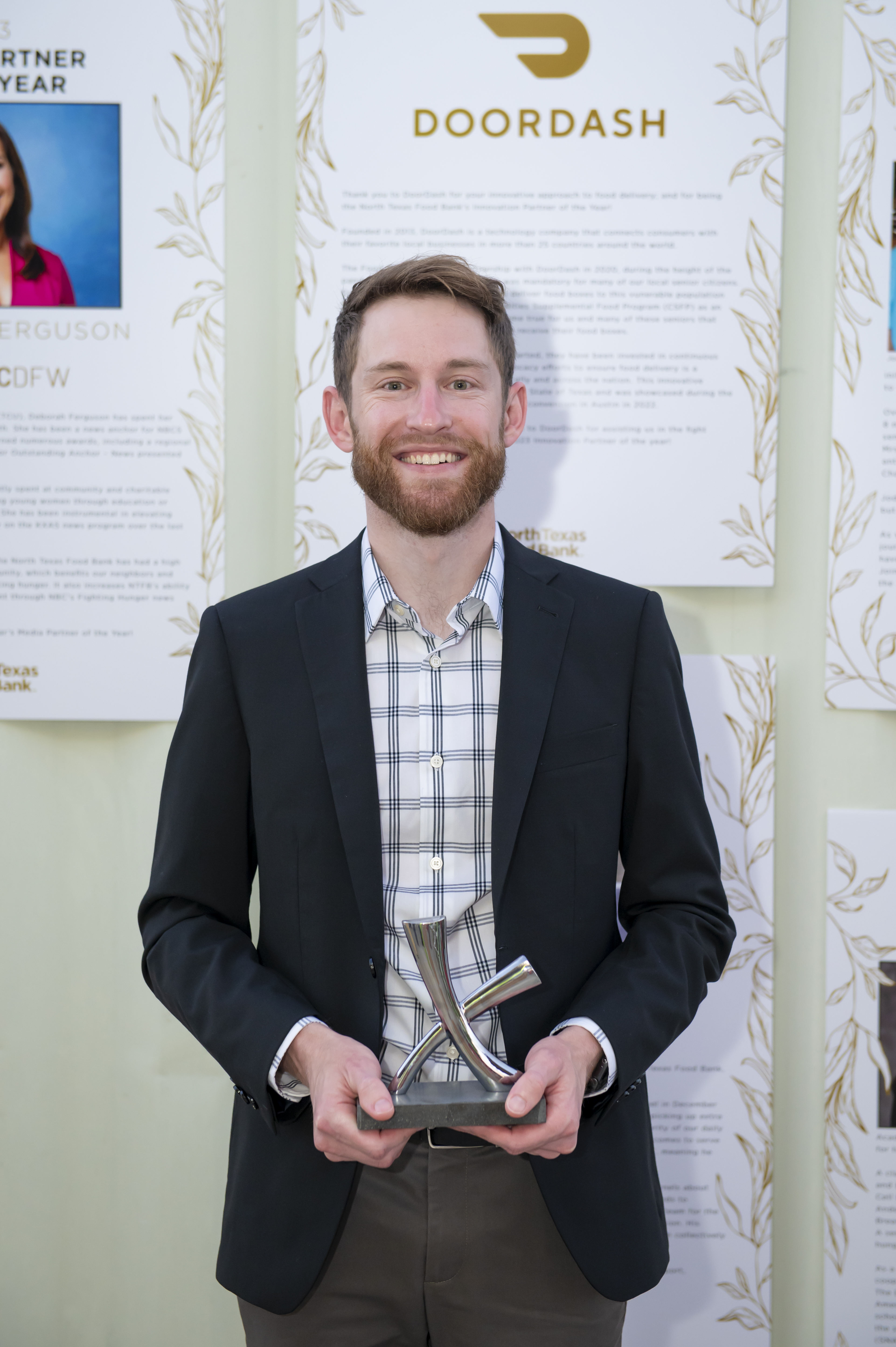 Daniel Riff, DoorDash
Innovation Partner of the Year: DoorDash
The Food Bank began a partnership with DoorDash in 2020 during the height of the pandemic when sheltering at home was mandatory for many of our area seniors. DoorDash offered to deliver food to this vulnerable population as part of our already existing Commodities Supplemental Food Program, and they offered the service as an in-kind donation. This was a dream partnership as many of these seniors would not have otherwise received their boxes of food. This innovative partnership was a first of its kind in Texas and was showcased during the Texas Department of Agriculture's annual convention in Austin. Since our partnership began, DoorDash has been invested in continuous improvement and has engaged in advocacy efforts to ensure food delivery is sustainable for the NTFB and at other food banks.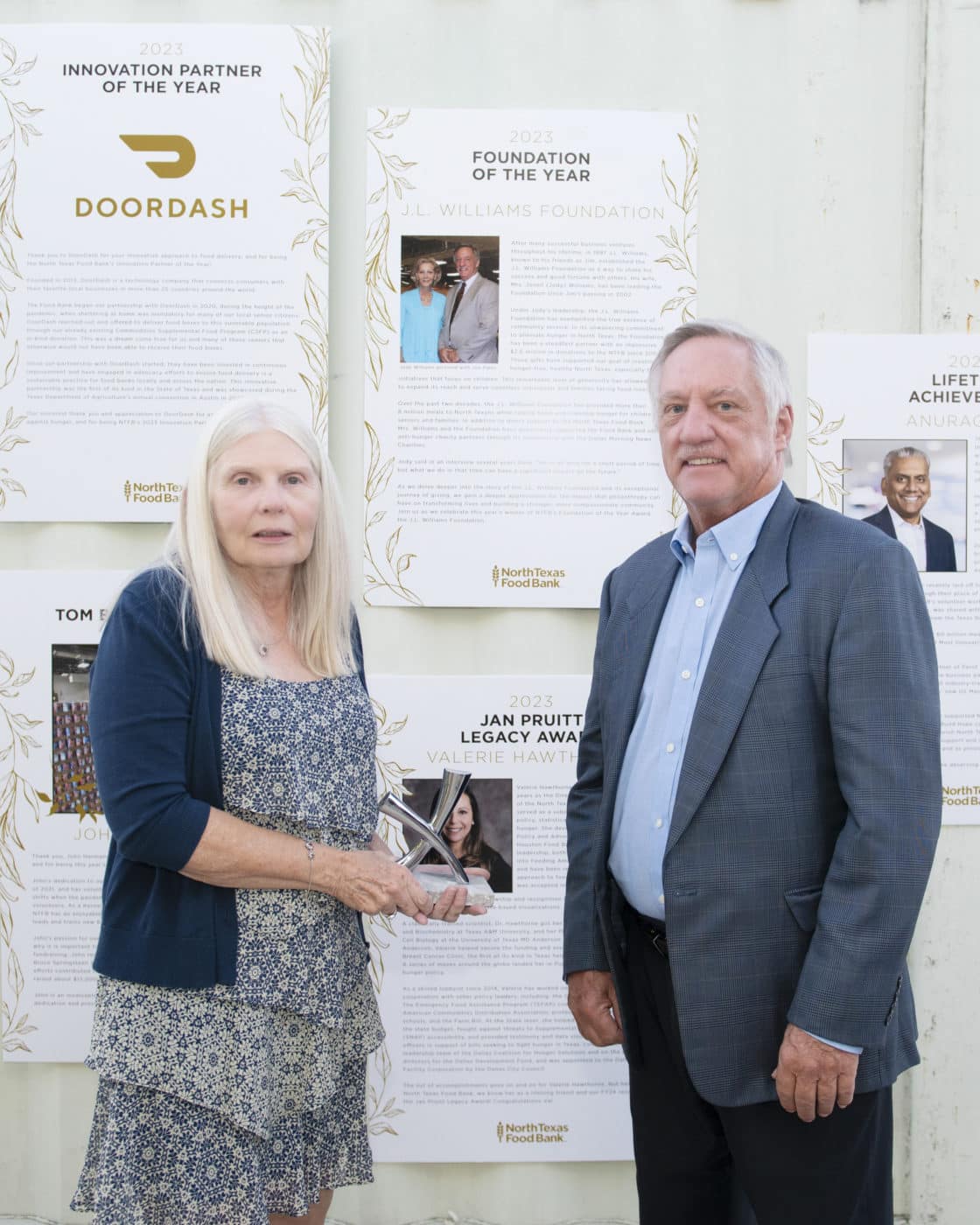 Julia Underwood and Joe Pipes, J.L. Williams Foundation
Foundation of the Year Award: J.L. Williams Foundation
Since 2004, the J.L Williams Foundation has given the NTFB an impressive $2.7 million in donations, all in support of a hunger free North Texas, with a special emphasis on programs that serve children. This remarkable level of generosity has allowed NTFB to expand its reach and serve countless individuals and families facing food insecurity. Over the past two decades, the foundation has provided more than 8 million meals to North Texans. In addition to this direct support, Mrs. Jonell (Jody) Williams and the Foundation have generously supported the Food Bank and other anti-hunger charity partners through its relationship with the Dallas Morning News Charities. Jody said in an interview several years ago, "We're all here for a short period of time, but what we do in that time can have a significant impact on the future."
A special thanks goes to Briggs Freeman Sotheby's International Realty for sponsoring the Golden Forks event and for their continued support of the North Texas Food Bank.