North Texas Food Bank Celebrates 10 Years of its Peanut Butter Drive
Organizations across all 13 counties served by the North Texas Food Bank help feed children facing hunger by raising $343,000 in peanut butter.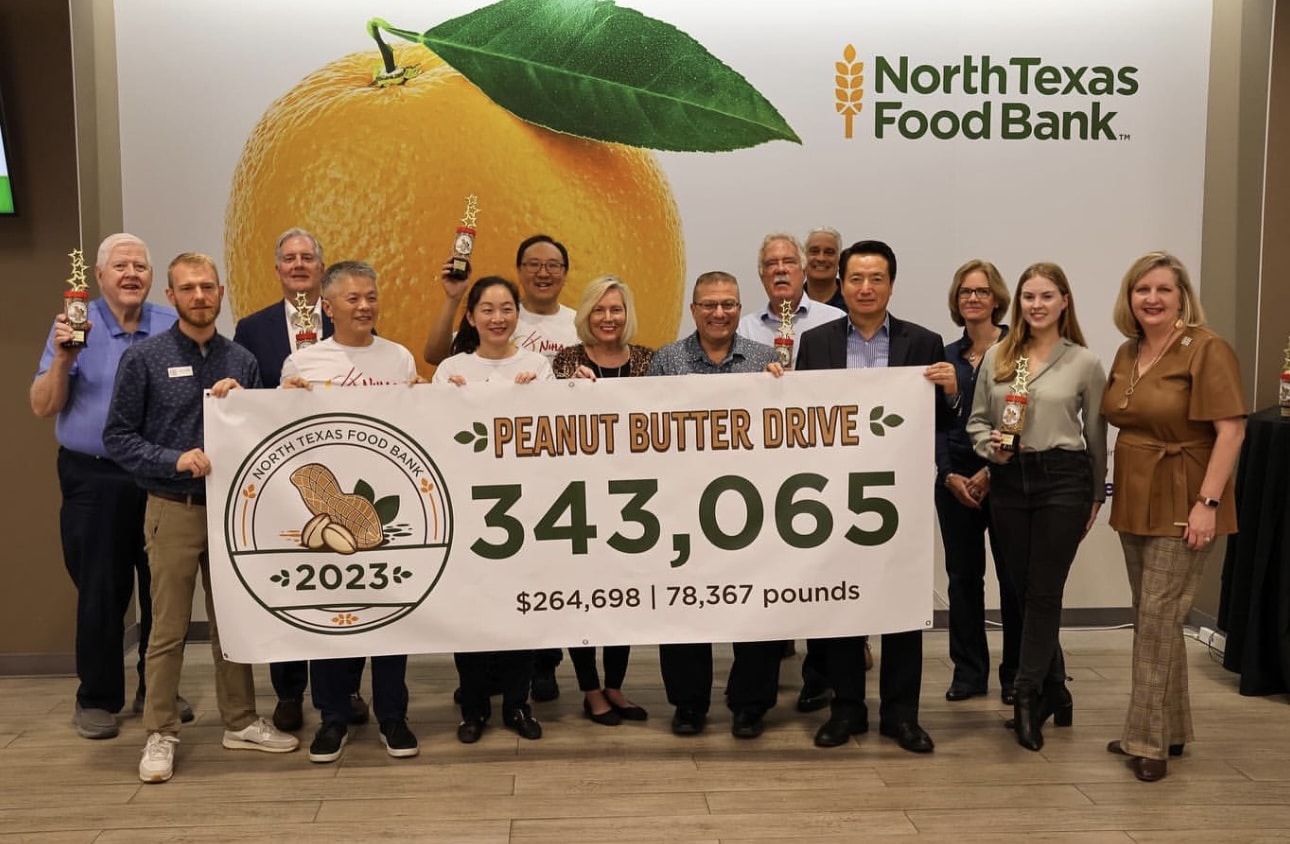 During the North Texas Food Bank's 10th annual Peanut Butter Drive, nearly $265,000 and 78,400 pounds of peanut butter — or a total financial equivalent of $343,065 — was collected by cities, neighborhoods, faith-based groups, corporations and other organizations in the Food Bank's 13-county service area.
The jars of peanut butter collected will be distributed through NTFB's Food 4 Kids backpack program and its feeding network of about 500 partner agencies and organizations. Peanut butter is a healthy, kid-friendly and shelf-stable item that is an important component of nutritional charitable food assistance.
"We are so grateful for the community's enthusiasm and support of our annual Peanut Butter Drive," said Trisha Cunningham, President and CEO of the North Texas Food Bank. "As the North Texas Food Bank continues to distribute record levels of food, the support of the peanut butter drive helps us provide nutritious food to the more than 218,000 children facing hunger in North Texas."
While peanut butter is a staple item in most homes and remains a part of the NTFB budget at a fixed rate, higher costs for peanut butter means that the Food Banks is not able to meet demand for the product from our neighbors. It continues to collect food to meet the balance, which is why this drive is such an important one.
The following recipients were recognized at the Peanut Butter Drive Reveal Ceremony for collecting the most peanut butter in their categories:
Top Company: NTT Data
Top Educational Organization: Rice Middle School
Top City: Plano
Top City Per Capita: Fairview
Top Faith-Based Organization: Church of Jesus Christ of Latter-Day Saints
Top Neighborhood: Heritage Ranch Neighborhood
Top Community Group: Nihao
Grocery Champion: Kroger
As in the past, the Peanut Butter Drive is led by a committee dedicated to fighting childhood hunger. Each of the committee members not only coordinated a drive but also personally reached out to multiple organizations and individuals encouraging the community to get involved. The 2023 Peanut Butter Drive Committee consisted of:
Raj & Anna Asava – HungerMitao
Dustin Davis – Ryan LLC
Justin Bitner – Ryan LLC
Ron Johnson – Church of Jesus Christ of Latter-Day Saints, Plano
Breon Dennis – Frisco Rough Riders
Rick Grady – Plano City Council
Jennifer Meldrum – Church of Jesus Christ of Latter-Day Saints, Allen
Nikki Butler – Church of Jesus Christ of Latter-Day Saints, Allen
Ken Crawford – Northway Christian Church
Noelle Rivera – Northway Christian Church
James Huang – Nihao
Kay Maxwell – First Unitarian Church of Dallas
Kathy Warman – NTT Data
Trey Pierce Frisco Rough Riders
"I want to recognize all who supported Hunger Action Month and the Peanut Butter Drive, including the Peanut Butter Drive Committee, all the cities who supported the drive with the promotional video, proclamations, hosting drives and spreading the word in your communities. We are grateful to all the mayors and committee members who support this campaign and help advance our mission of providing food for today and hope for tomorrow," continued Cunningham.