North Texas Food Bank and Partners: Fighting Food Insecurity in our Communities
With the support of volunteers and a powerful feeding network, the
organization continues to fight food insecurity across area neighborhoods.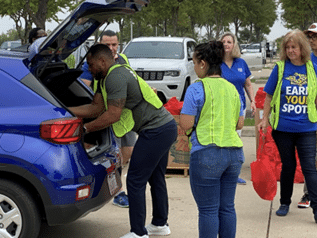 Each month, hundreds of food banks across the nation collectively inspire people to join the fight to end hunger and raise awareness of people experiencing food insecurity. Many are surprised to learn that the North Texas area has the fourth highest number of food-insecure people in the nation, with approximately 638,340 individuals facing hunger. Tragically, one-third of those are children, and that is unacceptable.
The North Texas Food Bank (NTFB) continues its mission to close the hunger gap in North Texas by providing access to nutritious food. This monumental task can only be accomplished with the support and partnership of the approximately 500 food pantries and organizations that are in neighborhoods and communities where neighbors facing hunger work and live.
Last year the NTFB provided access to 144 million meals, and 90% of the food distributed to neighbors in need was given through this feeding network of organizations that serve local communities across the NTFB's 13-county service area.
Hunger is a complex, interconnected issue. It takes more than a single organization to make a lasting difference. It takes a diverse network of feeding partners that address hunger on the front lines in countless communities and neighborhoods across North Texas.
Fighting Hunger at the Community Level
Winning the fight against hunger is only possible thanks to the tremendous efforts of the around 500 community organizations in our feeding network. While the NTFB serves as the hub along with our redistribution partners Crossroads Community Services in South Dallas and Sharing Life in Mesquite, these community organizations are the arms and legs that meet hunger at its front door.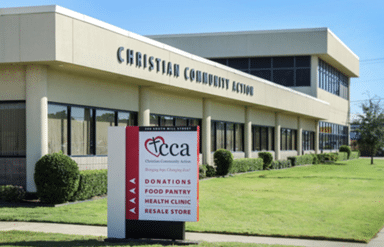 Approximately 55% of the organizations that serve neighbors as part of the NTFB feeding network are food pantries. The NTFB provides these organizations access to nutritious food that they can order at no cost to serve their communities. These food pantries range from small faith-based organizations to large nonprofits that offer both food and other services that address the barriers to food security, such as nutrition and health education, financial and job coaching, ESL classes, and referrals to other community programs and resources. Examples of these organizations include the Society of St. Vincent de Paul pantry at St. Catherine of Siena Church in Carrollton, Local Good Center in Plano, Christian Community Action in Denton County, the Catholic Charities network and The Storehouse of Collin County.
In addition, about 10% of the organizations in our feeding network focus on providing seniors access to nutritious food through the Commodity Supplemental Food Program. Last year, through more than 60 distribution sites like Lake Area Shared Ministries in Quinlan, these organizations delivered more than 2.8 million meals to this vulnerable population.
Another 20% of the organizations in our network focus specifically on serving children and their families. These include school districts such as Greenville ISD, Red Oak ISD and Rockwall ISD that participate in NTFB's Food 4 Kids backpack program or school pantry food distributions. During the 2022-2023 school year, these organizations served more than 1.8 million meals through the School Pantry Program at 40 sites and 730,000 meals through the Food 4 Kids backpack program at more than 250 sites.
Mobile food distribution partners make up about 15% of the NTFB's feeding network. Through organizations like Lawrence and Marder Church of Christ in Dallas, Our Savior Lutheran Church in Rockwall and Feeding Fannin in Bonham and Ladonia, NTFB distributed more than 4.8 million meals to neighbors in hard-to-reach areas, including rural and urban locations, through 402 distributions throughout our 13-county service area.
Supporting and Growing Our Network of Partner Agencies
Given the critical role of our feeding network in the fight against hunger, the North Texas Food Bank is constantly looking to invest in our feeding partners' growth and success.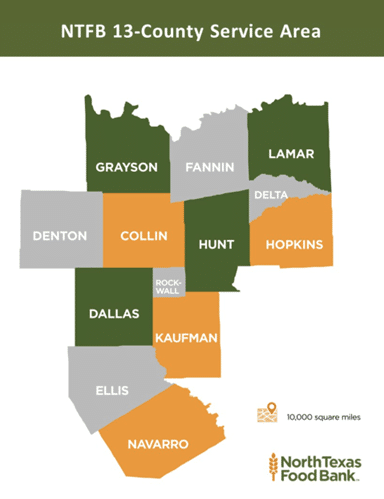 Some organizations that have the heart to serve their communities face barriers to providing traditional service due to a lack of refrigeration, an indoor location or practical experience distributing food to large groups. Through our Progressive Community Growth Program, we are removing these barriers with training and support. This will allow us to feed more neighbors in underserved communities.
Last year, the NTFB provided over $4 million in grants to increase 75- plus partner agencies' capacity to meet hunger at its doorstep and serve more neighbors. These Capacity Building grants fund the purchase of refrigeration for partners to store fresh produce, trucks that allow partners to transport food, and space for partners to meet with neighbors to provide case management and resources.
Through the Network Engagement Service (NES) program, the NTFB provides training for partner agencies that helps them develop their executive leadership, fundraising, marketing, advocacy, and volunteer management teams and activities. This training supports the sustainability and growth of these vital community partner organizations.
Together, We're Stronger
Working with our feeding network has taught us that while many individuals come to their organizations for food, it is the wrap-around services that truly can change lives. That's why it's vital to support the important work of community organizations that address broader issues such as health outcomes, educational attainment and the ability to earn a living wage. Simply, when neighbors go to food pantries, they can get the additional help they need to overcome barriers to food security and have lasting results. When this happens, our entire community benefits. You too can play a role in addressing food insecurity by supporting your local food pantries and other organizations fighting hunger in your community. We encourage you to reach out to them to volunteer, advocate or donate. Remember, winning the fight against hunger takes a village.