Mobile Pantry Volunteers Answer Call to Meet Increased Demand
To commemorate Volunteer Appreciation Month, we are recognizing the contributions of our volunteers who are the heart and hands of the North Texas Food Bank throughout April. As our Director of Volunteer Operations said in an earlier post, volunteers are the "help behind the hope."
During the pandemic, our Disaster Relief Mobile Pantry team ramped up its services and collaborated with our network of Partner Agencies to distribute food in areas of high need through a safe, drive-through model. To date, Mobile Pantry distributions have served more than 160,000 households via over 430 distributions. We could not have maintained this level of service without our volunteers – many of whom joined the North Texas Food Bank after seeing the increased need for hunger relief from due to COVID-19.
Today we are spotlighting one of our Mobile Pantry volunteers, Alexander Sanchez Estrada, who has been volunteering for NTFB for four months. From Wylie and a business student at The University of Texas at Dallas, Alexander shares how getting involved with the Food Bank has allowed him the opportunity to help the community recover during these uncertain times.
---
Q: How long have you been volunteering at the North Texas Food Bank?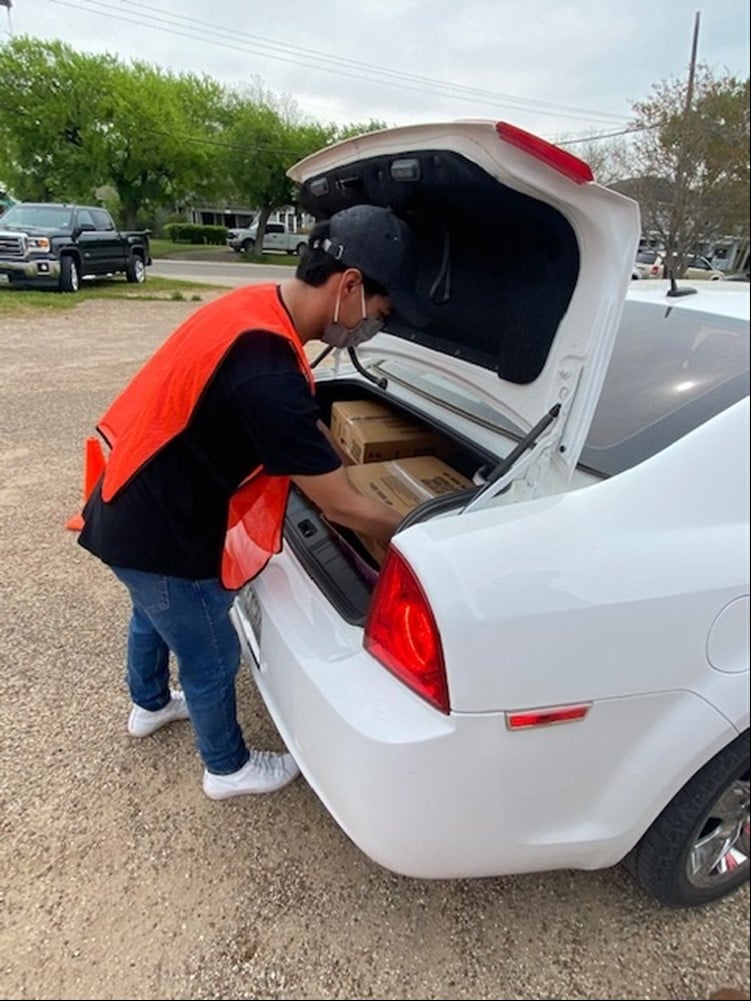 A: I have been volunteering at North Texas Food Bank for almost four months now.
Q: What inspired you to volunteer here and how did you get involved with mobile pantry distributions?
A: It is an interesting story. I had a hard time sleeping one night and soon realized the thing keeping me up was the thought that I was not doing enough to help families and individuals experiencing greater hardships from COVID-19 and job displacement. I signed up for the Disaster Relief Mobile Pantry that same night and showed up the next morning. I have been doing it since then.
Q: What do you like most about volunteering at the distributions?
A: I like seeing the direct impact this has on the community. You can help anywhere from 200 to 300 families in a single day. They do this every weekday which is amazing.
Q: Why do you think giving back to your community is important, especially in this last tumultuous year?
A: This past year has affected us all in different ways. The only way we are going to get out of this is together and that can mean offering support through donations or by volunteering. You never know what kind of hardships someone might be going through.
Q: What would you say to others who are considering getting involved in the North Texas Food Bank?
A: I would say to take the first step. Once you immerse yourself into the organization and meet the people that help make this possible, you will find yourself coming back.
---
We want to express a heartfelt thank you to all our volunteers providing hope to our neighbors experiencing hunger every day.
Join our team of Mobile Pantry volunteers as we work outdoors to feed families in need. Volunteers assist with crowd control, greeting clients, bagging food, and cleaning up. Shifts are usually 3 hours long and take place in various locations across North Texas.
Learn more about all NTFB volunteer opportunities here: https://ntfb.org/volunteer. To find our Mobile Pantry distribution schedule, click here.
Caryn Berardi is a Communications Specialist for the North Texas Food Bank.