The Kids of Jingle Bell Mistletoe Win BIG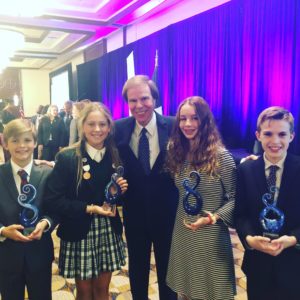 Stella, Quinn, Trevor and Isabella, more commonly known as the Mistelecrew took home top youth honors at The Greater Dallas Chapter of Association of Fundraising Professionals (AFP) Awards. This spirited foursome are the minds behind Jingle Bell Mistletoe an annual fundraiser that kicks off the holiday season with the sale of decorated mistletoe to benefit the North Texas Food Bank.  Each year, the kids work harder and dream BIGGER. Their dedication to the Food Bank was the catalyst for their nomination to the AFP's Outstanding Youth in Philanthropy category.
The Mistlecrew was awarded the honor on November 9th 2018 at a celebration at the Grand Hyatt. The AFP Awards Coincide with National Philanthropy Day.
The members of the Mistlecrew are in the 7th grade. At this young age, they prove that the ability to give back lives in all of us. Thanks to their support of the NTFB, they have already put more than 300,000 meals on the table for hungry North Texas children, families and seniors.
On the heels of this award, the Mistlecrew shows no signs of slowing down; in fact they have launched an ambitious effort to break a Guinness World Record for most people kissing under the mistletoe. Set at Klyde Warren Park on December 2nd, proceeds from ticket sales will benefit the North Texas Food Bank. Visit ntfb.org/mistletoe to get your tickets!