Partner Agency Spotlight: Dr. Cheryl Jackson, Minnie's Food Pantry
This Black History Month, the North Texas Food Bank is proudly celebrating Black individuals and groups who do tremendous work to help us in our fight against hunger.
This includes financial supporters, volunteers, staff, and our Partner Agencies, who we work alongside with to ensure that we provide nutritious food to those who need it across our 13-county service area.
Today we are spotlighting one of partners, Plano-based Minnie's Food Pantry, which was founded by and is run by Dr. Cheryl "Action" Jackson. We asked Dr. Jackson a few questions to learn more about her passion for hunger-relief and continuing the legacy of her mother in fighting food insecurity in our community.
Q: How did you get into food rescue?
A: I founded Minnie's Food Pantry on April 1, 2008, to celebrate my mother, the late Minnie Hawthorne-Ewing D.D., while she was still living. She was more than a mom, she was a pastor, community leader and beacon of hope everywhere she went! She raised nine children and taught each of us the importance of not only giving back, but always giving the best of what you had! Ms. Minnie led by example and the world was able to witness it. She understood hunger because as a child her mother walked five miles to get to work each day and she shared how some days they had absolutely nothing to eat. She created her own organization called Helen's House to honor her mother, the late Helen Allen.
Having been met with scrutiny for needing food assistance for my own two children when they were little, I was inspired to do the same. Through Minnie's Food Pantry, I created a place where people could experience the light and love that was my mother in their darkest times. Her legacy lives on through her children and grandchildren whom she impacted daily and the thousands of volunteers that support Minnie's Food Pantry. She was a warrior and we continue the fight against hunger in her name.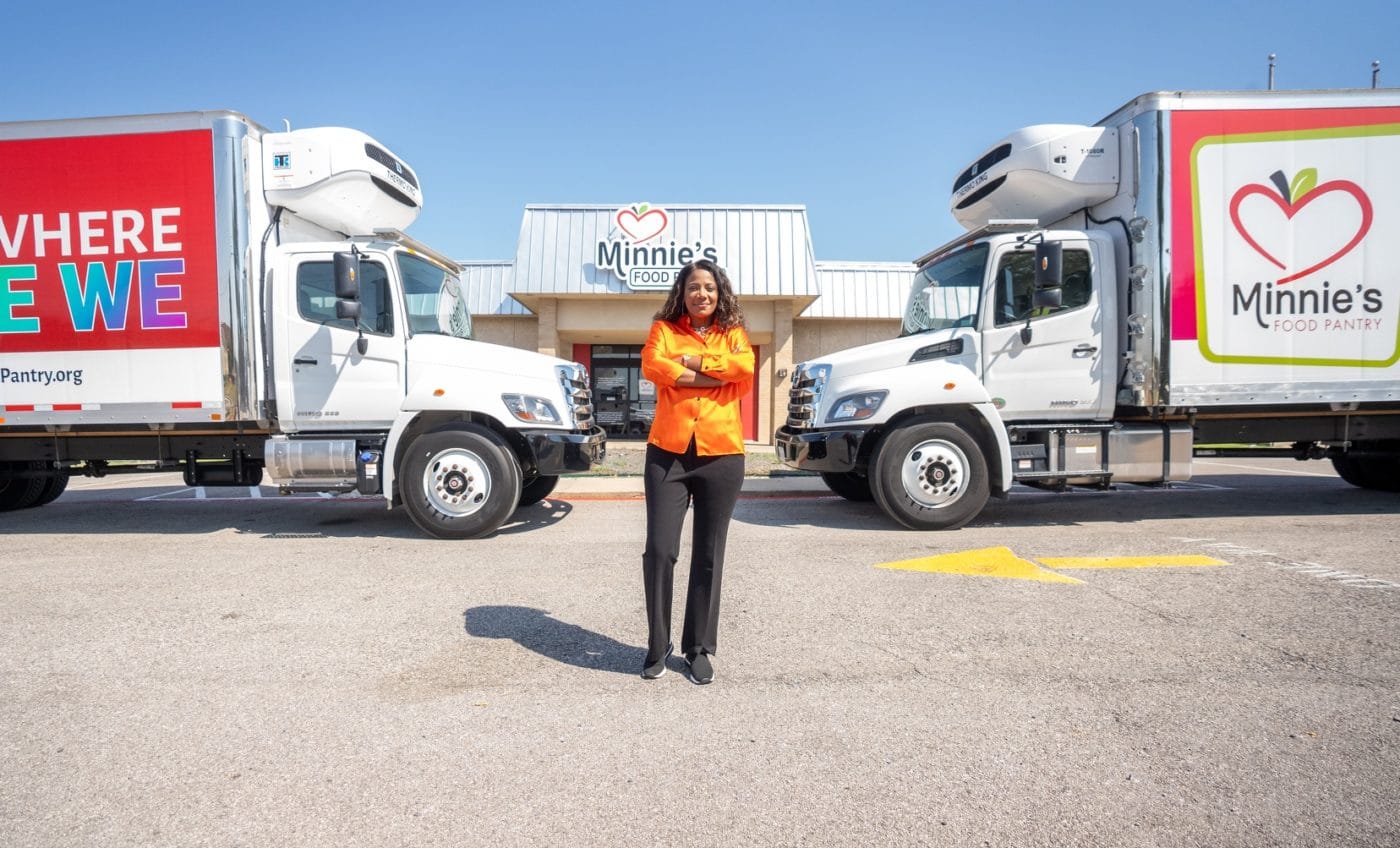 Q: What is your favorite part of this work?
A: What I love most about the work we do at Minnie's is simply everything. From the people we serve to the people we serve with, I love them all. Seeing good being done in the world, especially in a time when it is needed most, it restores our faith, it gives us hope and it helps us move forward to live another day. Being able to see and help create smiles every day. Knowing that children and families will not go to bed hungry at night, as my family once did, warms my heart and makes it all worth it.
Q: How have you adapted/overcome COVID-19 challenges?
A: Since the COVID-19 pandemic in March 2020, funding for non-profit organizations has been impacted. At the same time, Minnie's Food Pantry has seen a drastic increase in the need for food assistance. Having served nearly triple the number of individuals in 2020 compared to previous years and distributing more than 4.8 million meals last year alone, Minnie's Food Pantry does not anticipate seeing a decrease in the number of people seeking assistance as the pandemic continues and families face the financial implications and aftermath of the pandemic.
COVID-19 has changed the way Minnie's operates to prioritize safety and limit exposure of the pandemic. We have transformed our services to provide drive-thru food distribution, as well as increased our offsite distributions to better serve the community. Volunteers have been limited to ensure we are always practicing social distancing and maintaining the wellbeing of those on site and those we serve. To accommodate for this, we have also made available several virtual and offsite volunteer opportunities so that our communities can continue to make a difference and get involved, all from the safety of their homes!
Q. What are your hopes and goals for Minnie's moving forward?
A: Unfortunately, hunger is not going anywhere. Instead, with the financial implications left behind from the pandemic still impacting so many families here in North Texas, hunger is on the rise. With that said, it is our responsibility to continue shining the light on food insecurity on both a local and national level. It is our responsibility to make healthy meals easily accessible to every person who needs it right here in our own backyard. Our hopes and goals are to continue providing for the growing number of families in need by distributing more meals per family, increasing our offsite distributions to better serve our children and senior citizens, and take Minnie's Food Pantry to food desert areas. We hope to open additional brick and mortar locations to continue the fight against hunger and let it be known that although hunger is everywhere, so are we!
Q: How can people get involved or learn more?
A: Every dollar donated to Minnie's Food Pantry provides 3 meals to a family in need. Join the fight against hunger and learn how you can make a difference by visiting www.minniesfoodpantry.org or emailing info@minniesfoodpantry.org. Stay up-to-date with us on social media: Twitter and Instagram: @MinniesPantry; Facebook: @MinniesFoodPantry