Partner Agency Spotlight: Metrocrest Services
The COVID-19 pandemic has altered the way the North Texas Food Bank and its more than 200 Partner Agencies connect with and distribute meals to their clients. To showcase the phenomenal work of our Partner Agencies in the face of so much change and adversity, we are launching a special blog series to highlight organizations across our network in North Texas and their commitment to easing the hunger needs of our neighbors ─ now and always.
---
A year ago, CEO Tracy Eubanks could never imagine doing outdoor drive-thru food distributions for the clients of Metrocrest Services. But like so many during the COVID-19 pandemic, Eubanks and his team of staff members and volunteers have been faced with unthinkable circumstances. And they have met these challenges with new processes that are keeping their neighbors safe, sheltered and fed.
It is part of the agency's dedication to its core values – providing service with respect and dignity; being a rewarding place to work; and offering volunteers a fulfilling experience – that has never been stronger than in this time of disaster relief.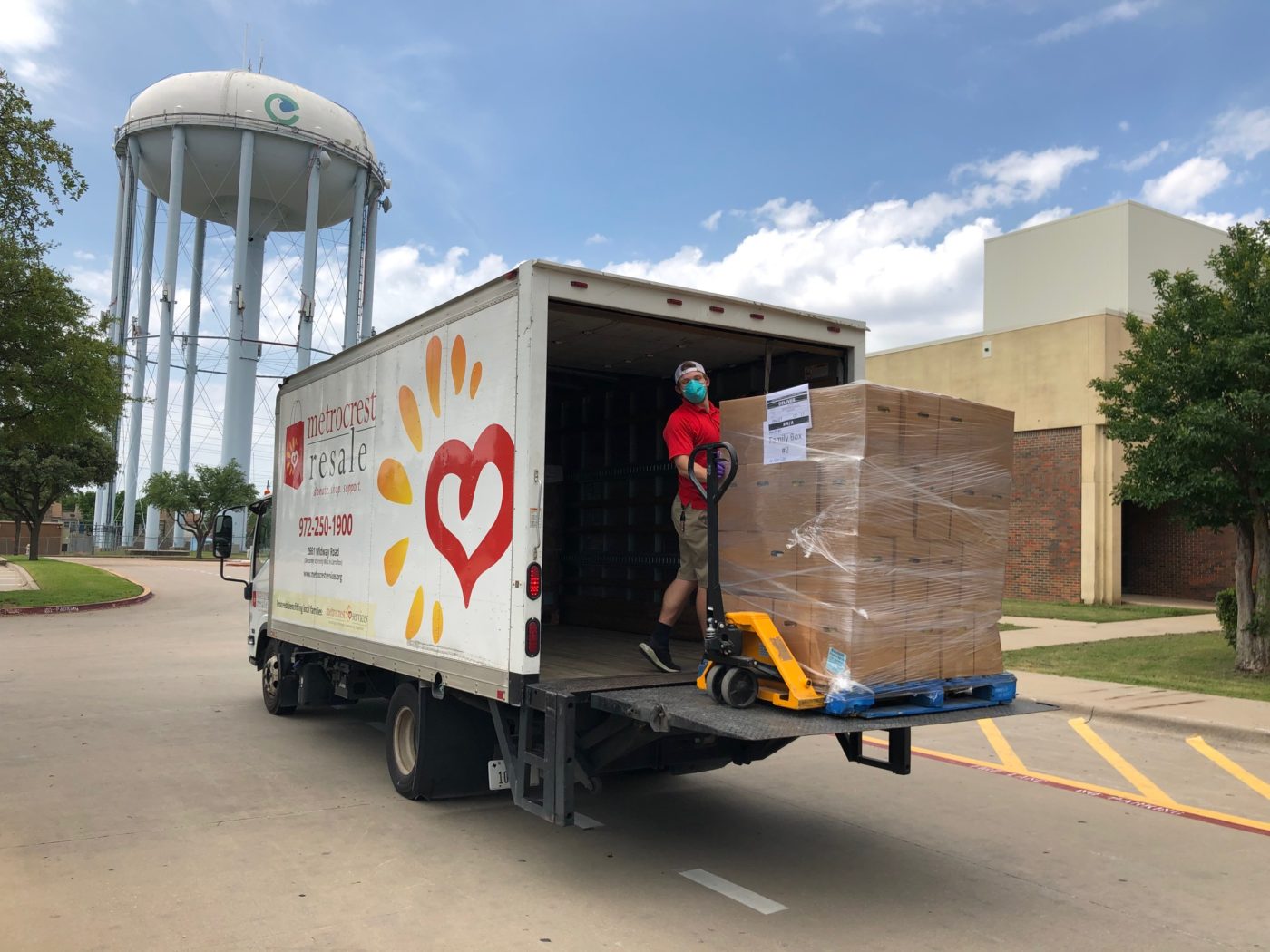 "We made two commitments at the beginning of April," Eubanks said. "We would strive to say yes to everyone who needed rent assistance and food, and we would not announce furloughs or layoffs, which helped put our staff's minds at ease as they saw the impacts of job loss all around them. It has been a struggle at times, but we have remained committed to those values."
Metrocrest is based in Farmers Branch and serves individuals, families and seniors living in surrounding areas. In addition to the food pantry, programs include employment counseling, financial literacy education, senior services, emergency rent and utility assistance. While its commitment to its values are guiding the agency's response, so too are the areas where they have noticed the most urgent needs.
Quickly into the pandemic it became evident that rent assistance and access to healthy foods were the highest priorities for clients, according to Eubanks. Thanks to donor generosity, from March through July, Metrocrest paid out $1 million in rent assistance and stabilized housing for 1,000 families in its service area (a requirement for qualifying for its rent assistance program).
Similarly, before COVID-19, the food pantry would see about 40 families per day. During its pandemic response, the agency was serving at times up to 250 families per day. It has now stabilized around 150 clients per day, still four times more than typical and about 30 percent of clients are accessing its services for the first time. Through its new drive-thru distribution model, Metrocrest is offering food and hygiene items six days a week.
"Even though our clients are no longer coming into our building for assistance, we ensure we are still treating them dignity and respect," Eubanks said. "With daily distributions, our clients do not need to rush to get their food and we give them food for a full week, so they do not need to hurry back and can focus on their other needs."
Metrocrest has also implemented food delivery to seniors and anyone who has tested positive for COVID-19. It is all part of the progression of services since the pandemic began. And as the situation evolves, Eubanks knows some things are here to stay.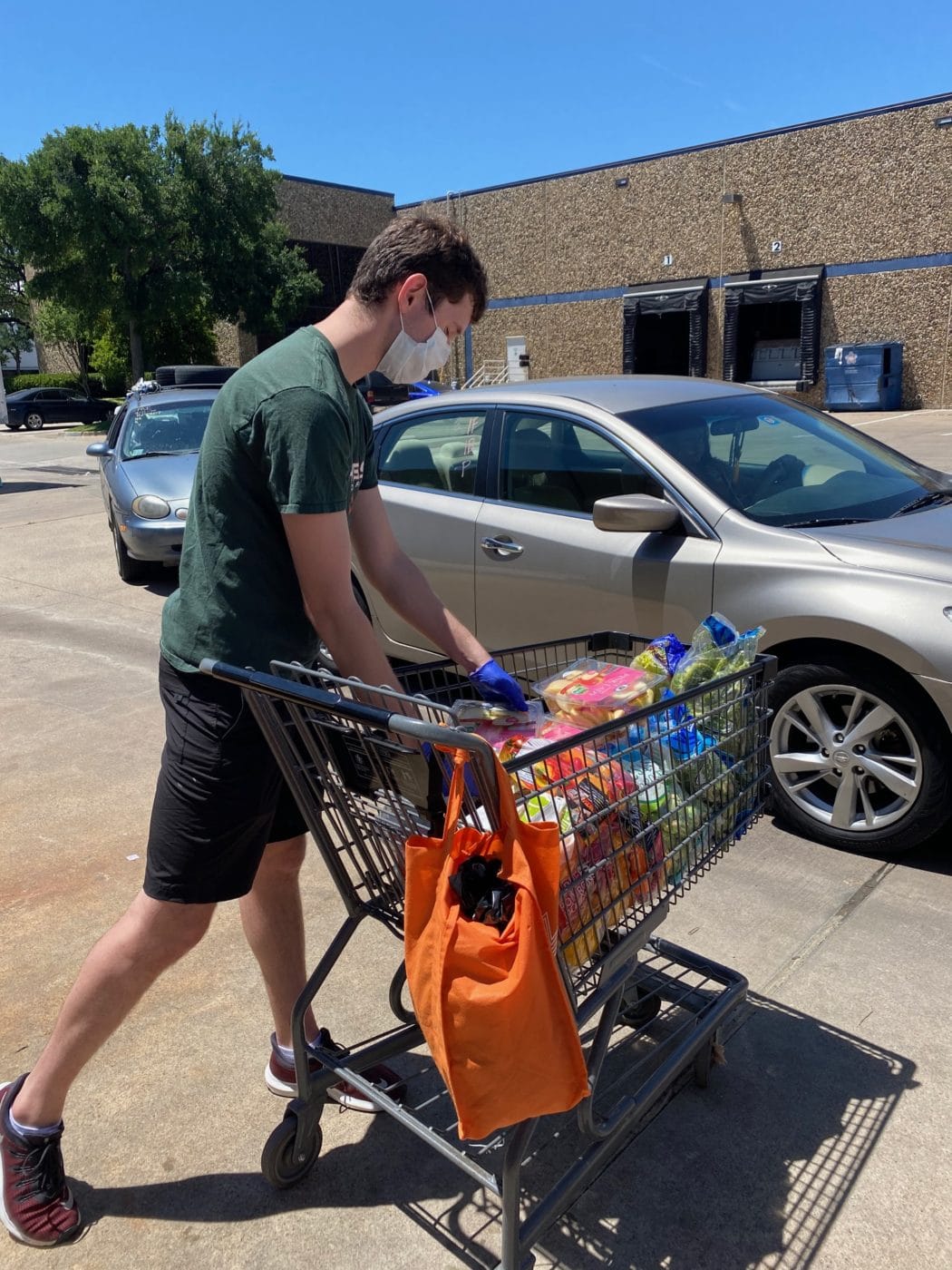 "The truth is we might be outside for a very long time and we may never go back to pre-COVID numbers. There is a lot of uncertainty for non-profits and their processes right now," he said.
Eubanks and his team are exploring ways to incorporate improvements and modifications to its processes based on what they have learned from Metrocrest's COVID response. This includes reassessing its physical location to allow for drive-thru space, implementing a hybrid of virtual and in-person for its social work services, and enhancing its workforce development programs in the wake of current job reductions.
Even with the uncertainty surrounding all social services agencies, Eubanks is confident of Metrocrest's ability to continue to provide for those facing immense struggles.
"We have great community support, and we could never have helped families so substantially without it," Eubanks said. "It is reassuring to us as we look forward and expect our needs and those of our clients to remain significant."
---
Caryn Berardi is a Communications Specialist for the North Texas Food Bank. Check here to find a food pantry near you.