Get to Know the QUEERSpace Affinity Group
The NTFB group is celebrating one year in conjunction with LGBTQ+ History Month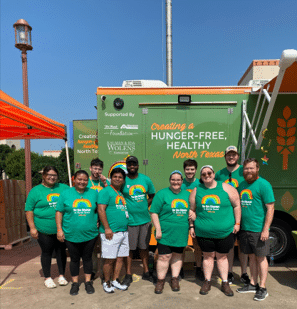 If North Texas Food Bank team members learn anything from the QUEERSpace Affinity Group, they hope it's that the group is not about its members.
Instead, it's about spotlighting partner agencies that serve LGBTQ+ neighbors and educating fellow employees about the community and the unique challenges they can face when it comes to hunger, according to its group leaders.
"The start of allyship is learning and we're here to help," said Erika Lemke, a QUEERSpace Affinity group leader and NTFB senior help desk specialist.
The LGBTQ community as a whole faces higher rates of hunger, according to U.S. Census data, with just more than 13 percent of LGBTQ adults reporting food insecurity during a 2021 survey compared with 7.2 percent of non-LGBTQ adults.
QUEERSpace participant Joel Sauceda, who is part of the NTFB Social Services Assistance team, says the statistics are representative of what he observed at the Resource Center, a Feeding Network partner that serves LGBTQIA+ youth and adults.
While participating in their youth programs years ago, Sauceda said he witnessed young adults come in facing hunger and, often, homelessness because they were asked to leave home after coming out to their family. Erika adds that when groups of people are or have been disenfranchised, they're more likely to struggle with things like food insecurity, homelessness and medical coverage.
Brandon Boling, QUEERSpace Affinity Group leader and an NTFB senior programs specialist, said highlighting the work of partners who serve the LGBTQ+ community and meet these needs—places like the Resource Center, Cathedral of Hope and Dallas Hope Charities—is part of what they aim to do. They volunteered as a group earlier this year with the Resource Center, which has a pantry for neighbors facing hunger and also provides hot meals.
Educating fellow NTFB staff members is also part of their goal. During their first year, QUEERSpace Affinity group hosted a speaker from University of Texas at Dallas who talked about the LGBTQ+ community and about ways to be an ally.
At the Perot Family Campus, the group held a Pride Month volunteer shift that saw participation from QUEERSpace Affinity Group members plus other NTFB staff, donors and community members. They also participated in a community Pride event.
Brandon, Joel and Erika said that they're thankful for the work of LGBTQ advocates who've come before them and they're hopeful for more progress in the future.
"We're all humans — period. We're all human and we all need shelter, food, clothing and medical care," Brandon said.
Many of QUEERSpace Affinity Group's members don't' identify as LGBTQ+ but rather as allies and Erika said they welcome anyone to participate or even just to ask questions.
"We're a great resource for people who want to learn — and we're still learning too," she said.
Kathleen Petty is the communications manager for the North Texas Food Bank.