Meet NTFB's New Senior Director of Philanthropy, Sharon McGowan
The North Texas Food Bank is excited to welcome Sharon McGowan as NTFB's new Senior Director of Philanthropy. A native Texan, Sharon brings with her a breadth of nonprofit and philanthropy experience. We chatted with Sharon about joining the fight against hunger in North Texas and her passion for empowering and strengthening communities.
Q: What attracted you to the North Texas Food Bank and this role?
A: Being a Dallas native, the North Texas Food Bank was at the top of my list of nonprofits that I admire. Being part of a solution that positively impacts lives and empowers hopes and dreams energizes me.
It's been said that "we make a living by what we get, [but] we make a life by what we give." I've always been drawn personally and professionally to giving my time and resources to something greater than myself. Being a part of a passionate team of philanthropy professionals reminds me that we can positively change the lives of others. It's important to me to strengthen my community – one meal at a time. Every. Single. Day.
Q: You have an extensive leadership career in nonprofit – what has your work experience taught you?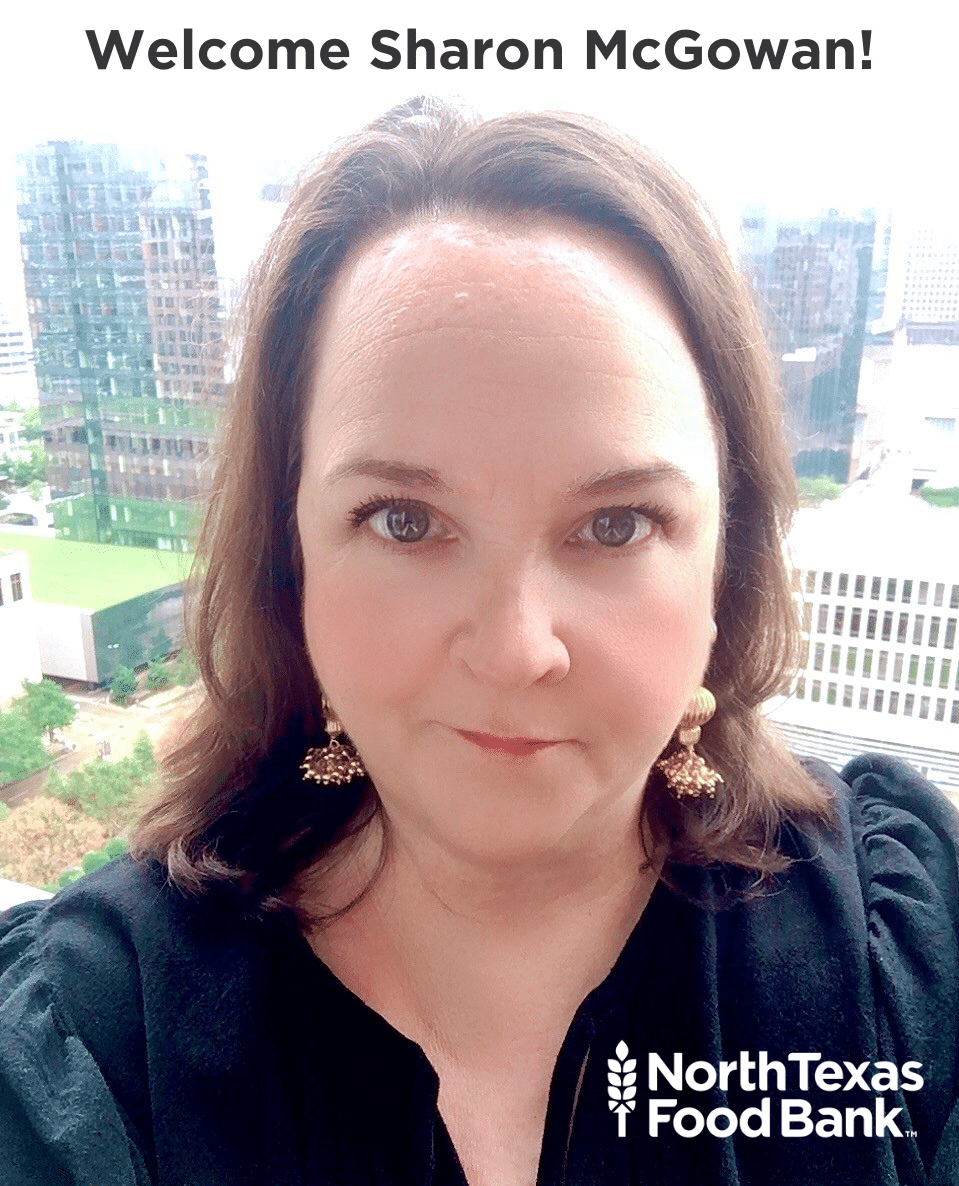 A: I've had the honor to work for the last 15+ years with local, grassroot organizations as well as globally renowned nonprofits. What they have taught me is that there are many unmet needs in every community and through the partnership of volunteers, donors and staff, remarkable things can be accomplished. When you really care for an individual, economic and socially impactful change is inevitable. Passion is contagious!
Q: We know our neighbors are facing immense challenges in this uncertain economic climate of inflation and rising food and fuel prices. How does the work you and your team do help address these needs?
A: The year 2022 continues to be a tough year for those experiencing hunger. As uncertainty continues, the Philanthropy team is collaborating with our food bank colleagues and remains committed to thinking innovatively and creatively on how we connect with our community.
One of the primary roles of the Philanthropy team is to be the voice to the community about the challenges and needs our neighbors are experiencing through storytelling. Through sharing the experiences and needs of our neighbors, we hope to inspire others to support the work of the North Texas Food Bank, whether it's becoming a Monthly Meal Maker, making a major gift, sponsoring one of our signature events, gathering their friends/coworkers to fill a volunteer shift on our production floor, or engaging their corporation in employee giving.
Fighting hard for those experiencing the challenges of hunger is nothing new for our team and NTFB. We will continue to relentlessly advocate on behalf of those facing hunger while also addressing the underlying barriers to food security.
Q: What do you love about your job so far?
A: Simply put, the mission. I'm driven by my core values and beliefs. One of those beliefs is that we all have a right to food. I love our work because I know our fight against hunger has a positive ripple effect on so many other aspects of our neighbor's life.
Q: How can a community member join the fight to make an impact for our neighbors facing hunger?
A: There are many ways to make a difference in the lives of our neighbors in need. The three main ways are:
Q: What do you like to do in your free time?
A: Volunteering! I can't get my bucket full, so I like to spend time in my community, whether it's volunteering for a passion project organized by the Junior League of Dallas, or serving on my Church Foundation's Board of Directors, or my beloved University of North Texas Alumni Association Board. I recently had the honor of serving on UNT's scholarship selection committee and was blown away with the many excited and talented students wanting to further their education and make their mark on the world.