Making the Healthy Choice the Easy Choice
NTFB's Nudge Pantry Program encourages neighbors to eat nutritiously at 74 different partner locations.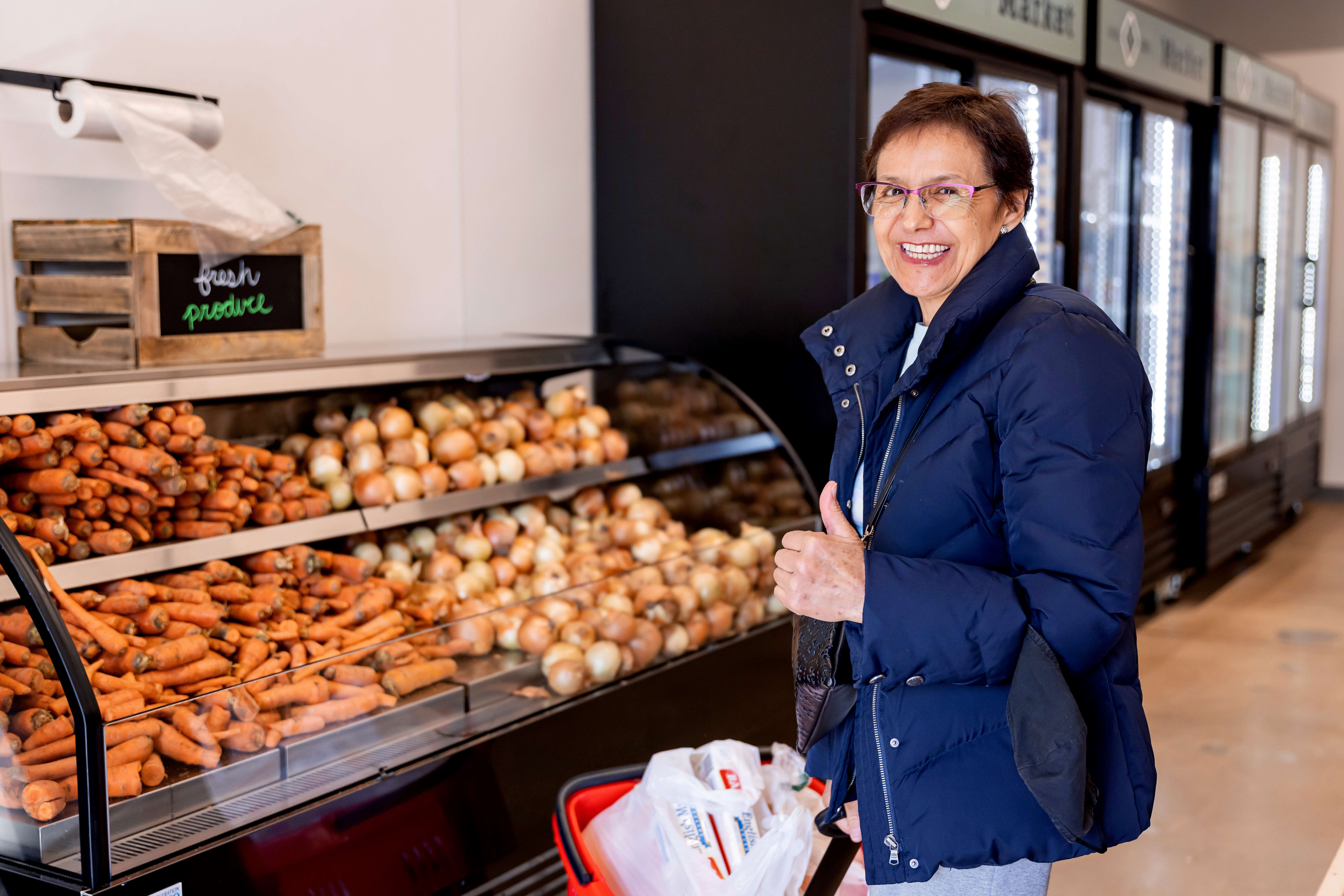 Neighbors visiting the Local Good Center and other North Texas Food Bank Feeding Partners may know that chickpeas are used to make hummus, but that's often not enough for them to add the item to their basket.
That's where the NTFB's Nudge Pantry Program comes in. Developed in 2021 by Nutrition Services, the program supplies partner pantries and organizations with recipe cards, shelf tags, signs and brochures that provide subtle cues, or nudges, meant to increase the likelihood that neighbors will select fruits, vegetables, whole grains and other health items. Chickpeas, says Jamie Palefsky, nutrition education specialist, are one item that is picked up much more often when offered alongside a recipe card that details how to use them once at home.
"We help make the healthy choice an easy choice," she says. "Even just small little behavioral changes can make a difference in someone's life for the long-term for their health or their family's health."
In FY23, 24 new Nudge Pantries were established, and already this fiscal year, 10 more have joined the program, bringing the total across the 13 counties served by the Food Bank to 74.
Palefsky says pantries set up similarly to grocery stores are the ideal setting as they allow for client choice and for the use of shelf tags and signage that point out the benefits of certain foods. Still, even organizations that offer drive-through pickup can use nudges by adding recipe cards or brochures to the food boxes that they distribute. Sometimes, she says, it's providing simple information about what is healthy or even tips about how to make something healthier, such as washing canned vegetables to reduce sodium.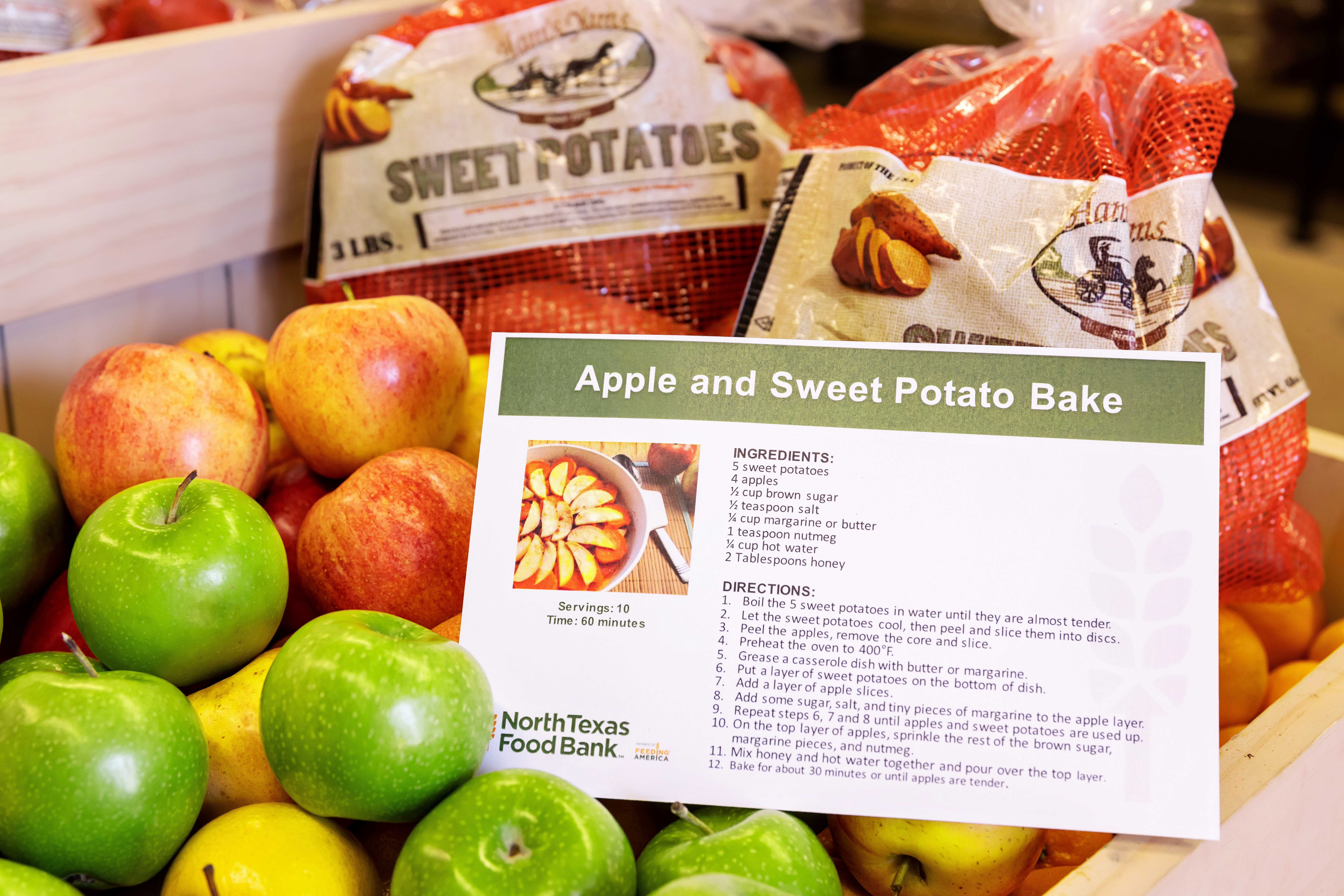 "It's really using marketing strategies in the pantry setting to encourage healthy eating," she says. "It's very adaptable and not a single pantry looks the same."
Miriam Salas, a neighbor who visited the Local Good Center earlier this year, says she notices that fruits and vegetables are placed toward the front of shelves and that she's grateful for nutritious options like that.
"It's good because there are some items that we can't afford, and we can find them here," says Salas, who is from Columbia and also attends English classes at the Local Good Center. "It's a great help because it's food and thankfully it's healthy food."
Part of the NTFB's strategic plan to provide Food for Today and Hope for Tomorrow, the Nudge Pantry Program uses research-backed information in all of its materials, including some from resources like the American Heart Association. All materials are also offered in English and Spanish.
Palefsky says along with expanding the program, the goal in FY24 is to provide more in-depth programming for partners, whether through education opportunities on topics like nutrition and diabetes or offering tools for measuring behavior changes influenced by the program.
"It's really about working more hands-on with our partners," she says.
If you are an NTFB partner that is not currently part of the Nudge Pantry Program and you are interested in joining, please reach out to Jamie at Jamie.palefsky@ntfb.org.
Kathleen Petty is the communications manager for the North Texas Food Bank.