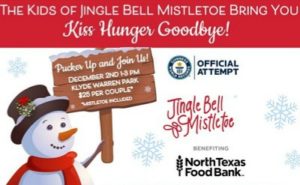 Calling all couples! Pucker up and join Jingle Bell Mistletoe on Sunday, December 2nd, at Klyde Warren Park to be part of a Guinness World Records attempt to "kiss hunger goodbye." $25 entry per couple includes mistletoe and a chance to be part of the record for Most Couples Kissing Under Mistletoe (single location). All proceeds will benefit the North Texas Food Bank.
There will be an Official Guinness World Records Judge onsite.
Special guests include emcees Meredith Land, co-anchor of NBC 5 News, Trisha Cunningham, President and CEO of NTFB, and DJ Lucy Wrubel, who will keep the festivities lively.
Special thanks to Southwest Kia, Royal Blue Grocery, Klyde Warren Park and Smart City Apartments for making this record-breaking attempt possible.
Festivities Timeline
1:00PM Gates Open
1:45PM All registered participants must be in line to be guaranteed admission
2:00PM: It's time to KISS!
**Please note that in order to secure the Guinness World Record, the kiss must be maintained for a minimum of 5 seconds and the lips must be touching. One individual in each couple must hold a sprig of real mistletoe aloft over the heads of their partner and themselves.
2:15PM: Our onsite Guinness World Records judge will award the record if the attempt is a success
2:15 PM – 3PM Celebration and Tunes with DJ Lucy Wrubel
FAQs
Who is Jingle Bell Mistletoe?
Jingle Bell Mistletoe is a group of friends who sell mistletoe during the holidays to raise money for the North Texas Food Bank, to feed hungry families in their community. They have raised over $158,000 in the past four years feeding over 473,000. This year they have a goal of raising $70,000 for NTFB.
Can't attend, but want to make a donation to the North Texas Food Bank?
We'll miss you, but greatly appreciate your generosity! Every $1 donated equals 3 meals for our hungry neighbors in North Texas. All donations can be made here.
Are there ID or minimum age requirements to enter the event?
All participants must be 18 years or older. Please be prepared to show your ID. Unfortunately, no children will be allowed into the secure Guinness World Records attempt area.
What are my transportation/parking options for getting to and from the event?
Klyde Warren Park has many wonderful parking options. To learn more, please visit their site.
Are there restrooms?
Yes! Klyde Warren Park has public restrooms for all park users in the building with the Relish kiosk.
**Please note that due to the logistics of counting all participants that once you enter the secure Guinness World Records attempt area there will be minimal ability to exit the barricades until after the kiss attempt.
Can I enter without my partner?
No. Both partners must be present to enter the secure Guinness World Records attempt area.
Can I bring my pet?
Due to the layout of the event, pets will not be allowed to enter the secure Guinness World Records attempt area.
Can I come if I don't purchase a ticket?
Absolutely! We'll have a space for those wanting to cheer on those participating in our Guinness World Records mistletoe kiss attempt.
Will there be walk-up tickets available?
If space is available, a limited amount will be on sale for $35 on site.
What if it rains?
We will smooch rain or shine.