Introducing Nihao – Food Bank Initiative
The North Texas Food Bank is excited to welcome one of its newest partnerships in the fight against hunger, the Nihao – Food Bank Initiative.
Nihao – Food Bank Initiative is a Chinese American, volunteer-driven grassroots movement. Its goal is to raise awareness about hunger in North Texas, improve community engagement among the Chinese American diaspora and direct resources toward NTFB to fight hunger.
"It is hard to believe that hunger affects 1 in 9 Americans in this great country," said James Huang, one of the Nihao co-chairs and a Managing Partner at EA Insurance and Financial Services. "Many of us first-generation immigrants have called the United States our second home, and we need to make this new home better for everyone."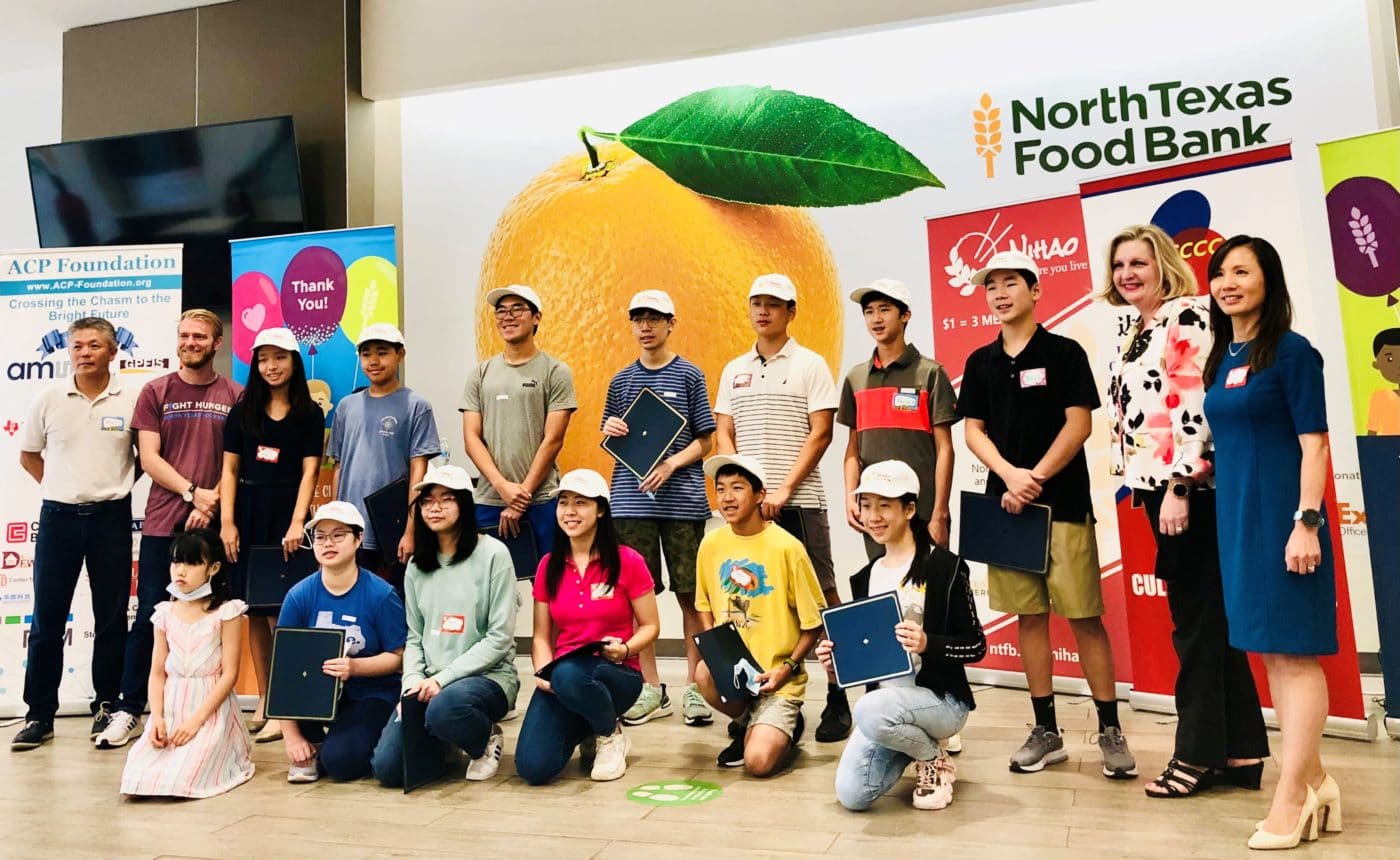 In addition to James, Nihao is led by Bing Xie, former Executive Officer and SVP of Global Sales and Applications at Texas Instruments, and Jane Li, Director of Operations for Siemens Logistics. The founders were inspired to form Nihao after learning about another volunteer-driven, inclusive giving effort, HungerMitao.
Launched at NTFB in 2017 by Plano-based philanthropists Raj and Aradhana "Anna" Asava, HungerMitao (which translates to "wipe out hunger") unites the Indian American community in hunger relief. The movement has raised more than 11.5 million meals for North Texas through fundraising, volunteering, and advocacy efforts, and now has chapters across the country. The HungerMitao leaders were instrumental in helping Bing, James and Jane develop Nihao.
"HungerMitao and its founders have shared their valuable insight and great experience with us from the very beginning. Our similar Asian roots and cultures have bonded us in a way that Asian families bond," James said. "The 'give where you live' motto symbolizes our desire to make a difference in the communities we live in. We strive to build a legacy of giving while making our American dream come true."
Since launching in May 2021, Nihao has already raised nearly $40,000 and hosted four volunteer events. Nihao has also recently kicked off a Youth Ambassador program of dedicated high school students who will volunteer and fundraise, including participating in the North Texas Peanut Butter Drive in September and representing Nihao on the drive's planning committee.
"We are excited and honored to welcome Nihao and its members into the NTFB family and to have them by our side to help us bridge the hunger gap in North Texas," said NTFB President and CEO Trisha Cunningham. "They are already making an impact in our community, and we know the movement will bring increased awareness and new hunger fighters to the mission of hunger relief."
Nihao and HungerMitao will join together on Saturday, July 31 for a volunteer experience at the Food Bank's distribution center in Plano, followed by a special event with NTFB leaders. For the Nihao members, it is just part of their continued effort to mobilize and engage the already civic-minded Chinese American community.
"We want to expand our efforts to a broader Chinese American population and create positive impact," James said. "We hope to engage our community by advocating awareness of the hunger issue, encourage our future generations to step up and become warriors against hunger, and collectively, use our resources to make a difference in this battle against hunger."
To learn more or donate to the Nihao campaign, visit here.
Caryn Berardi is a Communications Specialist for the North Texas Food Bank.