With a rally cry of "Hunger Mitao" (Mitao = Wipe-out) and an ambitious campaign titled "Million Meal March", the Indian American Council (IAC) for North Texas Food Bank launched on September 29, 2017. In just seven short months, the IAC surpassed its first-year goal of funding one million meals for the hungry neighbors across North Texas.
The team at the North Texas Food Bank is so grateful for the dedication, passion and support of the IAC. Their support couldn't come at a better time, as summer sets in, we know that many of our hungry neighbors– especially children will struggle to find their next healthy meal.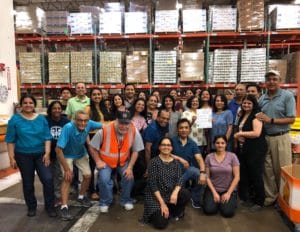 The IAC was formed to raise awareness, improve engagement, as well as channel resources and contributions of the Indian American community towards NTFB's mission. The committed and diverse steering committee is the driving force behind the council. By providing access to one million nutritious meals, the IAC is directly contributing to the Food Bank's vision of a hunger-free, healthy North Texas.
This first million meals is just the beginning for the IAC, the ambitious group, led by Aradhana (Anna) and Raj Asava is already working to provide their next million meals!
To build on this momentum, the group is launching 'Hunger Mitao Week' (August 11-19), the week of India's Independence Day with a goal of raising awareness, food and funds, while encouraging hands-on volunteering.
For more information about the North Texas Food Bank's Indian American Council, visit: ntfb.org/IAC