Winter Recipe: Heart Healthy Eating
February is American Heart Month – a time to encourage healthy lifestyles to prevent heart disease. The North Texas Food Bank is committed to supporting heart-healthy living for our neighbors in various ways, including a dedicated Nutrition Services team that offers recipes, programming and education to help the community make healthy eating choices.
Eating healthy is one of the best ways to take care of your heart health, and winter is a great time to stay home, stay warm and try out some new recipes. The recipe below for Southwest Quinoa Salad is not only delicious and filling, but it is comprised of ingredients important for a healthy and active heart!
This recipe contains two plant-based sources of protein, quinoa, a high protein whole grain, as well as black beans which together create a delicious meal that is low in saturated fats. Additionally, quinoa and black beans are an excellent source of fiber! The recipe includes different spices, as well as a simple olive oil-based lime vinaigrette to really pack in flavor without adding too much extra sodium. According to the American Heart Association, olive oil could help lower risk of heart disease.
We hope you enjoy the recipe!
Southwest Quinoa Salad
Servings: 8
Total Time: 30 minutes
For the salad: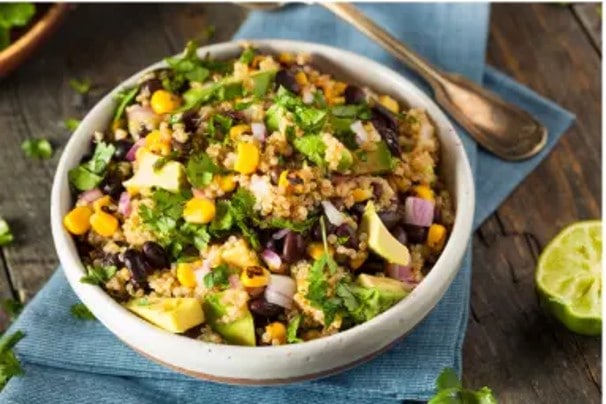 2 teaspoons olive oil
2 cloves garlic, minced
4 green onions, sliced
1 3/4 cups water
1 red bell pepper, chopped
1 (15 ounce) canned corn, drained
1 cup quinoa, rinsed and drained
1 (15 ounce) canned black beans, rinsed and drained
2 tablespoons fresh cilantro, minced
1 avocado, sliced (Optional)
For the lime vinaigrette:
3 tablespoons lime juice
2 tablespoons olive oil
1 tablespoon honey
1 teaspoon chili powder
1/2 teaspoon cumin
salt and pepper to taste
Full nutrition information can be found here and all NTFB nutritious recipes can be found here.
---
Nutrition services is a critical component of the Food Bank's strategic plan to provide Food for Today and Hope for Tomorrow, and we have been providing free culinary and nutrition education to low-income populations since 1996. Visit our website to learn more about our education services.
Also be sure to subscribe to the Garden and Nutrition Newsletter, Spade and Spoon, to keep up with all the latest news from our Nutrition Services team. Subscribe here.
Finally, join the North Texas Food Bank on Saturday, Feb. 19 for a garden workshop as we learn about common vegetable garden pests and diseases, as well as organic ways to prevent them through using Integrated Pest Management (IPM). Click here to sign-up and learn more! 
Ashton Hinckley is a Nutrition Services Coordinator for the North Texas Food Bank.