Nutritional Services Ramp Up Virtual Resources (+Recipe)
With 80 percent of North Texas neighbors already choosing to purchase inexpensive and often unhealthy food just to have something to eat, the financial impacts of COVID-19 on access to nutritious foods is deeply felt. This has made the Nutrition Services program at the North Texas Food Bank more vital than ever.
The program's goal is to have nutritious items* make up more than 97 percent of the food distributed by NTFB by 2025. Nutrition Services carries out this mission through its various education, outreach and food gathering initiatives.
Since much of the program is focused on in-person outreach in the community, it has needed to significantly pivot in how it delivers its services during the pandemic, including a revamped and robust online and virtual presence. A sample of the Nutrition Services current and upcoming resources include:
A pilot program to launch the normally in-person series-based curriculum courses virtually. The program currently has targeted curriculum for kids, adults, parents and seniors.
Modifying the Healthy Pantry initiative, which provides nudges (subtle environment changes in a food distribution setting, designed to make a healthy choice the easy choice), in a non-walk through manner as partner agencies have changed their model of distribution to a drive-thru/pick up model.
Partnering with other organizations to host Facebook Live cooking demonstrations.
To give a special peek at the new online presence and resources, we will be featuring seasonal recipes on the blog. For summer, check out a delicious treat (yes, dessert can be tasty and nutritious!) that is perfect for these long, hot days.
Summer Recipe: Banana Coco Peanut Butter Nice Cream
Ingredients: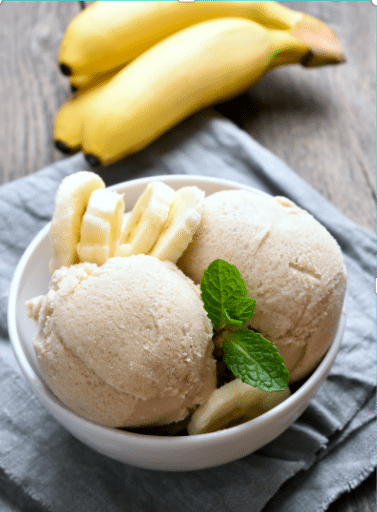 4 frozen bananas
1 teaspoon vanilla
2 tablespoons coco powder
2 tablespoons peanut butter, smooth or crunchy
1/4 cup milk or almond milk (add more if desired)
Directions:
Put all ingredients in blender.
Blend for a couple minutes, until creamy and smooth, scraping down sides as you go.
Pour mixture into freezer-safe container and freeze for 6 hours or overnight.
Scoop and enjoy!
Tips:
Peel bananas when yellow or slightly browning. Cut bananas into pieces and place in freezer-safe container or bag. Freeze bananas overnight for best results.
Full nutrition information and additional recipes can be found here: https://ntfb.org/recipes/
---
*NTFB utilizes the Dietary Guidelines for Americans as its primary guide in determining what is broadly considered a nutritious item.
Caryn Berardi is a Communications Specialist for the North Texas Food Bank.