Commitment to Service, Passion Combine in Unique Volunteer Experiences
When most people think about volunteering at the North Texas Food Bank, they likely envision sorting and packing food in our distribution center or distributing food boxes at one of our mobile distribution sites. And those volunteer opportunities are critical to the work we do.
But the public may not know that we have additional volunteer experiences that allow people to utilize their special skills, knowledge and interests in a variety of ways. While some opportunities are currently limited due to the pandemic, we offer experiences in social media promotion, nutrition education, gardening, special events, advocacy and administrative projects. All these programs contribute greatly to our hunger-relief efforts.
As we kick off Volunteer Appreciation Week, we continue highlighting some of our incredible volunteers in different areas. Today we are spotlighting Kim Rollings, who has been a volunteer kernel (a lead volunteer) in NTFB's Jan's Garden since July 2020 when she found out we could no longer have groups of volunteers because of COVID-19. Named after the Food Bank's former President and CEO, Jan Pruitt, the garden acts as a living and breathing display of nutritious food options and helps to provide fresh produce to our network of Partner Agencies.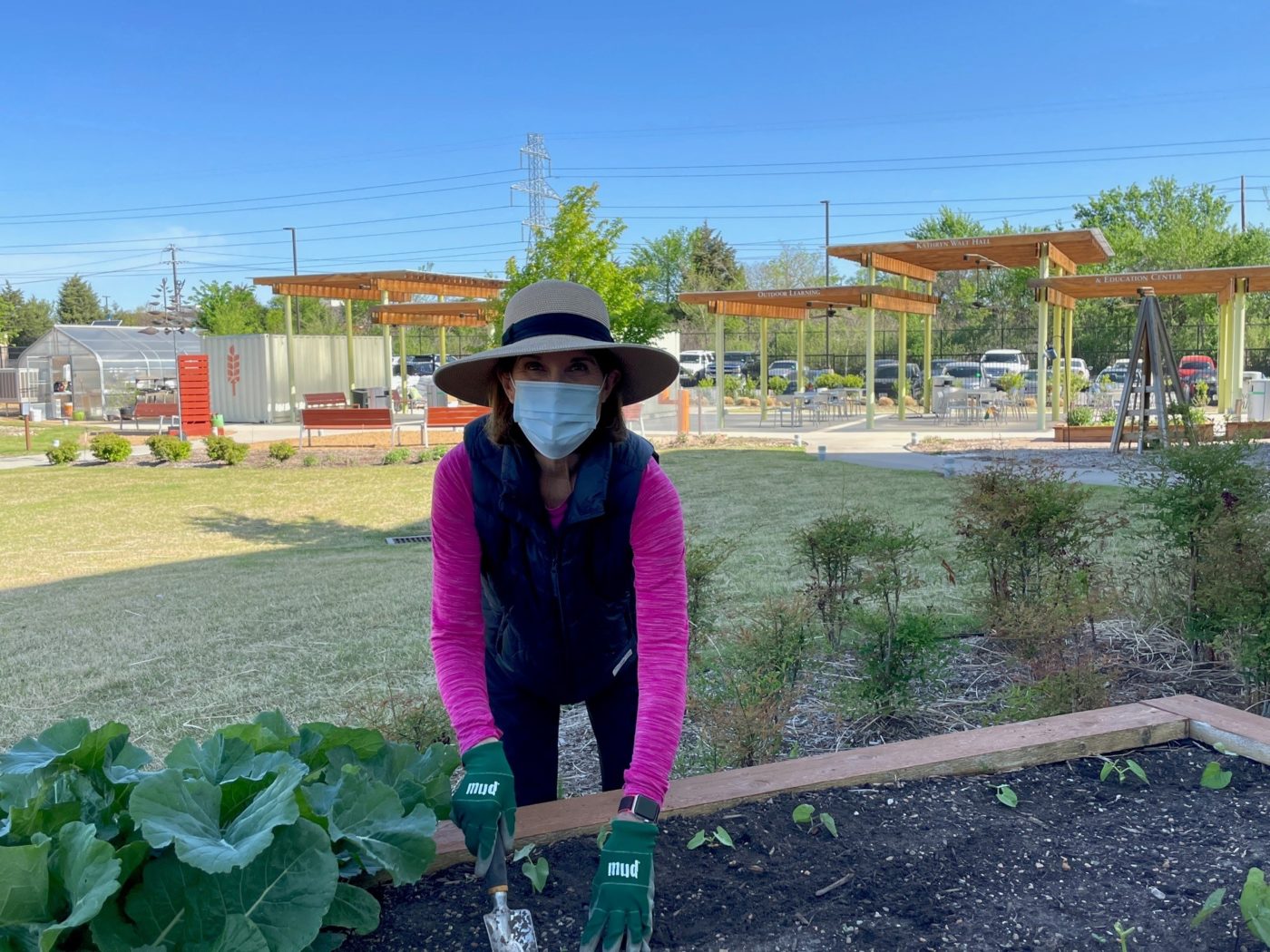 Kim has long had an interest in gardening, enjoying all aspects of gardening and the fulfillment of planting and watching things grow, especially plants that she starts from seed. She had also been a supporter of the North Texas Food Bank for several years and, after retiring, she wanted to volunteer. When an opportunity came up to work in Jan's Garden, it perfectly combined her commitment to the Food Bank with her passion for gardening.
"It feels good to know we are providing fresh, healthy vegetables to people in need," Kim said. "I have learned so much about vegetable gardening this year and appreciate the opportunity to help."
Since week one, Kim has come every single week, despite rain and intense temperatures, to help maintain Jan's Garden and harvest produce to help feed our hungry neighbors, according to NTFB garden coordinator, Emily Anderson. Since she began, Kim has helped harvest over 520 pounds of produce that has been donated to one of our Partner Agencies!
"Jan's Garden has been able to continue providing nutritious produce with Kim's help, and I couldn't ask for a better garden kernel," Emily said.
Kim encourages others to draw upon their skills and hobbies to help others in the community, especially during this time of increased need. It is a mutually beneficial opportunity that can have significant impact.
"Everyone should have nutritious, fresh and tasty meals available to them and the North Texas Food Bank has done an amazing job of providing for people in need," Kim said. "Sharing your knowledge and skills for the betterment of the community is rewarding and good for the soul."
Learn more about NTFB volunteer opportunities here: https://ntfb.org/volunteer
Caryn Berardi is a Communications Specialist for the North Texas Food Bank.