The Frontlines of Fighting Hunger
As the sun begins to rise in North Texas, there is a child waking up with a rumbling stomach who may not have had a meal since her school lunch the day before.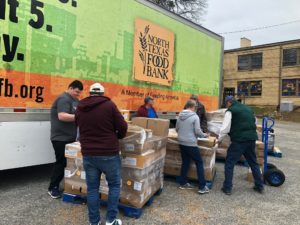 As the first light of day shines through his window, a senior may be faced with the difficult choice of spending his hard-earned pension on medication or groceries for the week.
As a new day breaks, a parent may already be on the way to her first of two jobs, to ensure that she is able to feed her family the nutritious food they need.
Thankfully, before dawn, the people and the partners at the North Texas Food Bank are already hard at work to ensure that those who are hungry in our community have access to the nutritious food that will help them thrive. My alarm buzzed earlier than usual this morning so I could be a part of this activity. We often talk about those on the "frontlines" of fighting hunger, and today I got to witness them in action.
It was still dark outside when I pulled into the parking lot this morning at the NTFB' s Perot Family Campus, yet several drivers had already started their daily miles. While some were off to pick up donated food from one of our many retail partners, others were working with the NTFB warehouse staff to load thousands of pounds of food on semi-trailers and bobtail trucks for the first route of the day. During any given week, more than one million pounds of food move through the Food Bank's Feeding Network. And to think all this happened before I had even had my first cup of coffee.
On the Road
I was fortunate to be able to ride along with NTFB driver Vaughn, who has been delivering hope to our hungry neighbors for five years now. Once the semi-trailer was loaded, we set out on Vaughn's Thursday route to Grayson County, which included two stops- one in Denison and one in Sherman. Grayson is one of the 13 counties served by the NTFB and 17.9% of its population is considered food insecure.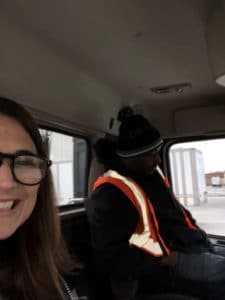 I didn't know much about Grayson County before today, but I now know how passionate members of the community are about serving the most vulnerable among them. New Beginning Fellowship Church, which has a food pantry on site that feeds 50 families every Monday, was the site of our first drop off. Many other agencies were also waiting with trucks and trailers to receive much-needed items like milk, eggs, turkey dinners for the holidays and more. Among them were volunteers from Jack and Jill Daycare, which feeds 47 children and their families on a weekly basis, and Your Neighbors House, which provided nourishment to 267 families last month. How humbling it was to see these volunteers from various agencies work together to divide up the delivery and load each other's vehicles. It was a reminder that it takes all of us at the table, working together, to address this issue of food insecurity in our own backyards.
The same picture unfolded in Sherman, where an equally passionate group of hunger fighters were waiting when we pulled up in the parking lot of Westwood Village, a strip shopping center. Here I got to meet people from the Salvation Army, Master Key Ministries and Feed My Sheep, an organization that twice a month provides meals to 45 families, one which has 15 members.
While some of these agencies serve many and some serve fewer, it is evident they all serve with heart. And they all are part of the NTFB's mission to close the hunger gap by providing 92M meals by the year 2025.
The Fuel
Many have asked me how I am enjoying my new role at the NTFB and what I have learned. It is hard to put into words the range of emotions I feel on a daily basis, which can swing from great pride to overwhelming sadness to a clear sense of purpose in a single moment. Hunger is a complex issue and I assume the complicated feelings are natural, especially when you look at the statistics of food insecurity in our region—800,000 people do not necessarily know from where their next meal will come. One in four children in Dallas are food insecure. The one feeling I can consistently point to is this—nobody deserves to be hungry. Witnessing the activity this morning of so many, who are collectively working to ensure those who are hungry have food, brings me great optimism.
The ride back to the NTFB gave me the opportunity to ask the same question of my colleague Vaughn. What about this work does he enjoy? Vaughn had no problem articulating his response. "Because I like helping people and it feels good doing it," he shared.
Yes, it does feel good and our work has purpose which is why we have a warehouse buzzing with activity before morning alarms start to go off around North Texas. It is why the NTFB starts each day with a clear vision for a hunger-free, healthy North Texas.
-Erica Yaeger, Chief External Affairs Officer, North Texas Food Bank