Fall Recipe: Cranberry Orange Walnut Cookies
Celebrate the season with a healthy twist on this sweet treat.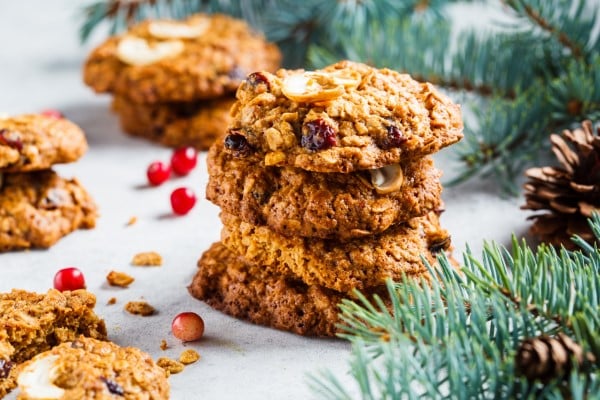 Servings: 12
Total time: 1 hour, 30 minutes
Ingredients
1 ½ cups whole wheat flour
1 tsp baking powder
1 tsp baking soda
½ tsp salt
1 cup chopped walnuts
½ cup chopped dried cranberries
1 cup sugar
½ cup unsweetened applesauce
¼ cup canola oil
1 tbsp freshly grated orange zest
3 tbsp 100% orange juice
Directions
In a large bowl, whisk flour, baking powder, baking soda and salt. Stir in chopped walnuts and dried cranberries. Set aside.
In a medium bowl, whisk sugar, applesauce, oil, orange zest and juice until smooth.
Make a well in the dry ingredients and pour in the wet ingredients. Mix well. Cover bowl in plastic wrap and chill for 30 minutes.
Preheat oven to 350 F. Line a baking sheet with parchment paper.
Roll the dough with floured hands (it will be very moist) into 1 ½-inch balls. Place the balls of dough 2 inches apart on the baking sheet.
Bake the cookies until barely golden brown for 12 to 15 minutes.
Let cool on the pan for 1 minute. Transfer cookies to a wire rack or plate to cool completely. Enjoy!
Tip: These make for a great, healthier holiday dessert. The cookies can be stored in an airtight container at room temperature for up to five days.
Recipe is adapted from eatingwell.com.