Fall Recipe: Butternut Squash Cajun Fries
Use seasonal produce to put a healthy twist on the traditional side.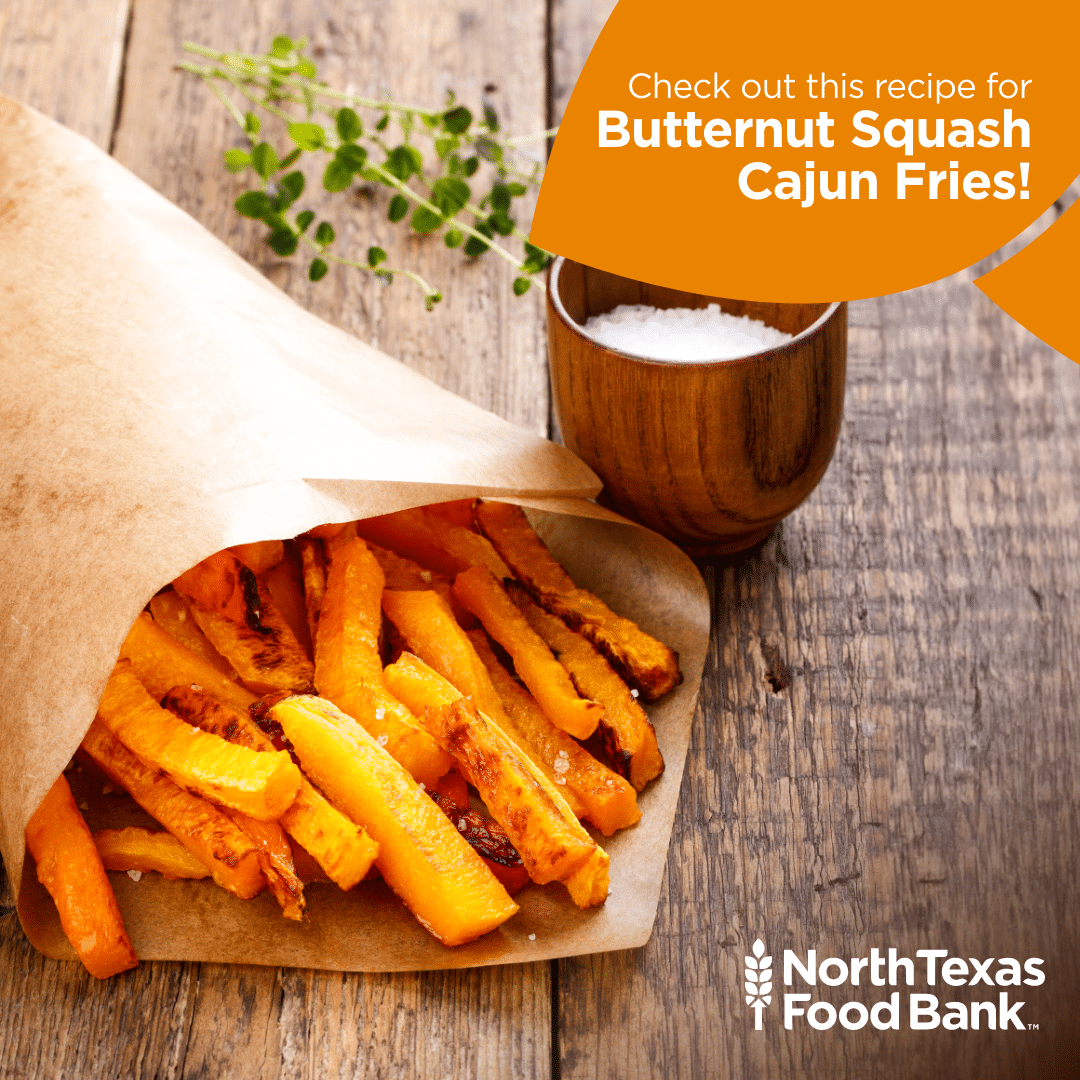 Pumpkins aren't the only squash to add to your lineup this fall. Butternut squash, which is technically a fruit, is packed with vitamins, minerals and antioxidants. Plus, it delivers a slightly sweet flavor that makes it the perfect healthy complement to almost any entree. Here, the North Texas Food Bank's Nutrition Services team shares how to make your own Cajun spiced butternut squash fries.
Servings: 4
Total time: 35 minutes
Ingredients
1 pound butternut squash (about half of one squash)
½ teaspoon Cajun seasoning*
½ teaspoon salt
½ teaspoon pepper
Cooking spray
Preparation
Preheat oven to 450 F.
Spray a baking sheet with cooking spray.
Peel, cut and remove the seeds from your butternut squash. Cut squash into thick slices or "French fry" shapes.
Use a paper towel to dab away any moisture left on the squash.
Place the squash slices on the baking sheet.
Lightly spray squash with cooking spray.
Sprinkle with salt, pepper and Cajun seasoning.
Cook for 15-25 minutes, until the squash is lightly browned and tender.
*To create your own Cajun spice, mix together the following:
2 teaspoons garlic powder
2 ½ teaspoons paprika
1 teaspoon ground black pepper
1 teaspoon onion powder
1 teaspoon cayenne pepper
1 ¼ teaspoon dried oregano
1 ¼ teaspoon dried thyme
Butternut squash is low in calories and is full of vitamin A, vitamin C, potassium, magnesium and other important nutrients. Full nutritional information about this recipe can be found here.
---
Nutrition Services is a critical component of the Food Bank's strategic plan to provide Food for Today and Hope for Tomorrow. For more recipes and information about free culinary and nutrition education, visit their homepage here.