NTFB Behind the Scenes Series Recap: Childhood Hunger
The effects of food insecurity are harmful to anyone, but they can be particularly devastating for children, impacting their physical and emotional development and inhibiting their ability to learn and realize their full potential. Sadly, in North Texas, 1 in 5 children do not know where their next meal will come from.
In the recent installment of an exclusive "behind the scenes" virtual series for NTFB supporters, NTFB Programs Manager, Madison Messinger, offered a closer look at how the NTFB Child Programs team works closely with schools and organizations across NTFB's 13-county service area to close this gap and provide food directly to families in need throughout the school year and during the challenging summer months. These initiatives are an integral part of NTFB's Nourish North Texas plan to provide equitable access to Food for Today and Hope for Tomorrow.
Madison's team, which also includes the NTFB Senior Programs, has the privilege to work directly with two vulnerable populations who are particularly susceptible to hunger and its impacts. And while the Child Programs and schools have resumed close to normal operations in the schools since the onset of the pandemic, inflation and rising food and fuel costs are driving another round of need. NTFB continues to meet the need but at a higher operating cost as we are forced to pay more for purchased food and fuel to deliver food to our neighbors.
Madison walked through how Child Programs addresses child hunger through three direct programs:
School Pantry Program
Through School Pantry, students and their families can access non-perishable items and fresh produce at local schools at monthly distributions. Each student receives a family box of 25 lbs. of pantry stables and 15 lbs. of produce. School Pantry is currently operating in around 16 schools with plans to expand next school year, including into middle schools and a focus on underserved areas to ensure equitable access to food. When Madison started in May 2016, there were only four sites! During the 2020-2021 school year, the NTFB Child Programs specifically served over 1.5 million meals through the School Pantry Program. The program transitioned to a drive-through model during COVID.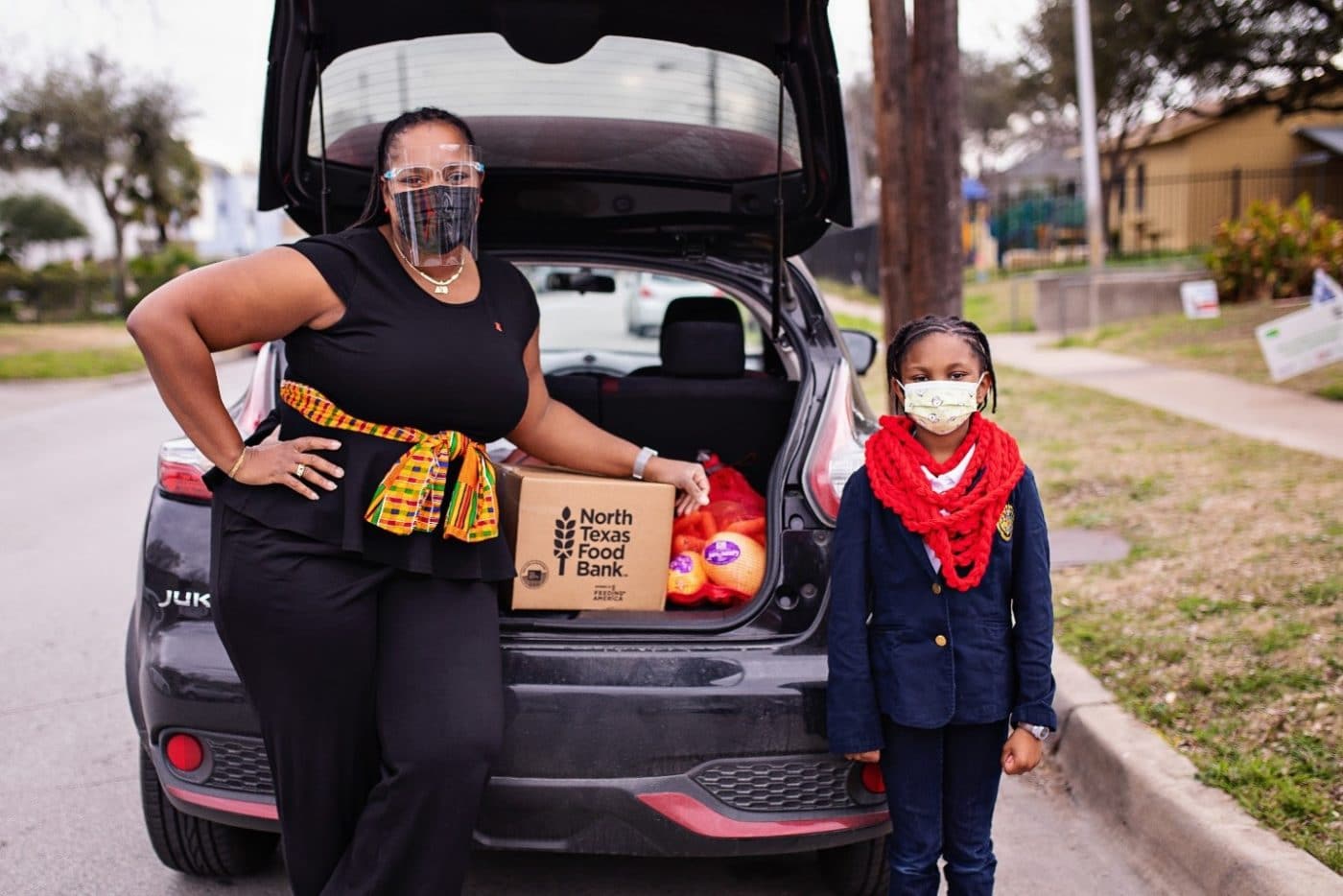 Food 4 Kids Backpack Program
Elementary and middle school children on the free and reduced-price school meal program often face hunger at home when meals are not available on weekends. Collaborating with educators to identify chronically hungry kids, the Food 4 Kids (F4k) program provides backpacks full of nutritious, nonperishable, kid-friendly food to take home each Friday afternoon. The backpacks include no-cook, no-prep nutritious foods that kids can easily eat when an adult is not at home. The program operates in around 300 schools, serving up to 11,000 chronically hungry children each week. During the 2020-2021 school year, the NTFB Child Programs specifically served more than 1.2 million meals through the F4K backpack program.
There is a high nutrition standard for the F4K program, and the team is very particular about what items go into the backpacks. Madison shared that because of this, F4K is one of the most expensive NTFB programs.
Summer Feeding Programs
While summer is an exciting time for many children, for those experiencing hunger who rely on the meals they receive at schools, it can cause fear and anxiety for kids and families. North Texas Food Bank partners with summer meal providers to distribute weekly backpacks during the summer months. Additionally, the Food 4 Kids and School Pantry programs that were once limited to the school year, now can be implemented year-round. We also help support our partner organizations with backpacks since many families are turning to those agencies and food pantries for assistance during the summer.
---
All these initiatives are made possible by our incredible, committed supporters. We invite everyone to join us in the hunger fight by donating, volunteering, and/or becoming an advocate. Email corporate@ntfb.org for sponsorship opportunities.
And right now you can help provide access to 2.5 million meals for children, seniors and families facing hunger this summer through our Million+ Meals Match. Our friends at the David M. Crowley Foundation will double your gift – up to $425,000 – meaning $1 will provide 6 nutritious meals. Donations can be made here: ntfb.org/summer.
The full video of Madison's presentation, including Q&A, is below, followed by links to our previous Behind the Scenes summaries and videos. We look forward to seeing everyone at our next Behind the Scenes event!
Past Behind the Scenes Summaries: