Child Feeding Programs Continue Through School Uncertainties
One by one schools announced extended spring breaks until every classroom in North Texas was empty and every cafeteria was quiet. For some students, schools closing their doors might be a miraculous dream come true. For others, the anxiety is overwhelming. Many children from food-insecure homes do not look forward to summer break because long breaks from class often mean long breaks from nutritious meals. As the Coronavirus took hold in North Texas, hunger was thrust into the spotlight and people started to realize the impact of school closures beyond the obvious threat to education.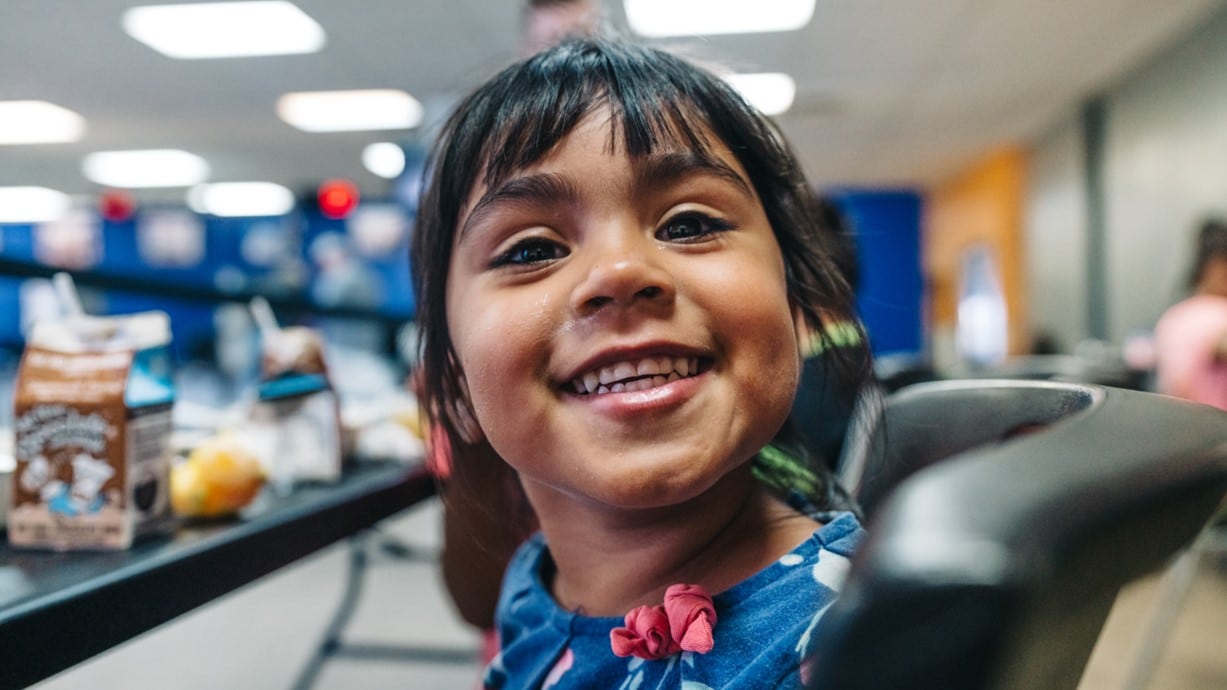 At the North Texas Food Bank, the Child Programs Team acted quickly to keep the Food 4 Kids (F4K) Backpack Program and School Pantry Program running. (Both programs combined distributed almost 1.7M meals in 2019-2020!) Our programs continued to operate at schools that had the capacity to serve, oftentimes overlapping with district-sponsored meal distributions. As May approached, NTFB knew the impact to the economy and child nutrition continued to worsen, so in addition to standard summer programming we made an unprecedented decision—we kept our school-year programs up and running!
During Summer 2020 we worked with 8 times the number of school districts on our F4K Backpack Program that provides 4-5 lbs. of nutritious, shelf-stable, kid-friendly food to kids each week to continue access to nutritious food over the weekend. NTFB loosened parameters on this program during the summer, making it available to more children.
The School Pantry Program, which provides kids with 25 lbs. of shelf-stable food, 15 lbs. of produce, and fresh dairy, ramped up from offering monthly distributions to twice monthly distributions, for a total of 20 distributions during Summer 2020! All the while, the Child Programs Team worked to keep families informed of NTFB's many resources including our network of 200+ Partner Agencies, our SNAP call center, and the huge influx of Mobile Pantry distributions (you might have seen the massive lines in the news!).
While COVID-19 related efforts took off, we could not neglect our traditional summer programming sites. NTFB works with Summer Food Service Program (SFSP) sponsors to provide weekly F4K backpacks and monthly shelf-stable boxes. SFSP is a program funded through Texas Department of Agriculture that provides ready-to-eat meals to children at summer sites like community centers, churches, and parks. With the children already gathering to receive SFSP meals, what better place for NTFB to provide our extra goodies as well?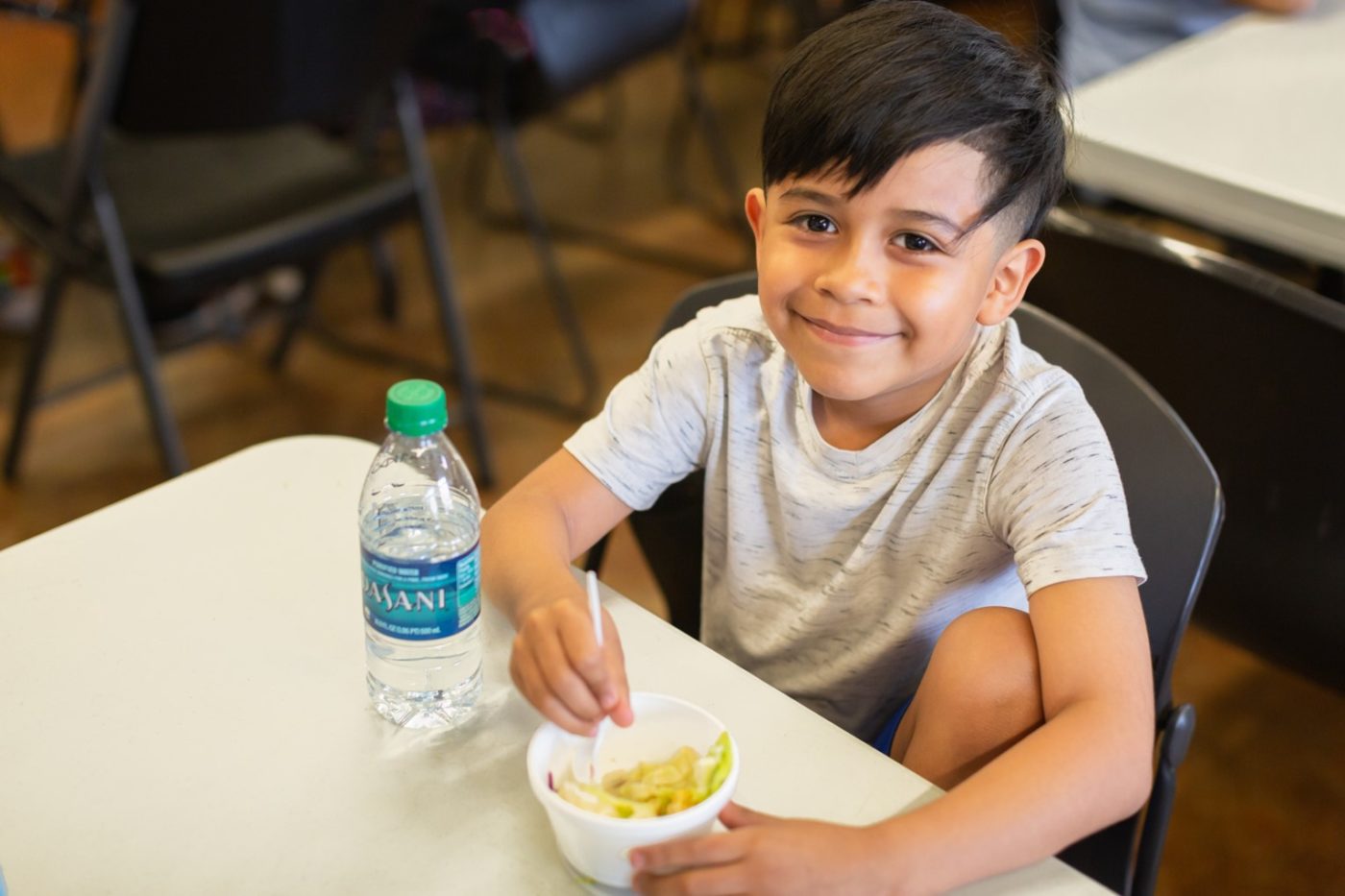 Debra, the manager of a summer site, serves a predominately refugee community including children from Rwanda, Kenya, Central America, and Mexico. Many of these children walk from nearby apartment complexes to a local church to receive SFSP meals and additional food from NTFB. Debra tells us "the relief on their faces is the reason why I do what I do."
Remarkably, summer is quickly ending. Like everyone else, I wish we had a magic orb to tell us what new challenges the Fall semester will bring. With virtual learning extended to at least September, the lines between school year and out-of-school time continue to be blurred, but one thing is clear: the importance of safe, reliable, nutritious food assistance will help ensure the children of North Texas are strong, healthy, and prepared for the challenges ahead.
We do not have all the answers, but we know we have food and we are determined to find ways to make our food more accessible than ever before. The Food 4 Kids Program and School Pantry Program will continue running through summer and into the Fall. The Child Programs Team is also offering a Temporary School Pantry Program, a modified version of School Pantry that has been made available to school districts in our 13 counties and we currently have more than 15 districts interested.
It is only appropriate to close with a hearty "THANK YOU" to everyone who has contributed to feeding children during this crucial time. Thank you to all our first-time donors and our patrons of many years. Thank you to the NTFB Operations Team that sorts, packs, and ships food to schools. Thank you to school staff who have taken ownership of these programs at their campuses. Thank you to community partners who made summer programming a refuge for kids thrown into chaos. Thank you to the NTFB Child Programs Team who tested the limits of their creativity and problem-solving capabilities.
Finally, thank you to the kiddos of North Texas for showing up, for hanging in there, for staying strong when you should not have to be. We are all here for you.
---
Madison Messinger is the Child Programs Administrator for the North Texas Food Bank.
NTFB is currently running its Back to School double match campaign. Donations support all NTFB programs for individuals, children and families: $1 will provide $6 nutritious meals: ntfb.org/backtoschool.