NTFB Child Programs Head Back to School
When children are hungry, it impacts their ability to focus and learn at school. And as schools across North Texas open for a new school year under the cloud of the highest levels of inflation in 40 years, we know this is an especially challenging time for kids and their families.
The Child Programs team at the North Texas Food Bank (NTFB) is ready to meet this need and help the amazing teachers and administrators in our 13-county service area ensure their students are nourished, healthy and ready to thrive at school and in life.
Even with free and reduced-price school meal programs, children often face hunger when meals are not available on nights and weekends. The Food Bank manages two main programs during the school year (and into the summer) to address this: Food 4 Kids and School Pantry.
Food 4 Kids
Working with educators to identify chronically hungry kids, the Food 4 Kids (F4K) program provides backpacks full of nutritious, nonperishable, kid-friendly food to take home each Friday afternoon during the school year. In the last couple of years, F4K has expanded into middle schools and for the first time, the program will be open to high school sites in the 2022-23 school year.
Participating elementary schools must have at least 50% of students qualifying for free or reduced-priced meals with middle schools having 40% and high schools having 30%. Despite ongoing hurdles and disruptions from the COVID-19 pandemic, Food 4 Kids served 880,000 nutritious meals in the previous school year. Every backpack makes a difference in closing the hunger gap!
School Pantry
Enrolled students and their families can access non-perishable items, as well as fresh produce, through participating schools. Distribution occurs once a month, typically after school. Students who visit the school pantry leave with 20-25 pounds of shelf-stable food items and 15 pounds of produce, in addition to add-on items that may be available. School Pantry programs operate in schools with at least 90% of students qualifying for free/reduced meals that are in high-need zip codes.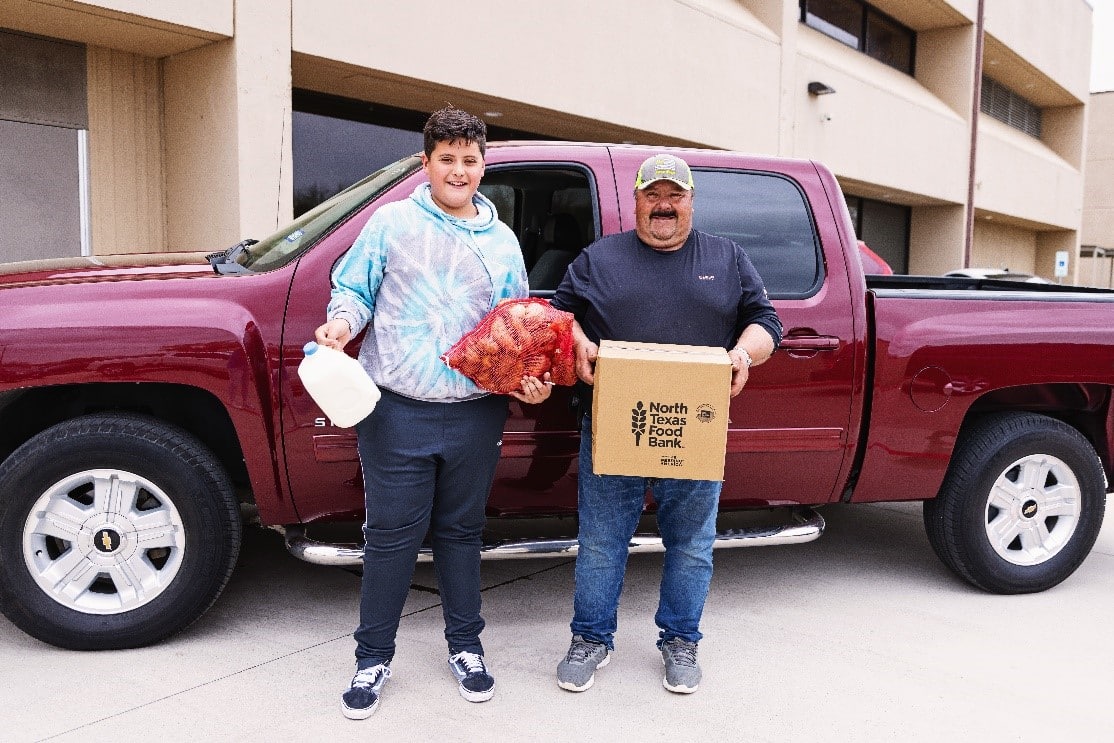 We are excited this year to have our first Hub in the School Pantry program. Located in the Grand Prairie School District, this school will have an onsite food pantry and house additional wraparound services for families that can be utilized by all schools in the district. It is a model we hope to replicate in other districts moving forward. Additionally, the School Pantry program will also begin supporting the college and university campus food pantries in the NTFB's feeding network to address the critical issue of college hunger.
In our last fiscal year, NTFB provided access to more than 1.7M meals for families through the School Pantry Program. This includes families like Manuel's. As a father with a family of six, Manuel does everything he can to keep his family fed during challenging times. But with the cost of living going up, this becomes more difficult. He has utilized the School Pantry program at his son's middle school to help offset grocery costs and provide nourishment to his family.
"This is a huge help. With prices going up, we never get milk and potatoes and other essentials because we just can't afford them," Manuel said. "This is a huge help to our family."
---
You can help support the 1 in 5 children in North Texas who live in food insecure households. Thanks to a generous anonymous donor, gifts to NTFB are doubled right now – up to $100,000 – to help children and families facing hunger during the school year. Visit here to donate.
Caryn Berardi is the Communications Specialist for the North Texas Food Bank.