Local Artists Find Inspiration in Giving Back
The North Texas Food Bank is honored to be the recipient of so many creative and innovative ways of giving back since the onset of the COVID-19 pandemic, especially during the holiday season. This includes two local visual artists who are using their talents to create pieces of art that not only inspire with their message, but directly contribute to fighting hunger relief in North Texas through their support of the Food Bank.   
We asked these artists to share with us more about their own inspirations, the healing power of art in stressful times, and why art and community go hand-in-hand.
Brenda Bogart
Brenda Bogart's Heart & Soul – Made in the USA LOVE prints are a limited edition of 1,000 with all net proceeds benefiting the North Texas Food Bank. Each print purchased will provide 333 meals to families in need.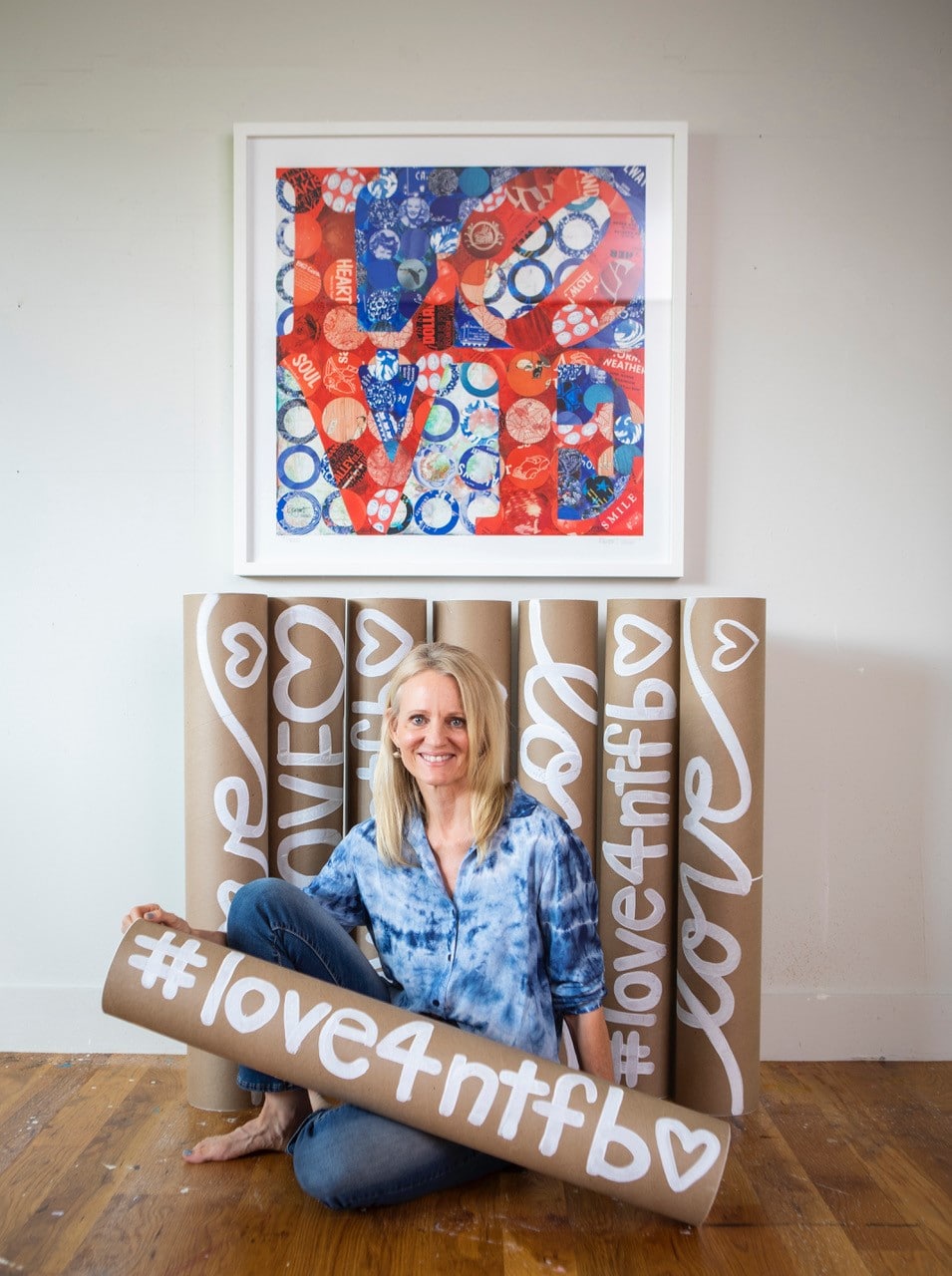 Q: How do you find inspiration for your art?
A: It is all around me. Training your eyes and heart to "see" takes intentionality. There is a big difference between hearing and really listening. The heart of an artist is trained to take it all in. I am incredibly sensitive which I both love and loath. It means I must keep my rationality hat screwed on tight to not get carried away with being overly sensitive. Beauty can bring me to tears so quickly. I am continuously inspired by the world around me.
Q: What inspired you to create the LOVE campaign and donate to hunger-relief?
A: Using my art to give back is not new to me. I am always looking for new and creative ways to give back that will be a "win" for all participants: the artist, donors, and recipients. For example, I hold collage workshops at Jubilee Park and Community Center and 100% of the tuition directly benefits the residential community around Fair Park.
The first food drive NTFB held at Fair Park during the early days of the pandemic hit me hard. I watched the video of the thousands of people waiting in their cars for hours for that one box of food. I knew some of the people in those cars were my friends in the Jubilee neighborhood. I had to do something. So first I prayed asking God to show me what we could do together. I had just created the red, white, and blue LOVE collage titled Heart & Soul – Made in the USA and decided to use it to raise money for NTFB. This hit all my buttons of being a "win" for everyone. The participants receive a beautiful commemorative piece of art to remember this unique time and how we pulled together as a community. The participants can purchase a piece of art for $150.00 that normally sells for $900.00 and can feel good about their purchase knowing it provided approximately 333 meals for our neighbors in need.
Q: How can amateur artists find inspiration in their daily lives to create?
A: Aren't we all amateur artists who find inspiration in our daily lives to create? One of the things that drives me is to be an inspiration to those around me who love to create, whether they are amateurs or professionals. We each have something to give. It really isn't all about us. It is about showing up to help someone in need. Someone who doesn't know you or your name. Someone who can never repay the gift. It is also about being a good receiver. It takes a great deal of humility to ask for and receive help. Aren't we all in need of something? It boils down to this one thing…we need each other!
You can view Brenda's LOVE piece and other art at her website: https://www.brendabogart.com/.
---
Brad Oldham Sculpture
Brad Oldham, Christy Coltrin, and the team at Brad Oldham Sculpture created 50 editions of a heartfelt bear sculpture for holiday gifting that benefits the North Texas Food Bank. For each Bright Side Bear sold at $395, the team will donate $150 to the North Texas Food Bank. Christy developed the concept for the bear and Brad sculpted the figure. Brad also sculpted Lulu May's Mark that welcomes visitors to the NTFB Perot Family Campus in Plano.
Q: What inspired the concept of the Bright Side Bear?
Christy: Bright Side Bear was created in response to our reaction to experiencing the unchartered territory that emerged in 2020. With no personal reference for putting this year into context, I decided to reach out to people with sufficient life experiences. I asked four people in their late 70s and early 80s a specific question: "Has there been in a time in your life, or in history, that you can relate to our current situation?" I wanted to expand our ideas by learning from those who had been duly tested and still remained caring people. From their experiences with polio and smallpox quarantines to living through German occupation in Holland during WWII, I was struck by how they each of the interviewees found the little moments that strengthened them to find good. While in lockdown at different points in their lives, each of these individuals have found ways to continue learning, express creativity, pray, find comfort in routines, and enjoy family time.
Q: How would you explain the symbolism of the sculpture and what it represents?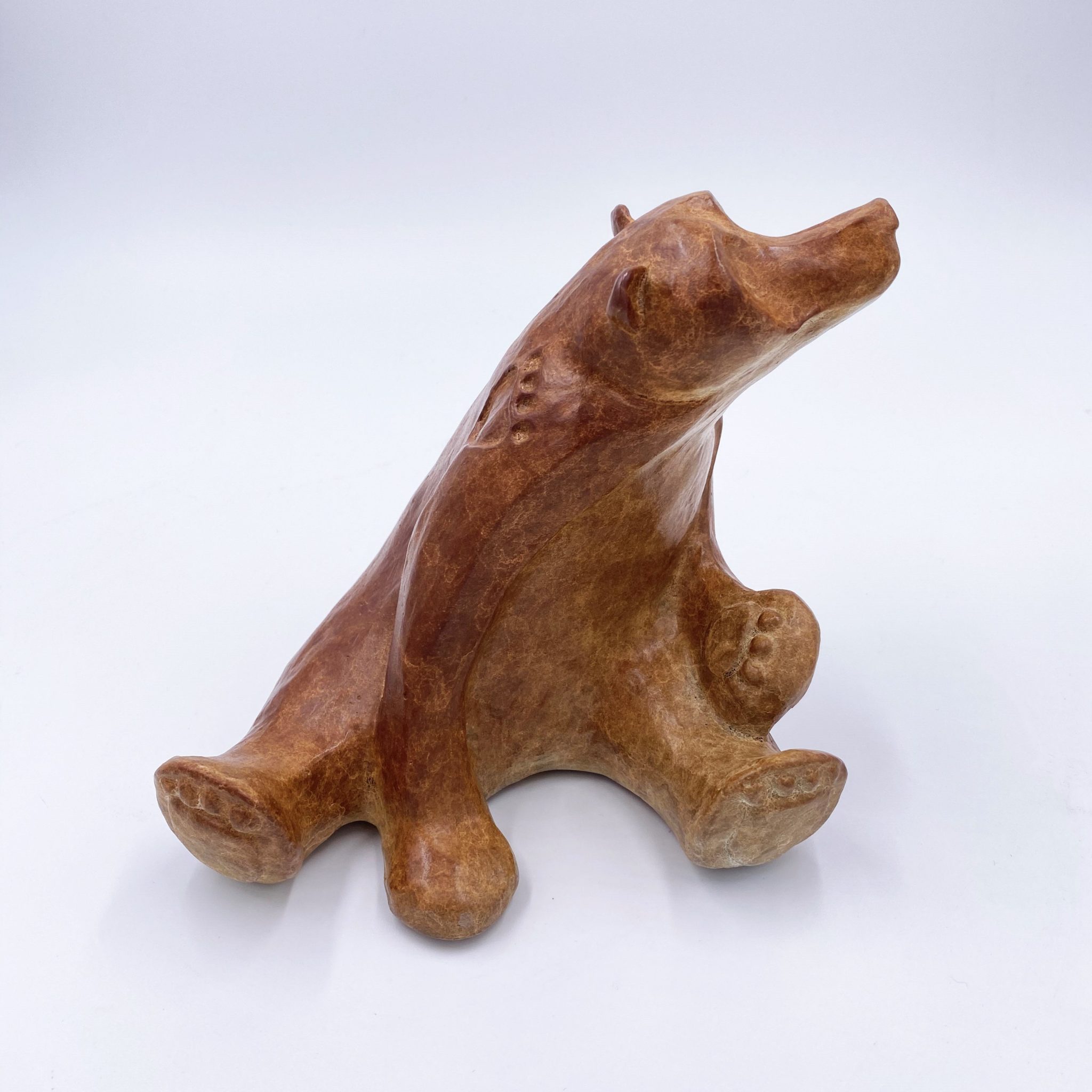 Christy: In Bright Side Bear, we capture a tender moment of a bear cub looking up to seek a connection with another bear or maybe even looking to the stars. The pawprint on his shoulder marks the warm spot that remains from a recent hug. The pawprint is the indelible mark that our positive connections have on one another. Bright Side Bear is a strengthening moment of seeming contradictions between seeking and receiving, knowing and uncertainty, and being alone and being in community with others. One of the reasons we chose the bear to carry this timely message is because, during the COVID-19 pandemic, bears in windows became symbols of caring and letting kids know they were important to the community.
Q: Describe your motivation for the sculpting.
Brad: Bright Side Bear is a special piece to me as I was able to sit on over a full weekend and sculpt this bear. I remembered how much my family influenced my decisions as a child and as I grew through my teenage years. The imprint of the paw is a perfect metaphor for the impact we have on each other, especially family. The imprint of our family, and dear ones along the way, continue to shape our decisions and thoughts for our whole lives. I am proud of all the "paw prints" that I carry from my family now and from those who have passed. Bright Side Bear makes me happy thinking on how they touched my life and how we can help others.
Q: Why did you choose to support the North Texas Food Bank with your art?
Christy: When we saw the lines of cars waiting for food from NTFB during the pandemic, Brad and I knew that we wanted to do something to help the people who were helping those folks. We have worked with NTFB in the past, and we know the organization's people to be some of the best-hearted leaders in our community. This was our way to support their critical work in a time of great need for the growing number of people struggling with hunger.
You can view and purchase the Bright Side Bear here: www.bradoldham.com/bright-side-bear