Fall Recipe: Apple and Sweet Potato Bake
No matter what the temperature is outside, if the pumpkin patches are open, that's enough for us to get into the fall spirit! It's a special time of year that calls for cozy dishes that encapsulate the autumn feeling.
This year for our fall recipe we are sharing an Apple and Sweet Potato Bake dessert that we think will capture the season with ingredients such as brown sugar and nutmeg. Besides the great taste, this warm dish is perfect as the weather gets cooler. To top it all off, it includes both a fruit and a vegetable to make it a healthier dessert option!
We know with the current inflation, eating on a budget, especially as the holiday season approaches, is even more important. So, before we get to the recipe, we also want to share a tip that relates to this recipe: Buy in season.
Both apples and sweet potatoes are in season right now, with their prime harvesting season in fall to early winter, making this recipe ideal. Not only is seasonal produce less expensive when in season, it is tastier as well! You can find more tips for healthy eating on a budget here.
On to the recipe – we hope you enjoy!
Apple and Sweet Potato Bake
Ingredients:
Servings: 5
Total Time: 40 minutes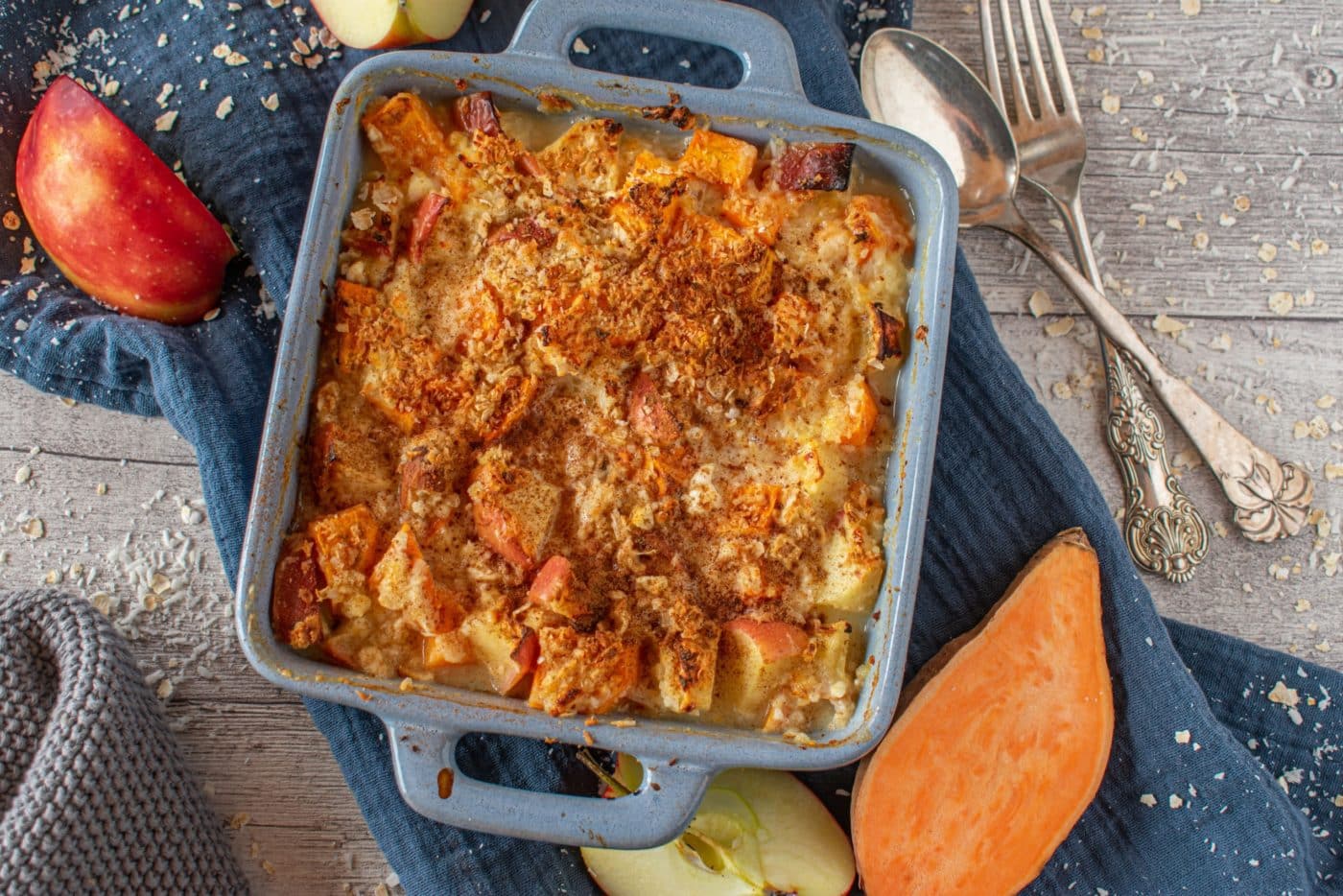 5 sweet potatoes
4 apples
½ cup brown sugar
½ teaspoon salt
¼ cup margarine or butter
1 teaspoon nutmeg
¼ cup hot water
2 tablespoons honey
Directions:
Boil the 5 sweet potatoes in water until they are almost tender.
Let the sweet potatoes cool, then peel and slice them into discs.
Peel the apples, remove the core and slice.
Preheat the oven to 400°F.
Grease the casserole dish with butter or margarine.
Put a layer of sweet potatoes on the bottom of the dish.
Add a layer of apple slices.
Add some sugar, salt and tiny pieces of margarine to the apple layer.
Repeat steps 6, 7 and 8 until apples and sweet potatoes are used up.
On the top layer of apples, sprinkle the rest of the brown sugar, margarine pieces and nutmeg.
Mix honey and hot water together and pour over the top layer.
Bake for about 30 minutes or until apples are tender.
More information about this recipe and all the NTFB's recipes can be found here: https://ntfb.org/recipes/.
***
Nutrition services is a critical component of the Food Bank's strategic plan to provide Food for Today and Hope for Tomorrow, and we have been providing free culinary and nutrition education to low-income populations since 1996. Visit our website to learn more about our education services.
Also be sure to subscribe to the Garden and Nutrition Newsletter, Spade and Spoon, to keep up with all the latest news from our Nutrition Services team. Subscribe here.
Happy Fall!
Jamie Palefsky is a Nutrition Education Specialist for the North Texas Food Bank.