NTFB Advocacy Day 2023 Recap
One of the most exciting and rewarding aspects of anti-hunger work is advocating for the needs of our organization and of our neighbors facing hunger to our state law makers. And one of the most effective ways we do that is by getting on a bus and heading south to Austin.
On Wednesday, April 12, NTFB hosted a Day at the Texas State Capitol. Our organization joined with agency partners and other Texas Food Bank advocates to meet with legislators and their staff to discuss our priorities and concerns.
Speaking directly with legislators is a powerful tool for making our voices and our neighbor's voices heard in the legislative process. By coming together with other advocates and organizations, we demonstrate the breadth and depth of support for our issues. This sends a strong message to lawmakers that our concerns are important and deserving of their attention.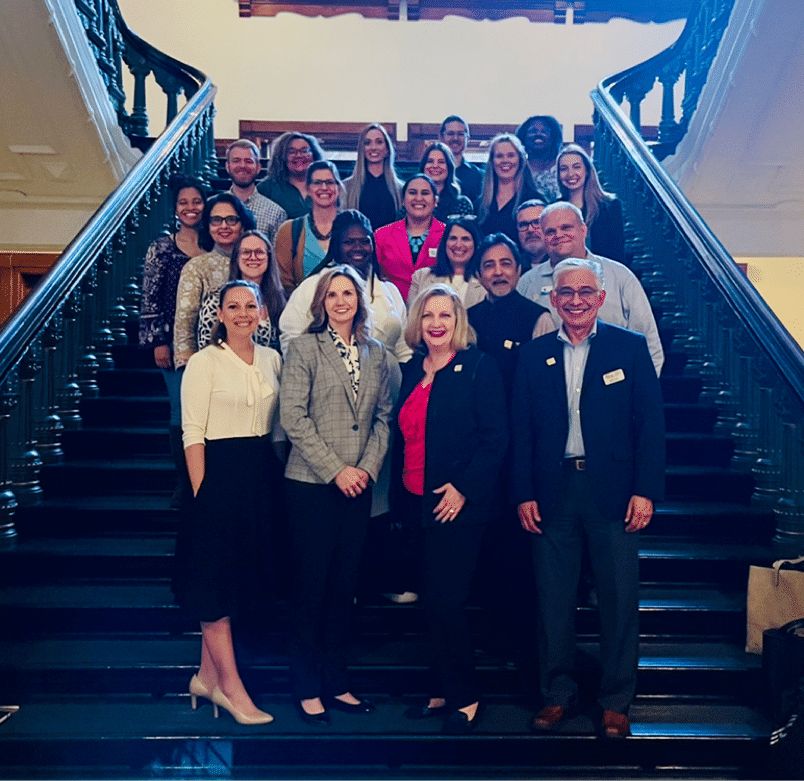 So, what does it take to make an advocacy day happen?
Set clear goals and objectives: Before planning an advocacy day, it's important to have a clear understanding of what we are going to advocate for! Since last fall, Texas Food Banks have been working alongside Feeding Texas to develop bills and a path to transform the needs of our communities into anti-hunger policy.
Build support: To prove our issues are vital, we spoke to members of our community to get their stories. What would these bills mean to them, what would help, what wouldn't help. Then we used those stories to amplify our message to law makers.
Develop a comprehensive agenda: Once you have targeted bills filed with clear goals and objectives, it's time to develop a comprehensive agenda for the advocacy day. This should include meetings with legislators and their staff.
Prepare advocates: Advocacy days are most effective when advocates are prepared, have a clear meeting plan and feel knowledgeable about the issues they are advocating for. This includes providing them with a meeting schedule, talking points, statewide one-pagers and other resources to help them make a compelling case to lawmakers.
Follow up: After the advocacy day is over, it's important to follow up with lawmakers and their staff to continue building relationships and advocating for your issues. This looks like sending thank-you notes, providing additional information or resources, and follow-up meetings and calls.
Be accountable: As votes roll in, it's crucial to review the votes and send quick messages to legislators. If they didn't vote the way they said they would, you gently remind them, and if they did, you thank them.
As we met with legislators and their staff, advocates were shocked at how friendly the offices were and how interested the staff members were in learning more. It's important to remember that policy work is nothing like what is portrayed on television and movies. Legislative offices are filled with staffers with large hearts for public service. Most are excited to learn about new topics and ways to help their communities.
At the end of the day, our advocates left the Capitol feeling energized and empowered. We knew that our voices had been heard and that we had made a meaningful impact on the legislative process. In fact, one of our key priorities, modernizing the vehicle asset test for SNAP, which had been stalled for months, was immediately called up for a floor vote after so many of our advocates brought it to the attention of each office. Now, it's on its way to the next step before becoming a law.
I can say with confidence that advocacy days are a vital part of our work, and I look forward to the future of NTFB anti-hunger policy work and the change it will bring to our neighbors.
Dr. Valerie Hawthorne is the Director of Government Relations for the North Texas Food Bank.