North Texas Giving Day Success
It has been one week since North Texas Giving Day 2021– and we are still wrapping our heads around your generosity!
Because of you, our amazing and compassionate supporters, we raised enough funds to provide more than 5 million nutritious meals for our neighbors experiencing hunger. This means nourishment and hope for the thousands of North Texans who do not know from where their next meal will come.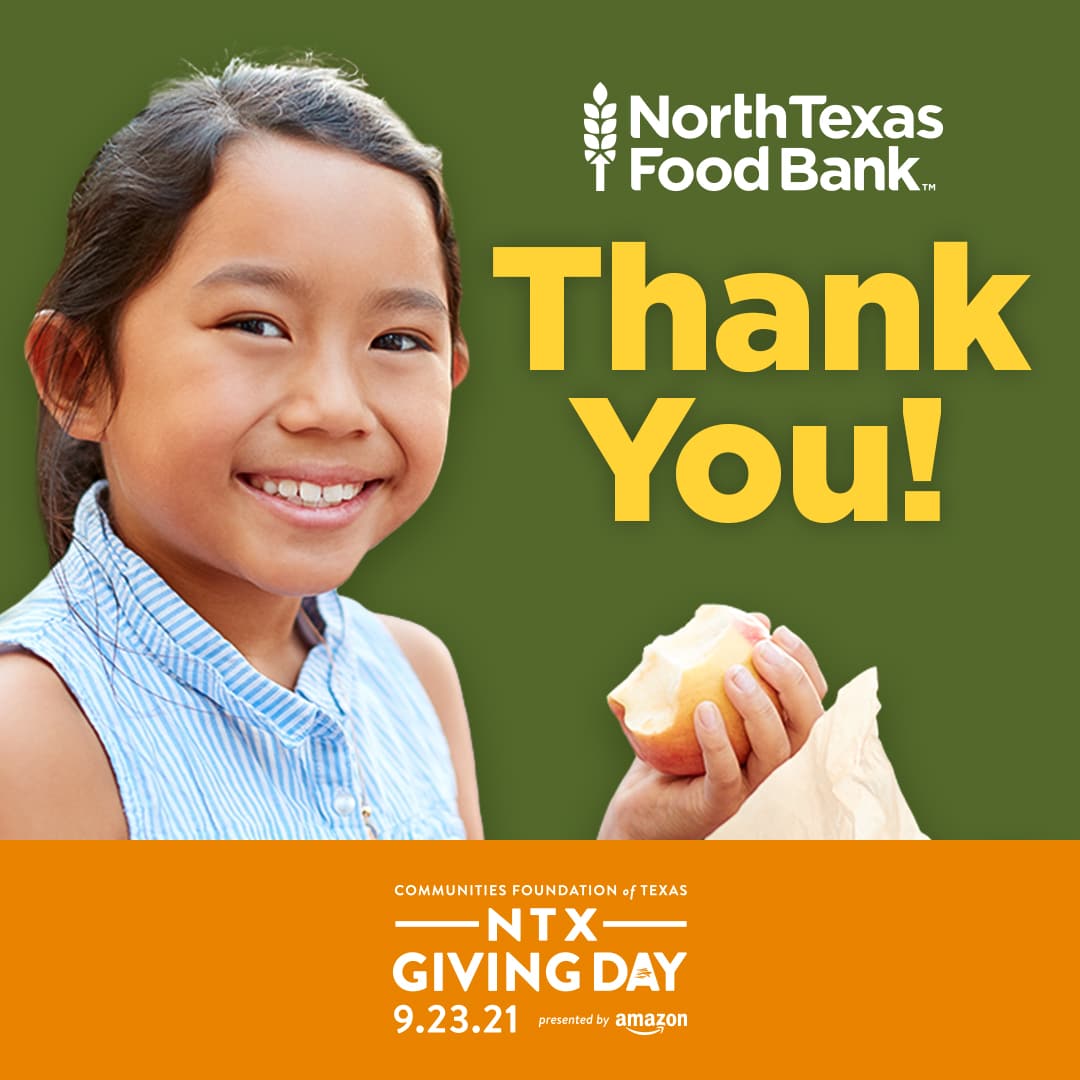 Since 2009, North Texas Giving Day has built awareness and support for local nonprofits and causes in one easy-to-use platform for its 18-hour online giving event. North Texas Giving Day aims to amplify our collective-community impact while highlighting each organization's unique focus area. This year, a total of $66 million was raised for over 3,300 local nonprofits!
We want to take a minute to recognize and give thanks to those who made this North Texas Giving Day so successful on September 23 and the days of early giving leading up to it.
Thank you to our generous match sponsors: Plano Super Bowl, The Priscilla Endicott Charitable Foundation, Mary Anne and Paul Fego, and two donors who chose to remain anonymous. Their sponsorships allowed for our gifts to go even further to make an impact.
Thank you Communities Foundation of Texas for making this day possible each year and for building thriving communities. And to our supporters that give through donor-advised funds.
Thank you to our North Texas Food Bank Super Fans for creating your own peer-to-peer fundraising pages and gathering support from your friends, family and network.
On behalf of the more than 800,000 people across North Texas who are facing hunger, we celebrate all of you for your support of the North Texas Food Bank. With your partnership, we will continue to work to meet the increased need we have been facing since the start of the COVID-19 pandemic and provide Food for Today and Hope for Tomorrow.
Thank you for being hunger fighters this North Texas Giving Day!