Avocado Black Bean Enchiladas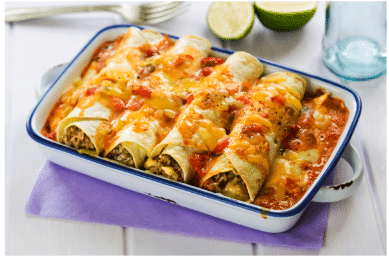 Servings: 5                                        
Total Time: 30 minutes
2 large avocados, diced
1 (15 ounces) can no salt added black beans, drained and rinsed
1 1/2 cups reduced-fat shredded cheddar cheese, divided
1 large red bell pepper, diced
1 medium jalapeño, finely diced
1/2 teaspoon cumin
1/2 teaspoon chipotle pepper powder
1 (10 ounces) can red enchiladas sauce
10 corn tortillas
1 cup nonfat plain Greek yogurt
1/2 cup fresh cilantro, chopped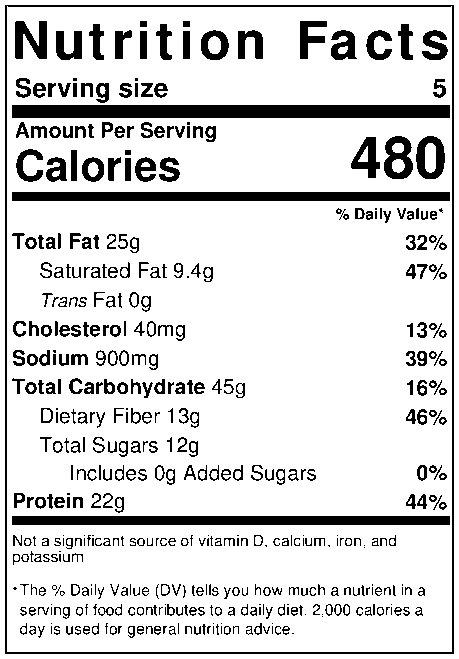 Preheat oven to 350°F.
In a medium bowl, combine avocados, black beans, 3/4 cup of cheese, bell pepper, jalapeno, cumin, and chipotle powder. Toss to combine.
In a large casserole dish, pour half of the enchilada sauce on the bottom and set aside.
Spoon avocado mixture into the center of a tortilla. Roll up and place seam side down in the baking dish. Repeat for all tortillas.
Cover rolled tortillas with remaining enchilada sauce and cheese. Reserve any leftover avocado mixture for a garnish.
Bake 20 minutes or until cheese is melted and sauce is bubbling.
To serve, top with yogurt, cilantro, and leftover avocado mixture.
Adapted from www.onieproject.org
This material was funded by USDA's Supplemental Nutrition Assistance Program Education – SNAP-Ed. USDA is an equal opportunity provider, employer, and lender.
Porciones: 5                                       
Tiempo Total: 30 minutos
2 aguacates grandes, trocitos de
1 (15 onza) puede no-sal-agregan frijoles negros, vaciado y enjuagado
1 1/2 tazas reducidas en grasa queso cheddar rallado, dividida
1 pimiento rojo grande, cortado en dados
1 media jalapeño, cortados finamente
1/ cucharadita de comino
1/2 cucharadita de pimienta de chipotle en polvo
1 (10 onzas) puede enchiladas salsa roja
10 tortillas de maíz
1 taza yogur de griego sin grasa
1/2 taza de cilantro fresco, picado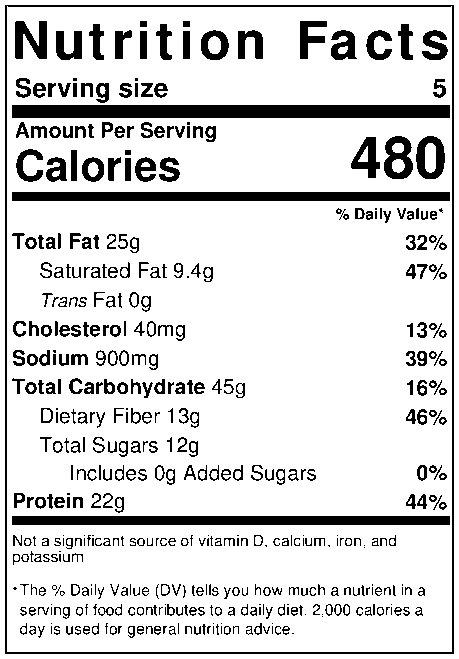 Precaliente el horno a 350°F.
En un tazón mediano, combine el aguacate, frijoles negros, 3/4 taza de queso, el pimiento, el comino, el jalapeño y chipotle en polvo. Revuelva para combinar.
En una cacerola grande, vierta la mitad de la salsa para enchiladas en la parte inferior y déjela a un lado.
Vierta la mezcla de aguacate en el centro de la tortilla. Ruede para arriba y coloque la costura hacia abajo en el molde. Repita el procedimiento para todas las tortillas.
Cubrir las tortillas enrolladas con el resto de la salsa para enchiladas y queso. Reservar cualquier sobrante de la mezcla de aguacate para una guarnición.
Hornear 20 minutos o hasta que el queso se derrita y la salsa esté hirviendo.
Para servir, comienzo con el yogur, el cilantro y el sobrante de la mezcla de aguacate.
Adaptado de www.onieproject.org
Este material se desarrolló con fondos proporcionados por el Supplemental Nutrition Assistance Program Education (SNAP-Ed en inglés) del Departamento de Agricultura de los EE.UU. (USDA siglas en inglés). El USDA es un prestador, proveedor y empleador que ofrece igualdad de oportunidades.