A Recipe to Fill More Bowls
An empty bowl. So many of our North Texas neighbors find their bowls, and their stomachs, void of nourishing food on a regular basis. Way too many of them. More than 800,000 North Texans are food insecure, with one in five of them children.
The North Texas Food Bank's 21st Annual Empty Bowls event, sponsored by Kroger, will be held Thursday, February 27 from 6 – 9 p.m. at the Perot Family Campus in Plano. Each guest will receive a handcrafted bowl from a local artisan to serve as a reminder that not everyone's bowl is full for our neighbors facing hunger. They will also enjoy bowl friendly fare prepared by talented chefs and restaurants. This special gathering suppports our ability to provide critical food to our hungry neighbors, filling more empty plates and bowls throughout our community.
So many of my favorite foods are served up in bowls…from cereal to hearty soups and stews to ice-cream. I recognize how lucky I am to always have access to healthy, and sometimes not so healthy, food. Recently I uncovered my granny's recipe box, which included a recipe for her Winter Day Bean Soup. The smells and the memories soon consumed my kitchen, and the beautiful bowl from last year's event was soon filled with this flavorful, simple meal.
This bowl of beans brought back another vivid memory. Granny was the one who first took me to volunteer at the local food pantry, the Fort Mill Care Center, when I was in high school. She was a loyal volunteer and spent many days assisting her food-insecure neighbors. It warmed my heart to know I was continuing her work and enjoying her recipe out of my North Texas Food Bank bowl.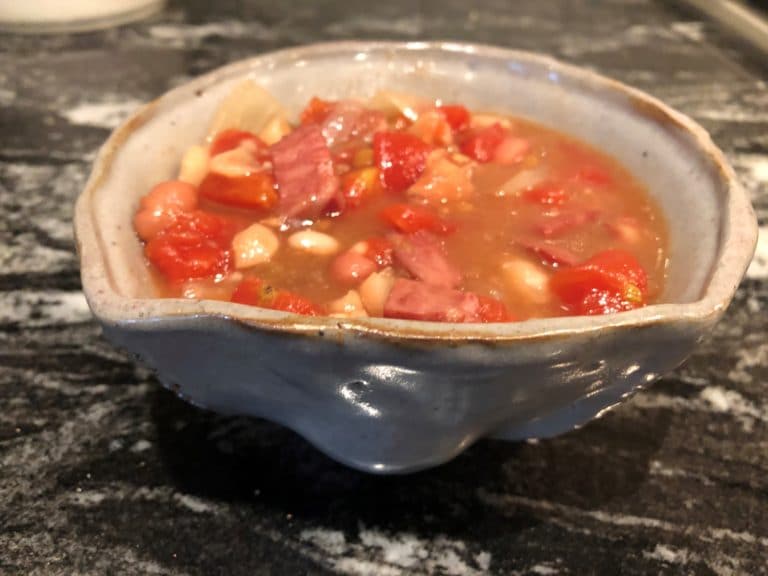 Ingredients
2 cups dried beans
2 cups ham our sausage
1 large onion, chopped
1 clove garlic, chopped
1 t chili powder
1 28 oz can tomatoes, chopped
2 T lemon juice
Instructions
Rinse beans, place in large pot and cover with water. Add salt and soak overnight. Drain and add 2 qts water and ham or sausage and bring to boil. Reduce heat and simmer for three hours. Add onion, garlic, chili powder, tomatoes and lemon juice. Simmer another hour.  Add salt and pepper as needed.
---
What are your favorite recipes to fill your bowl? I'd love to know – please include them in the comments section below.
I hope you will join me at Empty Bowls on February 27, and taste a few of our community's favorite recipes while helping fill more bowls for our neighbors in need.
To learn more about Empty Bowls, or to purchase tickets, visit ntfb.org/emptybowls